By his own admission, Belgian-born Cédric Vinckier lacked commitment to schoolwork. The result was that between the ages of 12 and 19 he switched schools almost every year, and ultimately dropped out without a qualification. But while all these schools left him feeling uninspired, it was one closer to home that initially lit a fire in him which ultimately led to a stellar hospitality career.
Today, Cédric is 30 and Manager at the Michelin starred Four Seasons Pelagos restaurant in Greece, which is a long way to come in 11 short years since leaving high school. "I was always the guy that wanted to be funny in class", he admits, "…I just wanted to have fun because I thought that was more important. At the time I dropped out, my mum was attending a cooking school. I was always watching when she was doing her exercises at home and I got very inspired, that's when I started cooking and I realized I had a passion for hospitality."
Learning, leaving and Les Roches
Aged 19, Cédric headed into F&B in Belgium, securing an internship at one Michelin star La Maison Du Cygne, before heading to two Michelin star Le Chalet de la Forêt, member of Relais & Châteaux. A three-year culinary scholarship in Germany followed with Radisson Blu, before Cédric made the switch to service after being identified as ideal due to his personality and fluency in four languages. Based on that, he was able to join three Michelin star Bernard Loiseau in France as an assistant waiter. That's when a desire to spread his wings took hold.
"France still felt too close to home, so after two years I accepted the position of Restaurant Manager at a Relais & Châteaux property, Hotel Vira Vira, Pucon in Chile. Therefore it was necessary to take Spanish language classes. While working at the hotel Vira Vira for two years, the Swiss owner explained to me that I was a natural talent in Service, being genuinely friendly and obliging, but I lacked profound managerial and business education, which led me to the Hospitality Management School Les Roches.
"With my three years of management experience in two Relais & Châteaux institutions, I was able to start on the PGD program. I must confess, that in the beginning it was exciting to meet so many students from all over the world. The atmosphere was vibrant and culturally diverse and there were countless things to see and to do when you were not busy working and studying.
"Through the job fair I met a representative of the hotel Group Mandarin Oriental. I felt the need to expand my horizons and I accepted the position of Restaurant Manager at the two Michelin star flagship Restaurant Le Normanie at Mandarin Oriental in Bangkok. I would never had accepted this offer without the education at Les Roches, which allowed me to develop my leadership skills and made me more confident."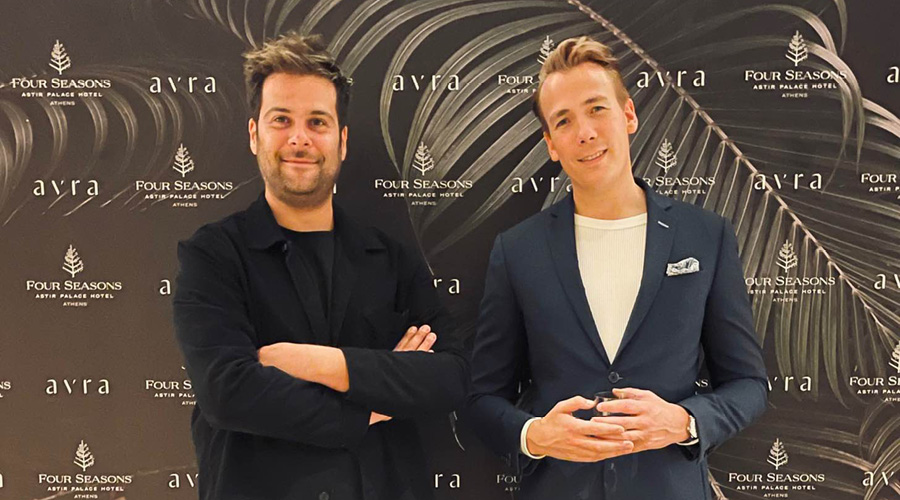 Chasing a star
Cédric's experience at the Mandarin Oriental was great, but the impact of Covid in his second year was considerable. After two years in Thailand, Cédric was offered an opportunity he simply couldn't refuse, for a hotel group he always aspired to work with.
"I sent my CV to Four Seasons and they hired me to do the 2021 opening of Pelagos restaurant at Four Seasons Astir Palace in Greece, with two Michelin star London chef Luca Piscazzi. When I was negotiating my contract, I inquired about their expectations to obtain a Michelin star. The manager said to me 'Cédric you don't want the pressure on your shoulders of needing to have a Michelin star', and I knew he was right. Still, I was very excited about implementing top class fine dining in Pelagos, so I decided to focus on how to develop a good service team.
"It all begins with building solid relationships with your coworkers. It's important to be intentional as you dive into your job. Reflect upon your personal and professional goals and be sure to seek feedback from your coworkers and your supervisor. If you approach each day as an opportunity to make a difference, you'll find happiness and success. Teamwork makes the dream work.
"Through hard work, passion and perseverance we delivered excellent service to the amazing team of Luca Piscazzi, and just six months after opening the restaurant Pelagos obtained its first Michelin star."
How to get a Michelin-Star – Cédric's top 3 tips
It's not every day you speak to a Michelin star Restaurant Manager, so we had to ask Cédric what he believes it takes to earn the ultimate accolade in culinary excellence:
Be organized – "The first step in the process of becoming a Michelin star restaurant is organization. Excellent organization has to be in place across all areas."
Be yourself – "You don't have to be stiff when you serve, just relax and act with love and passion. The guest will immediately feel it and you being confident in what you are doing will make them feel comfortable. They will feel at home and that's when the opportunity is given to create an unforgettable dining experience, away from home."
Treat others the way you want to be treated – "It's the golden rule at Four Seasons and it's also the golden rule my mum raised me to follow. It goes beyond simply being kind to people, this is a mantra that should be applied daily."
"For me, getting a Michelin star is like love ", Cédric adds, 'if you keep desperately seeking it, you're never going to get it. Instead love requires discipline, concentration, faith. It is a practice. You just have to transmit your love and your passion inside your job, and eventually the rewards will come."
Advice for hospitality students and graduates
Cédric's successful career journey is a story of inspiration, passion, and hard work, and he offered five lessons learned as advice for current Les Roches students and alumni.
Hard work pays off – "Take nothing for granted, you need to really work hard and show on a daily basis that you can and will make a difference. The first few years after graduation are always the most difficult but trust me hard work always pays off."
Don't take anything personally – "If you start taking comments and actions personally in hospitality, then change jobs because you're never going to survive. Have faith in your potential and accept any comment as a way to improve yourself."
Work in F&B – "Many graduates don't want to work in F&B because it's hard work and long hours of work, but that's exactly why you should work in F&B. Even if just for a short while, it will toughen you up and working in any other division afterwards will be easy."
Spread your wings – "Discover the world and don't be afraid to leave your comfort zone."
Find a mentor – "Find yourself a mentor, someone that you look up to and stick with that person, share your thoughts with them and show them how you want to grow and remain humble, even if you don't always agree with what is said. Mentors might give you a hard time sometimes, but remember managers are very busy and it's not that they don't care, it's just that they have a lot of things to think about."