If you're still deciding on where to study your Bachelor's degree or graduate program this fall, here are five reasons why Les Roches Crans-Montana – in the world's safest country for COVID-19 – is the perfect destination…
1: Switzerland is the world leader for COVID-19 safety
The Swiss are good at an awful lot of things. Railways, chocolate, banking, watches, hospitality education… to this list can be added a very important new addition: COVID-19 safety.  
Switzerland is now, in fact, the world's safest country for COVID-19. That's according to research by the data-driven investment company Deep Knowledge Group (DKG). In the latest edition of the company's COVID-19 safety rankings, published in early June, Switzerland came out top of the 200 countries assessed, ahead of Germany and Israel in second and third respectively.  
These findings are based on detailed analysis of more than 11,400 data points, covering parameters such as quarantine efficiency, government efficiency of risk management, monitoring and detection, healthcare readiness, regional resiliency, and emergency preparedness.
The report concludes: "Switzerland now occupies the #1 position as the safest region according to the present analysis, in large part due to a continuing decline in its rate of infection spread and mortality, and key factors that put it in a better position to maintain a healthy post-pandemic economy."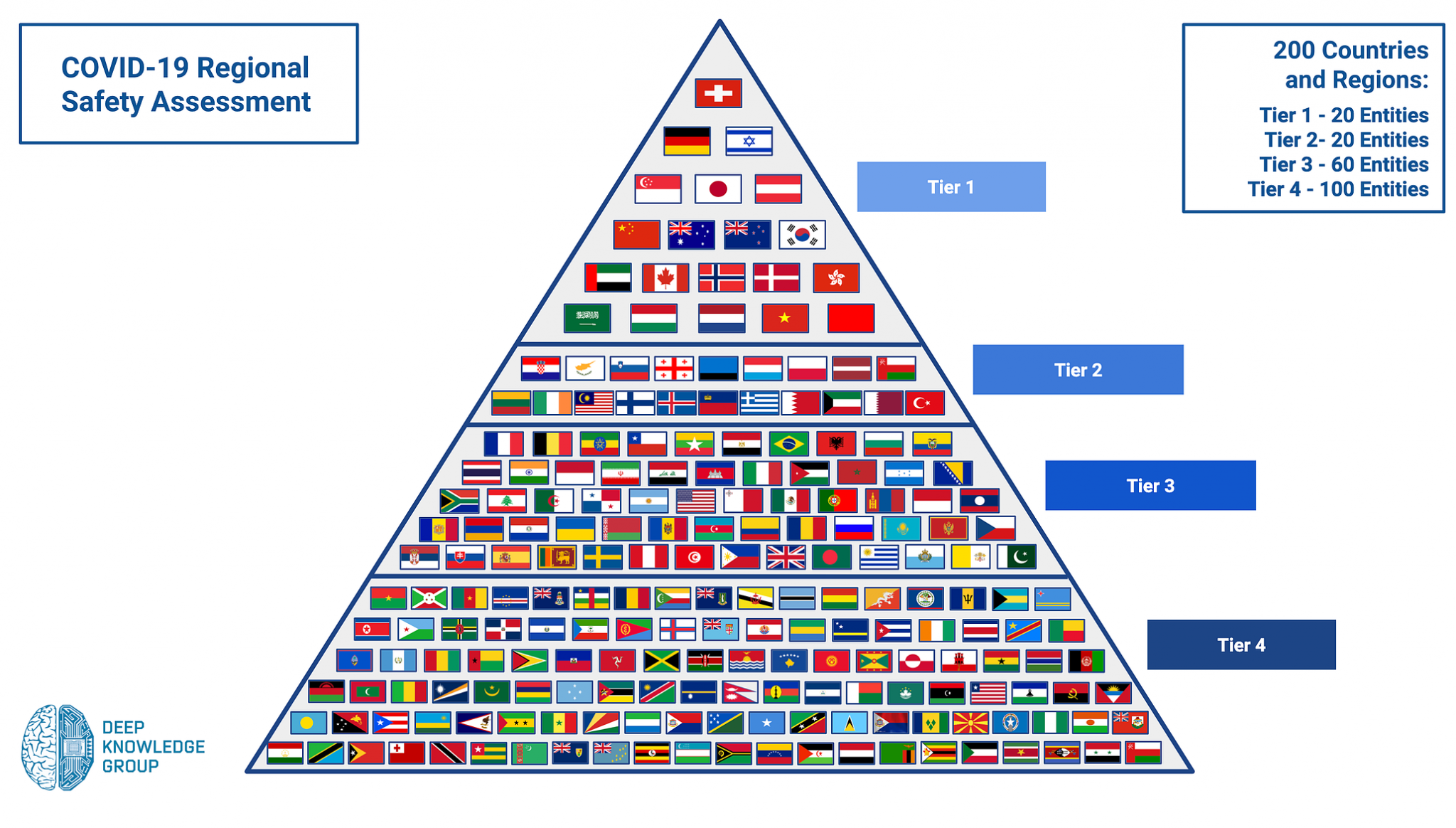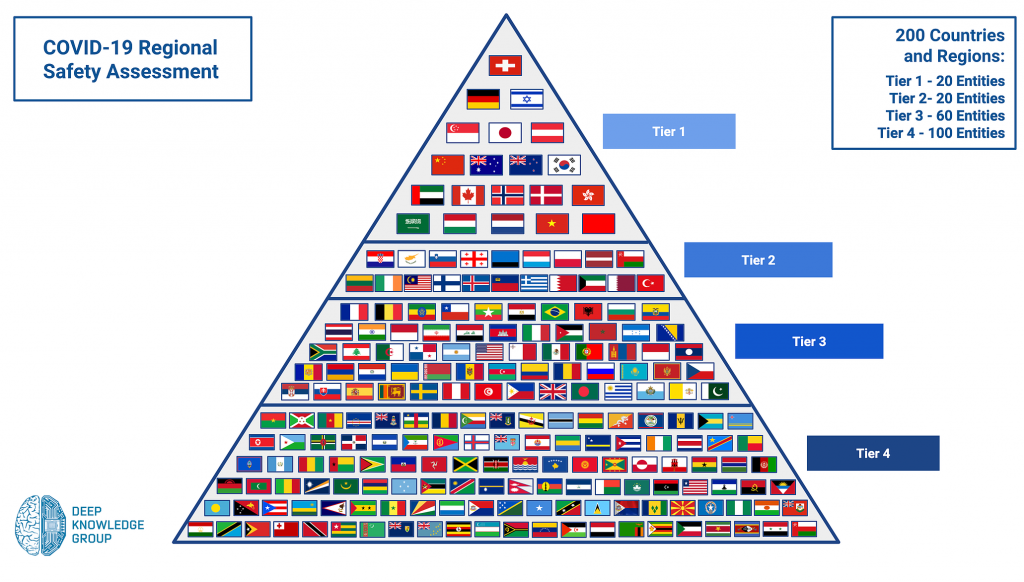 2: Switzerland is open for business
"We have managed to get the virus under control."
-Swiss Confederation President Simonetta Sommaruga
The payback to Swiss citizens – and Les Roches Crans-Montana students – from the country's hard work in beating COVID-19 is that Switzerland is lifting its lockdown restrictions more comprehensively than many countries in Europe and elsewhere. 
From early June, Switzerland began to take on a more familiar look. All leisure and entertainment venues, and tourist attractions, could reopen. Public and private events of up to 300 people were permitted. Campsites, zoos, and swimming pools were allowed to open their doors again. And classroom teaching at upper secondary and vocational schools, and at higher education institutions, was authorized to resume.
We've now set the date when we'll resume on-campus classes in Crans-Montana: 27 July. And for our Fall 2020 undergraduate and graduate degree intakes we have intake dates fixed for early October – a little later than usual to allow for any remaining travel restrictions or flight shortages in our students' home countries. 
And if these dates are still too soon for you, if you're planning to study our Bachelor's degree you can take advantage of our special remote learning package – Les Roches Connect – enabling you to begin your first semester at home before switching to campus in the New Year.
3: It's the perfect place to study hospitality 
Why? Because Switzerland is an icon of hospitality.
Back in the golden days of the Belle Époque, palace-style hotels were established across the Montreux Riviera, heralding the dawn of a golden age of luxury tourism. Royalty, aristocrats, and millionaires traveled in their thousands to the country, lured by its healthy climate and the promise of alpine adventure. 
Even the most iconic movie star of his generation, Charlie Chaplin, chose Switzerland for his exile, living for a quarter of a century in Corsier-sur-Vevey.
You can discover more about the growth of Swiss tourism, and why today Switzerland leads the world in hospitality management education, by clicking here.
4: In Switzerland, you'll be at home among the innovators
Which is the world's most innovative country? The US? Japan? Korea? No, it's Switzerland. That's according to the World Intellectual Property Organization (WIPO), a specialized agency of the United Nations. In fact, WIPO has ranked Switzerland as the world's most innovative country for the past nine years in succession!
Why is this important for Les Roches? Because innovation is part of our DNA. We encourage free thinkers, challengers, disruptors. We teach the codes of global hospitality so our students can reshape them for the world of tomorrow.
You see this in academic programs like our world-first Master's in Hospitality Strategy and Digital Transformation. And when our Bachelor students go into the Restaurant Lab and come out with fresh, innovative, and original restaurant concepts.
There's more, too. We're about to take our innovation credentials up several notches. Watch this space for more details soon!
In the meantime, take a look at these 16 reasons why Switzerland is #1 for innovation.
5: Because it's time to smile again, so come to a happy place 
It's been a tough year. There hasn't been too much to smile about in 2020; so maybe it's time to head to a happy place to begin your undergraduate or graduate studies? If so, Switzerland should be at the top of your list. 
According to the eighth World Happiness Report, published in March this year, Switzerland is ranked third in the world for happiness, behind only Finland and Denmark (and try finding a world-class hospitality business education in those countries!). 
"The World Happiness Report has proven to be an indispensable tool for policymakers looking to better understand what makes people happy and thereby to promote the wellbeing of their citizenry," said Professor Jeffrey Sachs, who contributed a chapter to the new report. "Time and again we see the reasons for wellbeing include good social support networks, social trust, honest governments, safe environments, and healthy lives."
Sitting in sunny Crans-Montana, breathing in the fresh Alpine air, we'll agree wholeheartedly with that!