Around a third of Les Roches graduates become entrepreneurs, and class of 2012 alumna Alexandra Possenti is a fully paid-up member of this fraternity. She has not one but two successful businesses to her name!
Name: Alexandra Possenti
Graduation year: 2012
Nationality: Venezuelan/Italian
Program: Diploma in Hotel Management
Current position: Owner of Los Bowls de Guadalupe in Tulum, Mexico and founder of Alma Event agency
A Venezuelan/Italian national, Alexandra co-owns a restaurant named Los Bowls de Guadalupe in the Mexican beach resort of Tulum, while also being the founder of an event agency called Alma Events.
For Alexandra, the route to career success is made much easier by having a clear map. "The most important thing is to know exactly what you want in the industry," she says. "In my case it was events and I concentrated on a niche within this field. I saw a lot of students not paying much attention to their internship and waiting until the last minute to apply for jobs – then it became hard for them to move up the ladder. It seemed like I applied to 10,000 internships! Then I selected the one that was going to benefit my personal career goals the most."
Alexandra's internship was at the Soho Beach House in Miami, working as an events and front desk intern. However, once she became part of the events team she didn't want to leave, eventually staying a year and a half before heading to Chicago's Kendall College (at that time a sister school to Les Roches) to complete a bachelor's degree.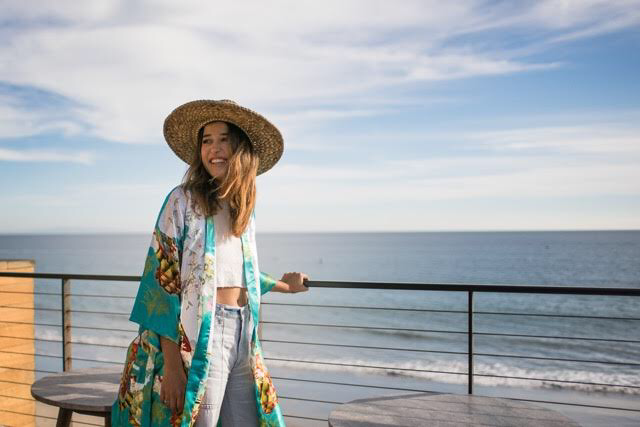 Opportunities emerge in Chicago 
But her time with Soho House wasn't done yet. "Two months before graduation, I knew that Soho House Chicago was opening up. My ex-GM from the Miami Soho House recommended me to stay in Chicago and work on the opening, since it was going to be a good challenge and learning experience for me to be involved. 
I was chosen to be the 'pre-opening events operation manager' at the Soho House in Chicago – at 23 years old. I was thrilled!
"I finished up my degree at Kendall with a double concentration of events & sustainability; and then I was chosen to be the 'pre-opening events operation manager' at the Soho House in Chicago – at 23 years old. I was thrilled!" 
Working for Soho House put Alexandra, in her own view, ahead of one of hospitality's most significant current trends. "I believe that hospitality is not as formal and uptight as it was taught 10 years ago in school," she says.  
"Hotels and resorts are now going for a more casual and cordial look for managers to interact with guests. Name tags and uptight business uniforms are being shifted towards more casual and comfortable versions. I was lucky enough that Soho House was ahead of this trend; and therefore I felt like it was the perfect company for me to grow."
A move west to Los Angeles – still with Soho House – followed, which saw Alexandra promoted to Event Production Manager. This was an intense, pressure-cooker role which offered the fringe benefits of seeing some of her favorite music artists, including Stevie Wonder, Billie Eilish, Travis Scott and Solange Knowles, perform intimate shows.
Risk and reward
After this, Alexandra says she "took a risk" and moved to Tulum, to become Event Manager for the well-known resort named Azulik. This opened her eyes to another key trend in hospitality: the ever-increasing importance of social media. "At the resort we had six people just focusing on social media, between the videographer, photographer and various people checking emails of influencers and managing the account."
It was at this point that the amazing professional connections which are a feature of the global hospitality industry helped Alexandra to set out on the entrepreneurial trail. "That same ex-GM from Miami came to town for an event I was producing. Even though I'd not seen him for seven years, I took a chance and asked if I could work at the Art Basel event in Miami, which I knew he was involved with. He agreed and we worked a fantastic project together, organizing all the food vendors at the fair."
I can't stress enough how important relationship-building is if you want a successful career
Now the two former colleagues are business partners, co-owning the restaurant Los Bowls de Guadalupe. But Alexandra has kept her focus on her first love – events – via her agency, which executes around 10 to 12 events each month for brands like Jordan, Gin Mare and Mezcal Amores.
"For any students reading this, I can't stress enough how important relationship-building is if you want a successful career. When I decided to set up my own events agency, I reached out to people I'd met during my time working in hotels, to see if they needed any help with events. Then, after I started seeing some results I believed in myself more and realized that I could make my dreams a reality."