Upon graduating in 2011 from Les Roches Marbella's BBA in Global Hospitality Management, Alejandro Soria had a dream to one day be an entrepreneur. This was brought to fruition thanks to his keen business acumen and ability to foresee the evolution of the sharing economy in today's global tourism industry. With the skills and experience he acquired while studying hospitality at Les Roches, Alejandro discovered an area of a growing market that other companies were not fully exploiting. From the long-established Spanish holiday rental market and the insurgence of Airbnb on a global scale, Alejandro and his partners created CoHosting – "a community created for travelers, hotels, and apartment hosts that unites them through professionally tailored tourism services".
CoHosting is a growing startup that adds value to the experience of a guest's stay in an apartment/home or hotel accommodation by automating and digitizing complementary external concierge services. The company's automatic and personalized cross-selling business model provides a wide range of services from managing airport transfers, hiring a babysitter, and making dinner reservations to personalized excursions, museum tickets, and spa sessions. In addition, the company has created a digital platform in which hotels and tourist rental companies can connect with the best real-time service companies available. The result has been to open up a whole new path of revenue by joining the two elements.
CoHosting's API technology (Application Programming Interface) connects them with external providers in real-time by accessing their reservation schedules to know availability." CoHosting's CEO, Alejandro Soria, explains that "all this data is accumulated by Cohosting by connecting to the hotel's PMS [Property Management System]. Once we have the hotel's reservations and the availability of our suppliers, we then use all the channels that the hotel has to reach out to the guest with these available services. We mobilize these efforts both before and after they arrive at their accommodation. This is done via promotional campaigns, courtesy tablets in the room, the software they use at reception, the establishment's own website, etc. The goal is for the hotel to standardize the offer in all its destinations as part of their commitment to customer loyalty."
How CoHosting Works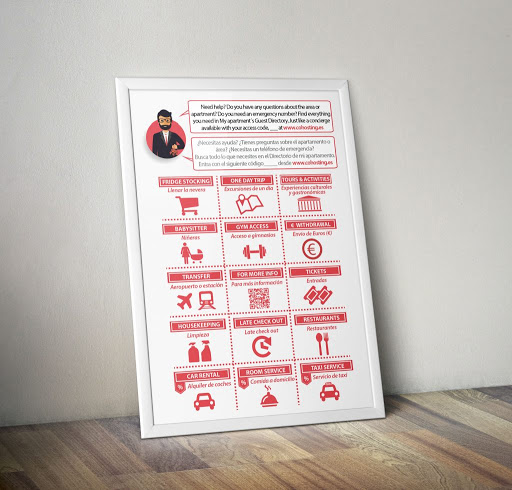 Since it was founded in 2017 by Alejandro Soria, his brother Manuel, and Alejandro Cuevas, CoHosting has grown to more than 5,000 accommodations in Spain alone. Furthering their success, they expanded internationally in 2019 and now operate in Paris, London, and Rome. The company's innovative business model has not gone unnoticed by investors and the tourism industry. They were chosen to be one of the 15 startups selected in the EU-Startups Summit Pitches competition, finalists in the WTFL Startup Innovation Camp 2019 in Lucerne (Switzerland) and, more recently, a candidate to enter TrenLab, the Renfe accelerator with Wayra Spain.
"It was essentially my connection to Les Roches that helped me to finance CoHosting since our first investors were my own classmates."
How did the idea come about to combine complementary information technology with hotel services? Alejandro admits it wasn't exactly a moment of inspiration. In fact, he goes back to his experience studying abroad to set the starting point of the company's longterm evolution: "While finishing high school as an international student at a boarding school in the United States, I was shown different cultures from numerous vantage points. After that experience, I realized I wanted to maintain that international atmosphere, I wanted to continue traveling. However, I also wanted to return to Spain and when I found Les Roches Marbella all of these elements were covered. Later, it was essentially my connection to Les Roches that helped me to finance CoHosting since our first investors were my own classmates."
Alejandro Soria on studying at Les Roches and entrepreneurship