In 2021 alumna Maria Mayordomo Iglesias was flying high as an Associate Market Manager at Expedia. She was working with her dream employer, managing top hotel accounts, training colleagues and traveling extensively, all within just four years of graduation. Her leadership hospitality career was on-track. Then she decided to move to an island, quit her job and renovate an abandoned house.
This is the story of a global moment that sparked an idea and unleashed an entrepreneur.
It's a good one, but before we go there, let's set the scene a little. Born in Tenerife, Spain, Maria grew up loving the outdoors and nature, so when it came to her next move after high school, adventure was the main requirement. "I knew that I wanted to travel while I studied, and a family friend introduced me to Les Roches and all the opportunities it offered."
Maria started her Bachelor's in 2013 at the Crans-Montana campus in Switzerland, and true to her ambition the three and a half years saw her taking full advantage of Les Roches' international study opportunities. "My first six months were in Switzerland and then I transferred to Shanghai. After studying there I thought let's try Marbella because many fellow Spanish students were telling me good things about it.
"It was three unique experiences, and I learned so much about very different cultures. I think one of my favorite things was the networking, and now when I go traveling, one of the first things I do is meet up with someone from Les Roches!"
From head office to abandoned house
Three and half years after beginning her Les Roches journey, Maria graduated from the Bachelor's and quickly secured a role with Expedia. Promotion followed, as did a fresh perspective. "My professional career was going very well, I was working as an Account Manager and then lockdown came. I was unable to work in the office, so I decided to move to my childhood home in Tenerife. The house had been uninhabited for more than 10 years, but it had the internet and I was able to work remotely from there."
"The one that doesn't risk will never succeed."
"My time back in Tenerife gave me an opportunity to think about my career and what I really wanted to do. It was then I read an article about the co-living concept, and in that moment I realized that I had a plan for myself and the house. I spoke to my father to gain some clarity and he told me a phrase that made me take a big decision 'El que no arriesga no gana' which means 'The one that doesn't risk will never succeed'."
"The director of Spain and Portugal at Expedia called me and said 'Why are you leaving?"
Driven by the ambition to create a co-living space on her home island and with the wisdom of her father ringing in her ears, Maria made the entrepreneurial leap. "I started researching and I saw that there was a big demand in the Canary Islands for remote workers after the pandemic. Even with this proof of my concept, it was a very difficult decision to leave my role as I was one of the highest performers in Europe. When I told them I was leaving, the director of Spain and Portugal at Expedia called me and said 'What are you going to do?' So I told him I was going to open a co-living space in my family home and he said 'see you when you open!'"
The co-living concept
Maria's idea was perfectly timed at a point when Europe, and the world, was working from home and employers were reconsidering the need for expensive offices. But what exactly is co-living? "Co-living is a new type of shared, longer-term accommodation for remote workers and individuals seeking inspiration", says Maria. "These digital nomads, entrepreneurs and travelers want somewhere to live alongside like-minded people in order to exchange ideas and do collaborations. They also want a co-living environment rather than a hostel or an Airbnb because they know that we already have a community and organized group activities."
"We spent five months renovating, including creating three rooms from scratch…"
Emboldened and now unemployed, Maria got straight onto the renovation of her 250 year-old family home. "The house was in a very bad condition, but I was fortunate to have lots of help. Many of my former colleagues from Expedia came to help me and also family members. We spent five months renovating, including creating three rooms from scratch, adding bathrooms and managing the construction companies. I was on-site from 6am until 8pm because I was committed to opening in August 2021.
No time for marketing
When August came, Maria had a co-living space and she had a company, Cactus Coliving, but what she didn't have was bookings. "I'd been putting so much effort into the construction part that I didn't have the time to promote it. That's when I received a call from a remote worker who'd seen us on Google Maps and was looking for a co-living space. I wasn't ready to open, but he was really excited to see the place, so I sent him some pictures and he wanted to move in the next week!"
More than just Maria's first guest, her very first co-liver turned out to be an invaluable asset to her fledgling business. "He brought some of his friends with him and they all ended up helping me finish off the house and build the foundations of the community. They also knew a lot of people who were moving from co-living to co-living in Tenerife, and they introduced me to all the different co-living locations here in the South. When those co-living communities were full, they were sending me clients, which created very healthy collaboration and competition."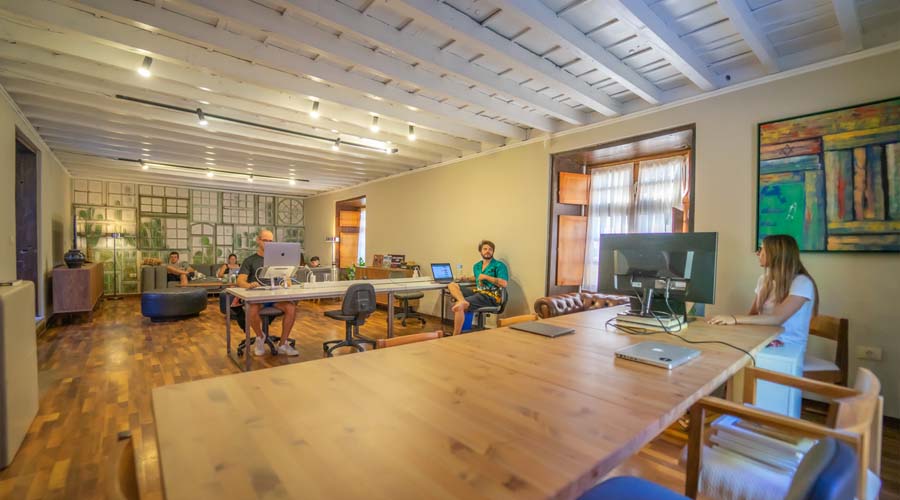 How's now and what's next?
One year on from opening day, Maria now has 12 rooms, two co-working spaces and even a wine cellar, and has built a community of almost 200 co-livers, including doctors, psychologists, coders, marketers, and architects. With an average stay of a month, these individuals look to immerse themselves in the locale and connect with those around them. In this sense, Maria has created an offering that perfectly captures the demands of the modern hospitality consumer.
"I'm really happy, almost all our guests come through word of mouth, and I think this is thanks to the work we are doing. We provide a range of activities for the community on a daily basis, most focused around sustainability. We support the local area as much as possible, shopping at farmers markets and banana plantations, doing island clean-ups, going hiking and running local wine tasting events.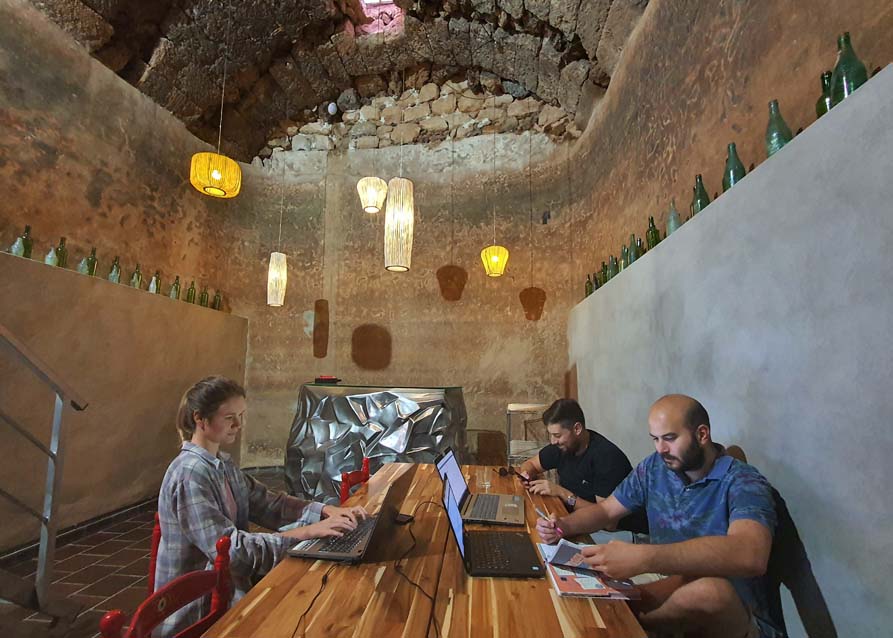 "Looking forward, in the next few years I would like to open another Cactus community in mainland Spain, maybe in a city or village, using the same type of concept and house."
Power to you Maria, we're so proud!
Keep reading about Les Roches: