Are you looking at starting a career in human resources, or have been curious about what it takes to be successful in this field? Human resources (HR) can be a valuable and enjoyable career for the right people, but you need the right skills and experience to help you make the most of it.

In this article, we will go over everything you need to know about human resources as one of the many careers in hospitality management, including the skills and qualifications that can help, as well as what an HR manager does in their day-to-day working life.
What is an HR manager?
The human resources manager is the person responsible for all employee issues in an organization. This includes everything from recruitment and hiring to improvement plans and training schedules for employees. While the HR manager will report to upper management, they also have to help deal with issues that upper management team members have, including any mediation between employees.
What does the HR manager do in hospitality?
In hospitality, the roles of an HR manager can include:
Assessing department numbers and any gaps in the teams

Writing job listings

Screening and interviewing candidates

Inducting new employees for all departments

Assessing skills development weaknesses and improvement needs in the company

Designing suitable training programs for new employees and employee development

Handling absences and holiday requests

Resolving employee grievances

Handling employee warnings and ensuring employees follow the company protocols

Developing strategies for everything from employee complaints to reward systems for great employees

Ensuring pay and benefits systems are running smoothly

Designing and overseeing employee reviews and appraisals
Of course, each company has different HR requirements. In some smaller companies, you might have additional administrative duties on top of HR tasks, while in larger companies you might manage a team of HR assistants who handle an individual part of that list each. This means that even with hospitality, you will find a wide range of different HR roles.
What are the steps to becoming an HR manager?
There are two main ways to become an HR manager, though there are other paths that you can look at as well. The two most common ways of getting into HR management are through relevant degree-level hospitality management studies or through working in a human resources career and gaining relevant experience.
How can I find a degree for HR manager roles?
There are plenty of different degree options that can get you on track to becoming an HR manager. As well as more generic human resources degrees, you can look at specialist hospitality degrees.

These have the distinct advantage of giving you a lot of information that is specific to the hospitality industry. If you want to become an HR manager in a hotel, open your own hospitality venue, or handle human resources for a hotel management company, a hospitality degree can give you the right skills and knowledge.
If you are wondering "What is a hospitality degree?" the simple answer is that it will have everything you need to learn about the world of hospitality, including human resources. On top of this, you will learn a lot of industry-specific skills that could help you get into other roles within hospitality, such as becoming a marketing manager.
Learn how to manage hospitality venues
Les Roches' accredited business degree gives you expert skills for HR management in the hospitality industry.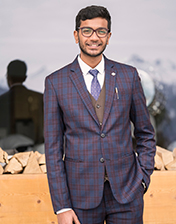 What kind of experience do you need in HR management?
If you are looking at applying for HR management roles without a degree, you may find the route harder. You will likely need a lot of relevant experience in order to be considered for this type of role.

Most employers will want to see that applicants have at least five years of experience within the human resources role, as well as some experience in management. You will also likely need some qualifications in more general subjects such as English, mathematics, and computing.
What other paths are there into HR management?
You can also find some other routes into HR management. For example, if you become a hotel manager and then want to shift across to HR, you might be able to take a training course to give you the skills needed. There are also various internships available for school leavers who want to start a career in HR.

Alternatively, if you want to change your career, you could look at diploma studies where you can change your focus towards human resources. All of these can help give you new knowledge and skills to help you start your career in human resources.
Fast-track your career in international hotel management
Learn how to manage a hotel with Les Roches' applied study diploma with a six-month, real-world internship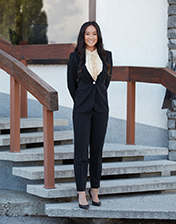 How long does it take to become an HR manager?
How long it takes to become an HR manager depends on the path you want to take to get there. If you are planning to work your way up from a different HR role or administration role in a company, this could take upwards of five years, depending on your professional experience.

This is because employers will want to make sure that you have had enough time to learn all the skills you need. Plus, hiring managers will want to see that you have a proven track record of good performance in an HR role.
If you want to get a degree in hotel management to help you get a variety of roles, including HR, you will usually find that these programs take between three and five years. The length will depend on your current qualifications as well as the place where you study.
For a diploma to help you change to a career in hospitality HR management, the time taken is usually around one year as a fast-tracked qualification. Of course, getting experience on top of this can help you get some of the best job options in the field.
What skills do HR managers need?
With its varied job tasks, there are a lot of skills that HR managers need during their work days. This includes:
Compassion and empathy

– Working with employees of different levels means you need to have interpersonal skills and show compassion towards the problems that workers might be facing.

Communication

– Having to deal with members of staff from all different levels means that you need good communication skills, even when people are frustrated or upset.

Active listening

– HR is where employees go when they need help, and often the things you have to deal with are quite delicate matters. Having good active listening skills is vital.

Organization

– HR is a busy role, and you will need to have good organizational skills and multi-tasking skills to keep on top of everything.

Analytical thinking

– As well as people skills, you will need to know how to assess situations and handle them in the most strategic and sensible ways.

Negotiation

– This is useful for hiring as well as discussing holiday requests or scheduling conflicts.
Is HR management a good job?
Human resource management is a very varied role, and there are plenty of people who find the role enjoyable and interesting. This might be a good match for you if you:
Want a varied career

– The role includes a lot of different tasks such as working with employee complaints or handling benefits packages.

Want a chance for advancement

– There are lots of HR departments in large companies that need several managerial levels, meaning there is often room to climb the career ladder.

Like working with people

– By its nature, HR means working with a lot of different people in different positions within the company. If you like working with people, this can make it a great fit.

Can handle tricky situations well

– Working in HR can be challenging, and there are some upsetting things that people have to handle with impartiality and discretion.
HR is a rapidly growing field, which is relevant in the hospitality industry as well as almost every other industry. This means that it can be a very successful career for people who want to keep their options open.
How much do HR managers make?
The salary you could receive as an HR manager will depend on the type of company you work for, as well as the exact role you are in. For example, your salary will be different in an entry-level position compared with a senior position. It will also be different depending on what country you choose to work in.

Generally, the pay is similar to most other managerial roles, starting in the middle band of wages and working upwards. You could also look at starting your own hotel or hospitality facility with your human resources experience and knowledge and then set your own salary.
How to become a Human Resources manager: summary
Human resources can be a great career path for a lot of workers, especially if you like having varied tasks and working with people. While you can get into the field through experience and working your way up the ladder, there are plenty of options for degrees that can help your career advancement.

Here at Les Roches, we have degree and diploma options for people at all stages of their careers to help them get into HR Management in hospitality.