We take a look inside one of the world's most luxurious private members' spaces – The Arts Club Dubai – in the company of its CEO, Les Roches alumnus Ajaz Sheikh…
Take an iconic, 159-year-old London institution, mix in the modernity of Dubai, a little visionary leadership, and the strength not to quit even when blown off course, and the heady cocktail you create would look something like The Arts Club Dubai.
I work on the principle that if I'm not excited about a venue then how can I expect my members to be?
Opened in December 2020, this 65,000 sq. ft, five-floor masterpiece of a private members' club has already filled its membership books and now operates a waiting list. It's even enjoyed Royal patronage, with high profile visits by H.H. Sheikh Mohammed bin Rashid Al Maktoum, Vice President of the UAE and Ruler of Dubai, as well as his son, H.H. Sheikh Hamdan bin Mohammed bin Rashid Al Maktoum.
So far so good, then for The Arts Club Dubai's CEO, class of 1995 Les Roches alumnus Ajaz Sheikh. However, the story could so nearly have had a different ending, but for Ajaz's persistence and the rock-solid support of the Arts Club management team and investors.
As with many construction projects in this recent period, The Arts Club Dubai was hugely affected by the Covid pandemic. Maybe more than most, due to the exceptional attention to detail that Ajaz was determined to bring to all aspects of the club.
"This is the first overseas expansion of The Arts Club, so we were determined to make the venue truly unique, with vintage and bespoke furniture and a keen sense of design on every floor. However, that's not so easy to pull off at a time of global lockdowns," Ajaz explains.
"There were times when I wondered 'how are we going to get out of this one?', as we had to resort to virtual meetings with our Italian design team, and approving bespoke fabrics over Zoom calls," he adds. "The construction was also hugely complex, as the ICD Brookfield Place development was going on at the same time, so there was something like a thousand construction workers on this big site in the center of Dubai."
Fortunate delay
Although it was a major headache at the time, a year's delay in handing over the Arts Club premises to Ajaz and his team proved in hindsight to be a lucky let-off. Had the handover happened on schedule, the Club would have been fitted out and opened its doors immediately before the pandemic hit in early 2020; something that might potentially have dealt it a fatal blow.
As it was, by the time the club opened its doors, Dubai was back and firing on all cylinders. What's more, the continued restrictions on the hospitality industry in Europe gave Ajaz an incredible opening when it came to recruiting the 300 specialized staff he needed.
"Everyone knows how hard it is to recruit great staff in hospitality these days. But back in late 2020, when all these Michelin-starred restaurants and 5* hotels were closed, it meant we could attract some of the best professionals in the business. These are people where normally if you can steal one or two of them from a competitor you'd be cheering, let alone 300!"
Many of these top talents were known to Ajaz from the stellar career he has enjoyed in hospitality since graduating from Les Roches; a career which has seen him working at prestigious London properties including The Lanesborough, Mandarin Oriental Hyde Park, and Conrad Chelsea Harbour, as well as for the international restaurant brand Zuma.
It was in this latter role that he became familiar with Arjun Waney OBE, who co-founded Zuma and is also principal shareholder of The Arts Club through his Argent Fund Management business.
Building for the future
"We're in the brand building business first and foremost," says Ajaz. "And that means nothing gets short-changed; instead, the company only does what is the right thing for the business and the brand in the longer term. You can see this with Zuma, with La Petite Maison and with The Arts Club – that kind of support is hard to find, especially when it comes to private money."
With a successful opening and a full membership list already accomplished, the next phase for Ajaz is to fully embed the club within the social fabric of Dubai, as well as consolidating its exceptional talent resources. "We need to do succession planning for the team, so we can properly recognize our stars and give them space to grow with us.
"The focus for now is Dubai; once we're comfortable that we're in a good place, we may start to look at other locations where we could introduce an Arts Club, in prime cities that make business sense and also give our members more options. But one step at a time!"
Inside The Arts Club Dubai
The first thing to note about The Arts Club Dubai is that – as its name suggests – it is a social club not a business club, making it unique within the city-state's entertainment scene.
As with its London sibling, the premise of the club is to bring together people from different walks of life, while also having a strong cultural element to its membership offer; whether that's art exhibitions, gallery visits, music-related events, exclusive wine dinners or other events designed to bring the club's membership community together.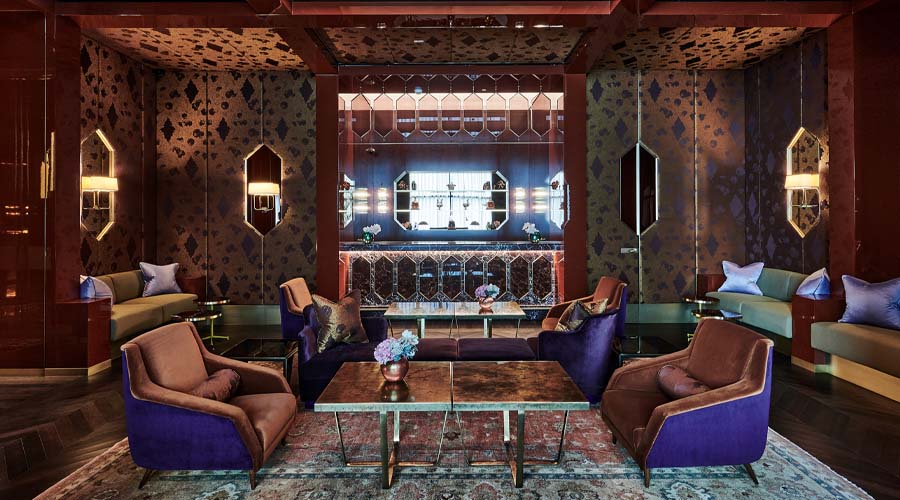 The building was purpose designed for The Arts Club and spans five floors, in which there are three restaurants, seven bars, two cigar lounges, a night club with a distinctive 'Studio 54' vibe, plus a 22,000 sq. ft roof terrace with outstanding views over the Burj Khalifa.
"I work on the principle that if I'm not excited about a venue then how can I expect my members to be?" notes Ajaz. "I travel a lot, I like exclusivity and I like private spaces. This club is an amalgamation of everything I've learned since starting out in hospitality."