Digital Transformation Happy Hour

A new series of 'LinkedIn Live' debates on the impact of digital tech in hospitality – now and in the future.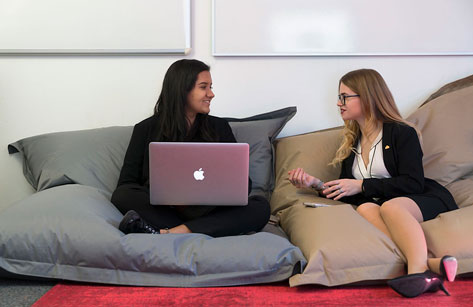 Hosted by Les Roches Program Director and revenue expert, Scott Dahl, and featuring invited guests from across industry and academia.
Follow us on LinkedIn to receive updates and notifications for each event.
Episode 7: The ethics of Digital Transformation in hospitality: risk vs reward
Thursday August 13, 16:00 CET – broadcasted live on LinkedIn
Special guest: Gabor Imre (CEO, Follow the Face International AG) and Kelly McGuire (Managing Principal Hospitality, ZS Management Consulting) 
Digital privacy and ethics encompass many facets of how enterprises conduct their businesses. With the growing implementation of technology such as facial recognition and artificial intelligence the debate is on the table. In this session, we'll talk about the ethics associated with digital transformation in hospitality.

Episode 8: Swiss Innovation Day – Back to the Future
Thursday August 27, 16:00 CET – broadcasted live on LinkedIn
Special guests: to be announced
On the occasion of the 5th edition of the Swiss Innovation Day — a platform for well-known national and international experts to discuss ways to succeed after the crisis, highlight tomorrow's must-sees and trends— we will connect live from Zurich to talk about guest behaviors post COVID-19, flying after the pandemic, the challenges of the international tour operators and the economic situation of the Swiss hotel industry.
Past Episodes
Episode 1: Mentors: the most important tool in your career toolbox
Thursday May 7, 14:00 CET
Special guests: James Lemon, Founder and CEO of The Growth Works, plus mentors Mirco Iada (Movenpick Hotels & Resorts), Karla Brooklyn (SiteMinder), Maurizio Ferraiuolo (MasterChef), Patrick Wimble (Lightbulb Consulting), Matthieu Mioche ((Neptune HR), and Benedicte Ollagnon (Duetto). 
Hospitality consultancy The Growth Works is launching a pro-bono mentoring service – an opportunity for experienced hoteliers who have navigated downturns over the years to support younger colleagues who may be experiencing a sustained fall in demand for the first time in their careers.
Episode 2: How to prepare a winning business pitch
Thursday May 21, 14:00 CET
Special guests: Alexandre Gamberoni, Les Roches Senior Lecturer and professional coach 
First impressions count the most. So, what to do when you only have 60 seconds to persuade an investor to back your business idea? In this episode, Scott Dahl and Alexandre Gamberoni will share the tips and tricks of a perfect business pitch in video format.
Episode 3: Bringing revenue management technology to smaller hotels
Thursday June 4, 14:00 CET – broadcasted live on LinkedIn
Special guests: William Cotter (Founder and Managing Director, Net Affinity), Daniel Plancic (Managing Director and Partner, SHS Academy) and Ari Andricopolous (CEO, RoomPriceGenie).
No longer reserved for the major hotels and largest hotels, advances in technology are making revenue management accessible to smaller, independent hotels for the first time. We discussed what's on offer and where it might move the dial on revenues.
Episode 4: Hospitality digital marketing: turning overnight guests into lifelong advocates
Thursday June 18, 16:00 CET – broadcasted live on LinkedIn
Special guests: Max Starkov (Hospitality and Online Travel Tech Strategist, NextGuest) and Mercedes Blanco (VP Sales – Americas, BCV Social)
Why the most important customer contact comes before and after the sale. What are the latest developments in loyalty programs? Using digital marketing tools to deepen the customer relationship. How hotels are using digital technology to deepen their customer relationships. Why hoteliers should stop looking for tomorrow's guests and start looking for their brand's advocates.
Episode 5: How AI and Big Data will transform the hotel industry
Thursday July 2, 14:00 CET – broadcasted live on LinkedIn
Special guests: Juanjo Rodriguez (Founder of The Hotels Network) and Utpal Kaul (Data Scientist and Global Head New Product Incubation/Innovation at Carlson Wagonlit Travel)
Experts spend a lot of time considering what can be done with technology, but almost no one talks about what should be done with technology. And that is about to change. Recent personal data thefts have shown the negative impact on companies when technology fails, and this is only the beginning. Hoteliers in the future are going to need to know how to evaluate the potential risk associated with every technology decision they make.
Episode 6: Innovation and Tradition in Hospitality – Finding the Perfect Blend
Thursday July 30, 14:00 CET – broadcasted live on LinkedIn
Special guests: Pablo García (Director, Les Roches Innovation Hub) and Natalia Bayona (Senior Expert on Innovation and Digital Transformation, UNWTO)
What role will innovation play in the industry recovery? How is a traditional tourism resort in the Swiss Alps reinventing itself to become a hospitality entrepreneurship hub? In this episode, we will talk with tourism and innovation expert Natalia Bayona and Pablo García, the Director of the newly launched Les Roches Innovation Hub, about how Les Roches is putting Crans-Montana in the startups map and the need to support disruptive solutions through initiatives such as the UNWTO Hospitality Challenge.