The news is out! We're establishing our own Innovation Hub in Crans-Montana, to provide a new center for hospitality innovation at the heart of our campus.
The Innovation Hub opens this September, with the goal to develop pioneering solutions for all businesses that place the customer experience at the heart of their strategy. That includes hospitality, hotels and restaurants, tourism and travel, luxury goods, services and e-commerce.
"This is a perfect fit for an institution that's always attracted innovators and entrepreneurs, and structures its teaching accordingly," says Pablo Garcia, who is the Director for the new hub. 
"This innovation cluster is an open space where technology experts, students, professors, entrepreneurs, innovators, startups, as well as local and global companies, can come together to create the future of hospitality. We aim to devise products and services that will reinvent the customer experience."
A local partnership
Key to the development of the new venture is a partnership we've forged with the Association of Crans-Montana Municipalities (ACCM), which covers Crans-Montana itself, plus Icogne and Lens.
"This is extremely valuable for our region," says Nicolas Féraud, VP of ACCM and President of Crans-Montana Municipality. "Crans-Montana has a longstanding tradition of welcoming customers with tourism and international events; we are now working to diversify our economy to welcome companies at the cutting edge of innovation. This innovation cluster brings important added value to Crans-Montana and comes at just the right time."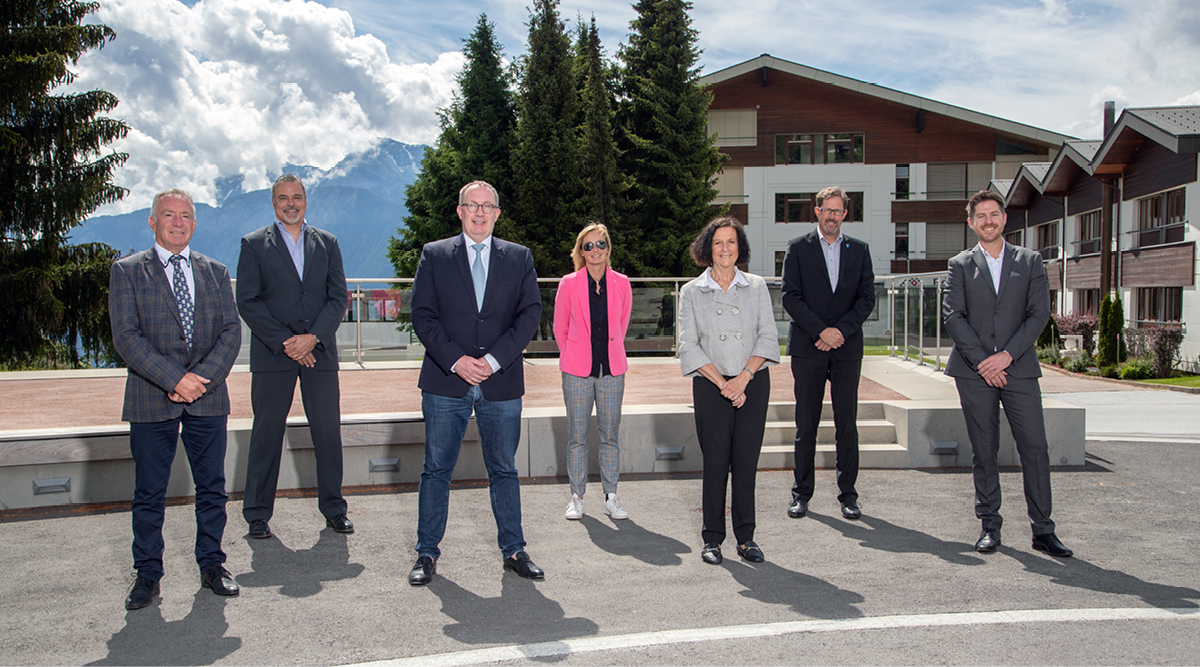 Celebrating the launch of the Innovation Hub are (left to right): Martial Kamerzin, ACCM Management Board Member and President of Icogne Municipality; Yves Roger Rey, Secretary General of the ACCM Management Board; Nicolas Féraud, VP of ACCM and President of Crans-Montana Municipality; Nicole Bonvin-Clivaz, ACCM Management Board Member and VP of Crans-Montana Municipality; Dr Christine Demen Meier, Managing Director, Les Roches; Bertrand Emery, ACCM Management Board Member and Municipal Councillor of Lens; and Pablo J. Garcia, Director Innovation Hub Les Roches.
What to expect from the Innovation Hub
The Innovation Hub will occupy a 200m2 space in the heart of Crans-Montana campus. It will feature a collaborative space, called the Innovation Showroom, alongside the Innovation Multimedia Center, which is both an ideas lab and digital production studio. Visitors and participating companies, meanwhile, will have their own dedicated spaces.
For our students, the new Innovation Hub presents a unique opportunity to plug into the dynamic innovation ecosystem of Switzerland – the world's most innovative country. It will offer startup coaching and incubation, while also providing a vital proving ground for new product and service concepts. 
There will be a wealth of technological expertise on tap, in areas such artificial intelligence (AI), internet of things (IoT), blockchain, robotics and virtual/augmented reality. And the Hub aims to get off to a flying start, with an ambitious program of activities, exchanges and international events focused on innovation and sustainable development scheduled for this year and next.
Dr Christine Demen Meier, Les Roches MD and a board member at the Swiss Innovation Agency, InnoSuisse, concludes, "For us, it is extremely important to be able to fit our work into the regional ecosystem, in close proximity to the economic players. Together, we aim to co-create innovative and viable solutions capable of meeting the priority needs of the industry. This initiative is a wonderful opportunity to promote the image of an innovative territory." 
·      Being close to cutting-edge innovation is just one reason to study at Les Roches Crans-Montana this October – check out these other great reasons!