If you want to be successful in the world of hospitality, having a great online presence is crucial. Whether it be chatting to customers on Facebook, announcing exclusive competitions on Twitter or posting pics of your latest developments on Instagram, what you do online can have a big effect on your business. Jane Hurst – an editor and freelance HR professional with extensive experience of helping people land hospitality jobs – offers six tips to help you ensure you have a professional online presence that is sure to impress:
1. Share your passions
Your interests are what help people get to know you. If you are passionate about the hospitality industry, make sure the world is aware of it. The more people who know about it, the further your online presence reaches. You never know who may be reading what you write, so write to impress future employers.
2. Find your niche
Make sure your online presence is unique and stands out from any potential competition. Have your own voice and style that's true to you. For example, you could start a blog, and link it to different sites and professionals that share your enthusiasm. LinkedIn and Google+ are just two sites used to discover people with similar passions. Future employers look at these sites, too, so it is a great way to get your work out there.
3. Build a website
Create your own website, where you can highlight your education and skills. Personalise your site to show what type of career you are interested in, and create a page that highlights yourself and your interests. Include things that you have done in the past, in order to show your experience and commitment to the hospitality industry. You can use a free website builder to create your site and link your blog and other sites, like your Instagram or Twitter, to your website.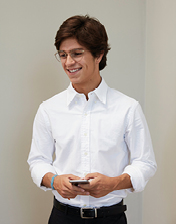 4. Build a professional brand
You need to create a brand that is memorable and consistent across your webpages. Think of a name that is unique but relates to your interest. Create a catchy slogan, a tone of voice and eye-catching colours. Being consistent shows you are professional and will help your brand stay in people's minds.
5. Use Pinterest
This site is not just for crafts and recipes – future employers can see what you are pinning. You can show them that you are staying informed of the latest trends by pinning relevant articles and links. Employers will be impressed by your research skills and your devotion to the hospitality industry. You can also link your website and your resume to your Pinterest page. That way, everything is available to future employers.
6. Think about privacy
Finally, be careful about your privacy online. You need to be aware of who can see what. Google yourself to see what your online presence is like. Also, be aware of what you post on social media sites – future employers will look on your social media, as well as your personal websites. Be sure you have not posted anything that could be detrimental to your employment. Also, double check that what you post is private so no one can steal your brand or identity. You are working hard to create a positive online presence – make sure it stays private as well.
Whether you want to create your own successful brand or secure work with a leading hospitality organisation, having a professional online presence will show you are determined, informed and passionate.