Innovation has a new home at Les Roches – and that's official! We introduce Spark, our new innovation sphere, plus we get to know some of the technology pioneers and disruptors who are partnering with us in Crans-Montana and Marbella.
"Innovation is an outcome; the creation of something new; something replicable and something very valuable."
With those words, Pablo J. Garcia set the wheels turning on one of the most significant developments in the history of Les Roches: the launch of Spark – our dedicated, on campus and virtual, innovation sphere. 
Pablo leads the Spark activities in Crans-Montana campus. In Marbella, that role belongs to Susana Garrido, Digitality & General Education Program Manager as well as Senior Marketing Professor.
Susana adds, "Our campus is becoming a dynamic environment of innovative experiences for our students, who will be exposed to new trends and will have the opportunity to breathe and experience technology as they advance in the professional and personal transformation. This is what has always distinguished us.  
"Multiple companies will bring their most recent developments so that they are tested, researched, and evaluated by students in an educational context. This precise moment in history may be remembered as a turning point in the sector for future generations and, without a doubt, the best way to remember history is to be part of it."
Virtual launches, real innovations
Normally, such a momentous event would have involved big festive gatherings on campus. Compelled to show our credentials as innovators by restrictions on public gatherings in Switzerland and Spain, we devised digital launches instead, inviting guests to tour the Spark facilities in 'virtual reality'. 
There's nothing 'virtual' about the approach of Spark, however. Both on-campus spaces are the real deal, with demonstration rooms, test facilities and pre-incubation/incubation programs that have already recruited an impressive collection of start-ups.
"In Spark we will welcome entrepreneurs, innovators, tech experts, international students, companies and investors," says Pablo. "We will challenge the status quo; we will discover new ways to deliver services and products. We want to rethink – to reshape – the future of hospitality."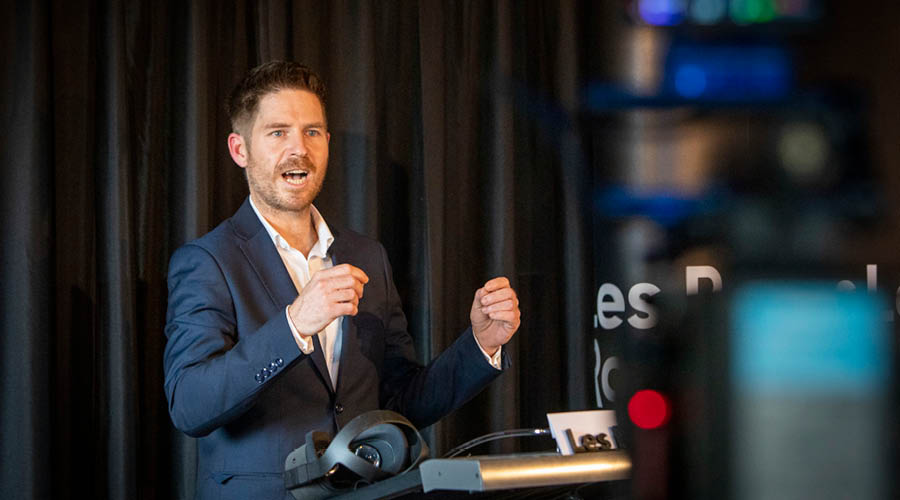 Pablo J. Garcia, Director of Les Roches Innovation Sphere & Senior Lecturer in Innovation and Sustainability
How might that future look? Spark will focus on the technologies of tomorrow (known as tech verticals), each one explored in collaboration with an industry partner.
These are: 
AI and Face Recognition

– working with Switzerland's

Rayshaper

SA, a specialist in ultra-high definition imagery

Web Applications/E-commerce

– supported by Canadian/Swiss web project and app developer

Spektrum
VR/AR/MR

– advised by Poland's

Simprosoft

, which is a leader in simulation training for fire brigades, police forces and airports, plus Spain's

Astroland

Interplanetary Agency and

BNT Business

, the communications provider

Robotics

– using the technical offer of Swiss robotics solutions and 3D printing developer

Workshop 4.0

alongside Spain's

Macco Robotics
Internet of Things

– with support from Germany's

Brunata

AG, a global leader in custom-made tech and remote sensors, together with

Enkoa

of Spain, an innovator in energy control systems for hospitality and other industries

Blockchain

– in collaboration with Switzerland's

Qiibee

, a blockchain plug & play solution developer

Product Technology

– working with two Spanish businesses which have a focus on product innovation:

Valiryo

and

Natural Machines
AI and Big Data

– in partnership with Human Data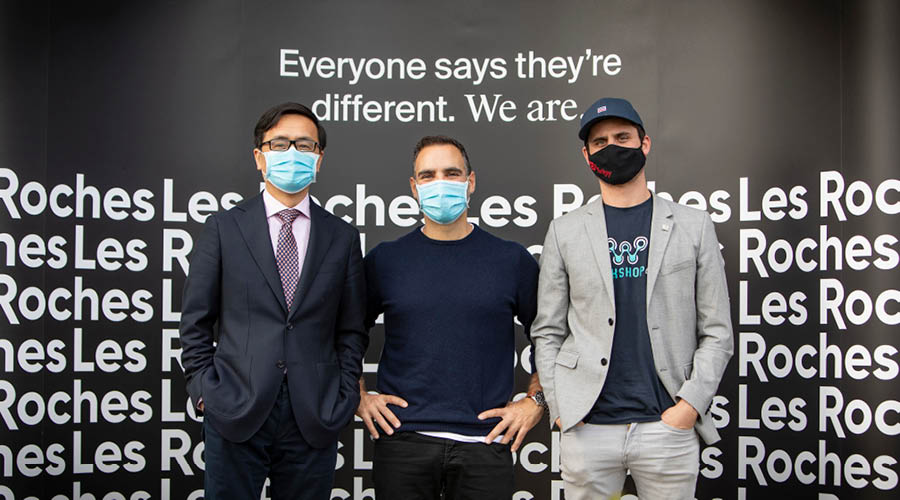 From left to right: Jiangtao Wen, AI mentor; Georges Saad, Founder of Apollo 13 and Spektrum; and Nicolas Fontaine, CEO of Workshop 4.0
These innovations will be directed towards five hand-picked industry sectors, namely: hotels & lodging, food & beverage, wine, mobility and FinTech (financial technology).
A good example is Gregor Kuonen, a multi-awarded winery —best cabernet of the world in 2019— and supplier of all the Swiss Embassies around the world. In the words of the oenologist Larissa Kuonen, "innovation is key to produce the best wines and IoT and AI are great technologies to improve efficiency, enhance customer's experience and respect the environment". 
Amazing opportunities for our students
Although this initiative gives the international start-up ecosystem plenty to be excited about, it's our students – naturally – who are at the heart of Spark. Students will have the opportunity to create their own start-up enterprise alongside their regular studies, while also having the chance to work on innovation projects with our partner companies.
The first batch of these collaborative projects have already been announced. They include working with AI/facial recognition specialist IP Keys on a new solution for profiling a subject's personality through biometric analysis of facial emotions. Some 50 students in Crans-Montana have already participated in the research phase of this project. This research study aims to find a correlation between people's faces and personalities, to facilitate the recruitment process for new employees.  
A destination for incubation
Spark isn't just about coming up with new and disruptive ideas. Real, commercial businesses will also be grown in Switzerland and Spain, with the support of Association des Communes de Crans-Montana (ACCM) and Marbella's City Hall. Both are committed to making their regions as famous for start-up ecosystems as they are for tourism.
All start-ups will benefit from access to knowledge, advice and investment seed funding to help them get their innovative concepts to market profitably and sustainably. The first start-ups to benefit from the incubation and acceleration package have already been selected. We will have more news on this part of the program soon. 
Canada-based start-up incubator Apollo13 is the incubation program mentor. Its CEO, Georges Saad, explains, "We are looking forward to working with Les Roches to incubate start-ups and help build amazing companies. We think it is important to get involved in learning spaces to introduce young people to entrepreneurship. 
"Our program with Les Roches is aimed at building sustainable, profitable businesses. It's centered on four core values: we aim for slow, organic growth; we help build companies with a social added value and a vision of a brighter future; we measure true success based on sustainable growth and profitability; and – most important for me – is the element of humanity and empathy. We cherish the idea of personal growth aligned with the development of the company."
There will be so much more to talk about in relation to this exciting initiative in the coming weeks. But for now the final word belongs to Pablo Garcia.
"Some people might say that this is the future. We say that this is the present."
·      To find out more about Spark, visit the dedicated area of our website by clicking here