At times, during the past few months, it's almost felt like the world stopped turning. One thing that didn't stop, however, was teaching at Les Roches. Things just went online instead. We found out from faculty and students how the switch to remote learning went for them…
"I didn't think I could possibly adapt to an environment where I cannot interact directly with my students. But we proved our ability to swim in strange waters! I still prefer face-to-face, but now I can see a pathway forward should a similar situation occur that impedes classroom time." 
Les Roches Crans-Montana Lecturer Della Häubi spoke for many when expressing her surprise at just how well our remote learning program went, given it was launched and delivered from scratch in the blink of an eye. 
Perhaps it shouldn't be too much of a surprise, given the innovativeness and entrepreneurial spirit that courses through our DNA as a school. But this very different type of teaching still represented a leap of faith for our faculty and students.
Les Roches Jin Jiang at the forefront
With China ahead of the global curve with its lockdown, Les Roches Jin Jiang (LRJJ) had to move to remote teaching in advance of our other campuses. 
On March 9, all 32 LRJJ faculty logged into their Zoom accounts and began teaching the first of 308 hospitality management classes for the week.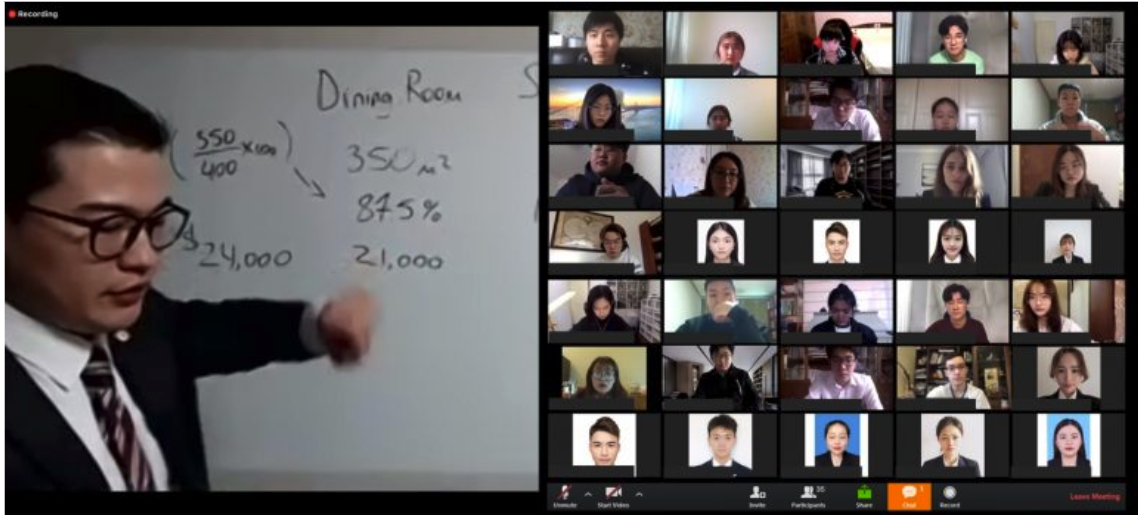 Lecturer in LRJJ Kamil Suleyev teaching his Hospitality Accounting class online
They quickly got used to implementing Zoom features such as breakout rooms and screen sharing to encourage feedback, group work and participation. 
"I like that this gives students the opportunity to be more hands on in their learning. The options to annotate as I'm speaking, to screen share their work, among many other features, have made the class a lot more interesting," says lecturer Ernest Ingram. 
One significant change LRJJ made to its virtual classes was to reduce class periods from 50 to 30 minutes, in order to help students stay focused.
Student Yoki felt that having shorter classes helped her concentrate more intently on her lessons. "For me, I find that online lessons are shorter, concise, and require more self-studying. Since I am studying at home, I feel that there are less distractions; so sometimes I find myself being more efficient than usual," she notes.
The new meaning of business casual!
For Riccardo Campione, Senior Lecturer at Crans-Montana, the 'above-the-waist' focus of a webcam was quite liberating. "I learned the real meaning of business casual – shirt/tie top and pajama bottom!" he jokes. 
"I certainly miss the daily contact with, and energy of, my students and faculty colleagues. But luckily this temporary loss has forced me to refocus my work with new levels of engagement and empathy. Not just in my delivery as a teacher, but certainly as a better team member for my colleagues and organization," he adds. 
What are some of the keys to success with remote learning? LRJJ Lecturer Priyanka Das notes the importance of collaboration tools. She says, "The right tools for small group collaboration is crucial for facilitating easy communication between small groups of students and instructors. No one benefits from a clunky platform that frustrates students and inhibits smooth peer-to-peer communications." 
You can find Priyanka's list of recommended collaboration tools here.
Clinical Professor of Marketing Joe Di Donna did not feel the need to go live with his lessons. He says, "I record my lessons, and I don't stream live due to time zone issues. My students tell me this is good, because they can listen-study-listen again, while interrupting it and repeating anything they don't understand. From that perspective, it's a good method of learning."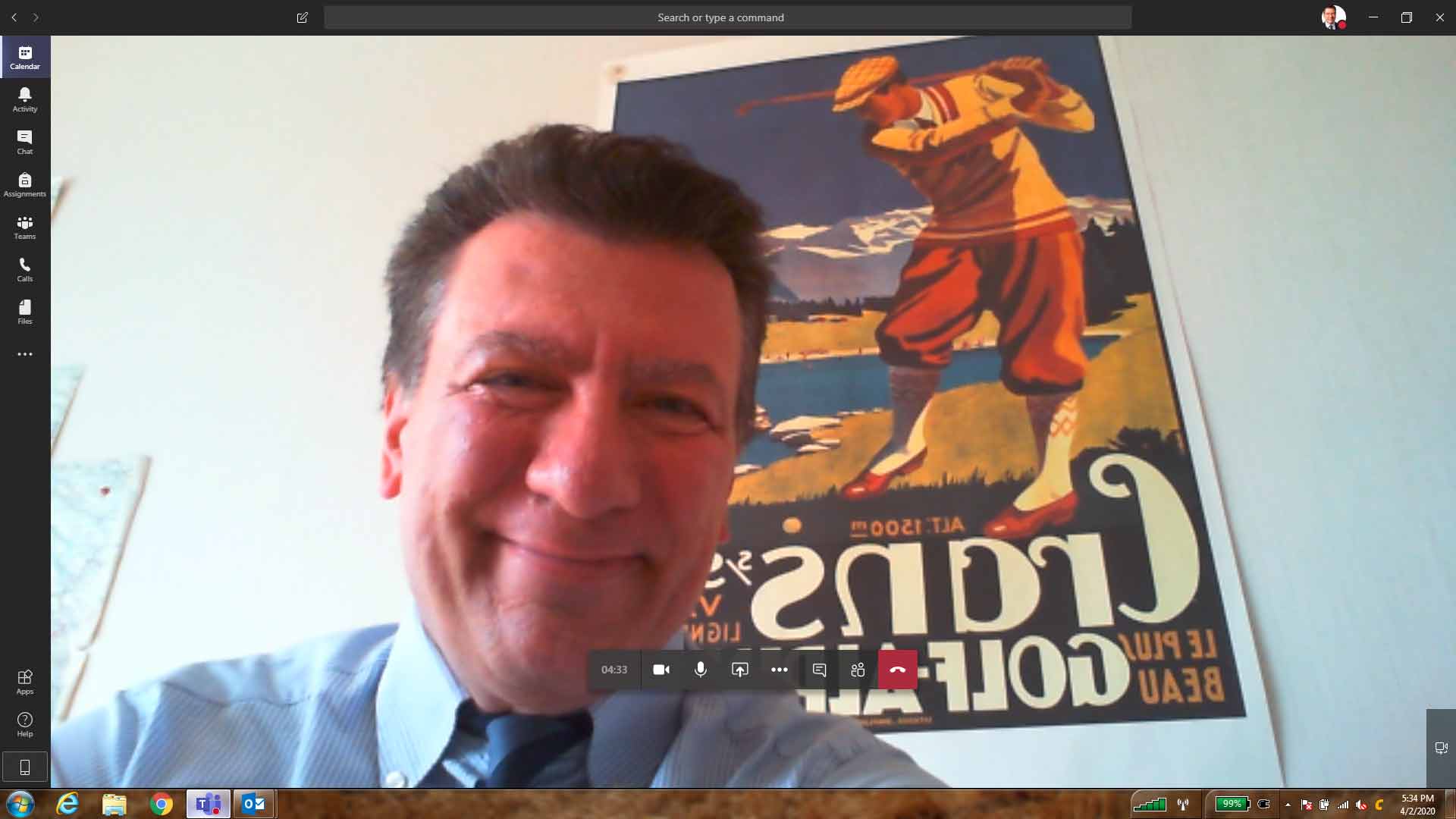 Clinical Professor of Marketing Joe Di Donna during his online classes
LRJJ Lecturer Ajaya Shakya agrees with this approach. By recording short videos of his classes and sending them to the students, he says that it "gives the chance for students with bad connections to go back to the lecture and revise the course".
Business as usual – but not for ever
For Student Ambassador Inola Ganss, the remote learning experience quickly became 'business as usual'. She explains, "We have classes almost every single day, just like our regular classes. And we still have assignments, some of which are adapted to our remote situations." 
Now, though, the remote learning experience is winding down for many students, as our campuses gear up to reopen their doors in the summer – hopefully in late July.
Joe Di Donna, for one, will be happy when this day comes around. "For me, I still much prefer the face-to-face approach, especially for a practical institution such as ours, where the offline experience isn't possible to substitute precisely," he says. 
Riccardo Campione doesn't believe this is the end of the story, however. He says, "Going forward, I expect these new skills acquired during live-streaming to be incorporated into our toolbox. Now that we have swiftly incorporated many new technologies in such a short period of time, I look forward to researching and utilizing even more cutting-edge innovations to help leverage a more digital approach in which all the world has been thrown in." 
And for teachers in other parts of the world still adapting to remote classes? Della Häubi advises, "Embrace this new learning environment as part of the 'new normal'. We, as teachers, might be forced to step outside our traditional classroom comfort zone; but the experience is quite rewarding."
Joe Di Donna's seven tips for successful remote teaching
   

You need a good microphone and a good webcam

   

Pay attention to the background (i.e. do you have an embarrassing poster on your wall?)

   

Pay attention to your appearance – you have to set the standard

   

Work on your tone of voice

   

Ask for interaction (or you might end up talking to yourself while students go to the toilet, refrigerator, do gymnastics, etc. It's a risk)

   

Stimulate discussions and avoid monologues

   

Be patient when students have (inevitable) connection problems