In October 2020, we launched a new home for hospitality innovation: Spark, the innovation sphere by Les Roches. Today, this adventure is becoming ever more exciting as we add fresh pieces to the equation, and offer new opportunities to our students.
Bringing innovation to campus
As Spark Crans-Montana Director, Pablo Garcia, said: "Some people might say that this is the future. We say that this is the present."
This resonates very well at Les Roches. Now more than ever, we are integrating innovation within our positioning, mindsets, and academic programs. In such a fast-moving world, it is crucial that we stay up-to-speed with new trends, technologies, and ways of thinking. Innovation, therefore, plays a massive role and needs to be shared with our students.
Inspire, Ignite and Incubate is our motto. With Spark, our students will have the opportunity to meet and learn from experts, get creative and think outside the box; and, of course, incubate their disruptive ideas and develop their business concepts.
But that's not all! We've recently had the chance to incorporate innovation in many more ways. Among these are the introduction of technologies on campus, as well as the integration of innovation-related projects into the curriculum of the Master's in Hospitality Strategy & Digital Transformation.
Time to try out some technologies 
In May 2021, and for the very first time, Les Roches Crans-Montana had the pleasure to host the World XR Forum, a boutique event focusing on the future of immersive technologies.
For a full day, students, faculty, and staff had the opportunity to dive into the world of innovation, meet with experts and try out technologies that they would have never thought possible!
Take Birdly, for instance. With their flying virtual reality simulator, they were able to take us straight to the Big Apple! It was a truly immersive experience as we felt the air, and all the other sensations flying can bring.
"At Somniacs, we're all about creating immersive virtual reality, extended reality experiences that change the way people explore and interact with the world." – Aleko Lilly, Head of Business Development at Birdly/Somniacs.
What is a tech event without virtual reality goggles? Our students were able to try on the fascinating and learning-oriented Zoe goggles that allow educators and institutions to offer creative projects to their students.
"We developed a set of tools that will allow anyone to create interactive, immersive experiences; and that's what Zoe is. It's about empowering, in the educational sector, those who wish to create such experiences." – Maria Beltran, Chief Product Officer at Zoe, and Co-Founder & Product Director at apelab.
We also had a lot of fun flying DJI drones over the area, one of which was complemented by augmented reality goggles. What a treat!
"DJI is the world leader in drone manufacturing. We focus on bringing new innovations to consumers. They can be everyday consumers; they could also be creatives, like the entertainment, movie, media industry. But we also have another branch, DJI enterprise, which offers different categories of products, such as drones, as a new tool for any business to operate in fields such as mapping, agriculture, archeology, energy, and more." – Olivier Mondon, Senior Communication Manager – Europe at DJI
Did we mention that Workshop 4.0 also had us smile and laugh throughout the day with SPOT the Robot Dog; and that we were able to drive Citroën's brand-new AMI car around campus?
Needless to say, the entire day was an extraordinary experience for everybody!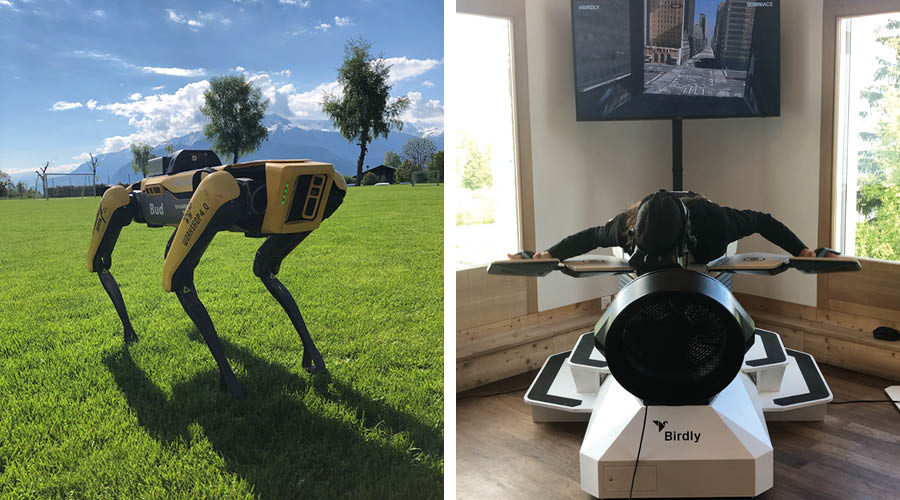 "What is the future of innovation in hospitality?"
During the event, one of our Bachelor Student Ambassadors, Kusum Mirchandani, also asked some Master's in Hospitality Strategy & Digital Transformation students what they believe the future of innovation in the hospitality industry is. Here's what some of them wanted to share.
"In my opinion, it would be the use of technologies to provide more personalized user experiences." – Augusto Traversa
"I believe that one of the biggest hospitality innovations in the future is to find solutions to further increase hospitality revenue." – Daniel Imre
"I believe sustainability will play a key role in innovation as it will lead hospitality towards a more sustainable future." – Katia Rivera
Getting the students involved
As part of the Effective Technology in Operation & Services class given to first-semester students of the Master's in Hospitality Strategy & Digital Transformation, the students were offered a real-life project to create an application which could be used in the hospitality industry. To support and give them an actual context, Les Roches turned to Workshop 4.0, one of our Spark partners, and their Robot Dog, SPOT.
"My role was to share my knowledge in the use of the SPOT robot. To speak about its technical specificities and the possibilities of integration of such a machine. My motivation to work with the class was mainly to exchange with people of a completely different field from mine. It is also an opportunity for me to hear the positive and negative opinions of the use of this robot and to have ideas and exchanges completely away from the environment in which I evolve." Nicolas Fontaine, Co-Founder & CEO at Workshop 4.0
Three groups of four students had to analyze the feasibility of integrating SPOT into the hospitality industry by evaluating the environmental, operational, social, and economic impacts that introducing such a robot into a specific field of our industry could have.
"I think it is important that they are aware of the new possibilities offered by new technologies (in the broadest sense), because it is inevitable that changes are taking place towards the digitalization and robotization of services, also in hospitality. This allows students to get an idea of what needs to be developed or not in their field." – Nicolas Fontaine.
Although various social and ethical elements remain uncertain, the students were able to identify many benefits based on their research. All three projects demonstrated that it is, in fact, a feasible and interesting solution to integrate SPOT into the hospitality industry while remembering the human touch, which will always play a crucial role in our world.
Wish to find out more about our Master's in Hospitality Strategy & Digital Transformation.
To find out more about Spark, visit the dedicated area of our website by clicking here.