While travel and hospitality will always be essentially a 'people' thing, the industry is no stranger to innovations designed to enhance the customer experience. We look at how three technologies – robotics, blockchain, and virtual reality – are already making exciting advances into a business that trades on the 'thrill of the new'.
Innovation #1 – robot "waiters"
When Matthias Schmidt, a Senior Service Instructor at Les Roches, sat down for dinner while on a recent trip through Germany, he was in for a surprise. Among the human staff at his hotel's restaurant were two robots, ferrying food from the kitchen and taking back used plates and cutlery to be washed.
As someone who lives, breathes – and teaches – the practical arts of hospitality, Matthias was naturally curious to see these 'electronic interlopers' at work. After speaking with the hotel's owners, however, the concept began to make more sense.
"The fact is that hospitality lost a lot of people during the pandemic, as hotels, bars, and restaurants were forced to close for prolonged periods. Many of those employees have now changed careers and are not coming back, so there are staff shortages across the industry," Matthias says.
"As such, robots like these are not replacing staff, they are supporting existing ones. It's not a gimmick but a trend I think we will see more and more as the industry deals with reduced staffing availability."
In this context, the two service robots are an ideal solution for the Meiser Design Hotel which 'employs' them. Matthias explains that in a large restaurant room such as the hotel's, staff can usually expect to walk 9,000 steps in a shift. With the robots taking care of the long 'walk' to and from the kitchen, this reduces by around 1,500 steps, giving the human staff more time to spend with customers, improving service levels, and creating upsell opportunities. And in terms of the return on investment, each robot does the equivalent job of 1.5 people, meaning payback can be achieved on the purchase price (around €20,000) in little more than a year.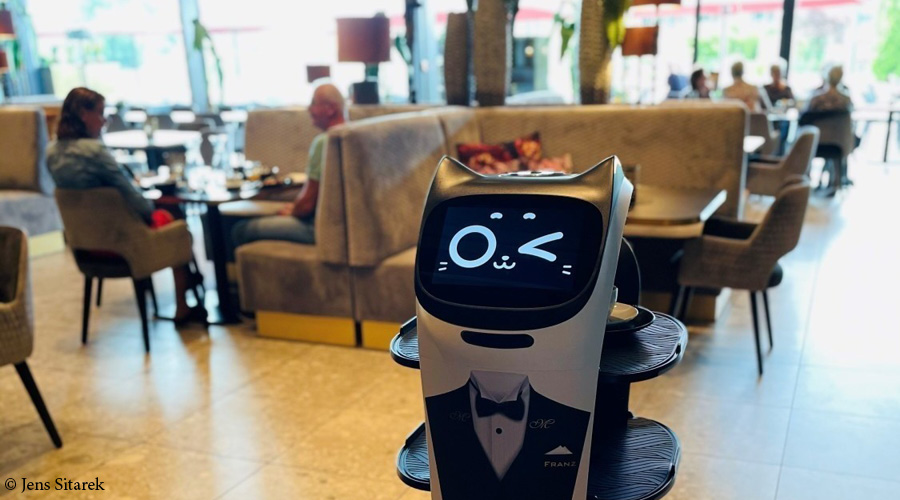 Though the Meiser Design Hotel robots do not interact with customers (other than the obvious selfie opportunities!), another field of robot innovation is bringing a dash of tech and a splash of theater to the humble vending machine. Swiss robot-builder Smyze is helping to lead the way, with its Robotic Bar. This invention has already broken cover in a number of locations, including the Crans-Montana campus of Les Roches, where it's been installed in the main lobby area for students and staff to try out.
Smyze is a partner of Spark, the global center of excellence in hospitality innovation which was launched by Les Roches in 2020. The company jumped at the chance to have its flagship product put through its paces on campus; not least because it effectively provides a global test bed in a single location, given that more than 100 nationalities teach and study on campus each semester. How better to determine which beverage combinations have the strongest appeal among different nationalities, without the logistical nightmare of placing a machine in each of those countries?
Before anyone gets uneasy about "robots taking over", it should be noted that the Smyze device is not designed to replace the human barista or mixologist; it's about offering a more engaging alternative to the vending machine or drinks fridge; one which can be always on to serve 24/7 if required. To underline this, Les Roches' Matthias Schmidt notes that since the introduction of the robot barista the traditional, human-staffed lobby bar on campus has seen no decline in its daily takings; suggesting that the two formats can co-exist happily.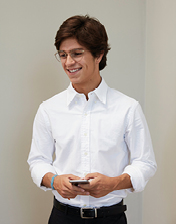 Innovation #2 – blockchain
Think blockchain and most of us will focus on cryptocurrencies like Bitcoin, or maybe the NFT artworks which are fetching insane prices at auction right now. But blockchain is going to revolutionize the travel, tourism, and hospitality industry, even if most of the time you probably won't even know it's there.
Ticketing is a case in point. The world's first blockchain-powered airline ticket was issued and used in November 2019, for a flight from Dusseldorf to Luxembourg operated by the German airline, Hahn Air.
"Ultimately, there is no difference in the ticket itself. The difference lies in the back end and the way the ticket is distributed and purchased," Jörg Troester, head of corporate strategy industry and government affairs at Hahn Air, told cryptocurrency news site Finder.
"Blockchain… is open-source, meaning all market participants such as airlines, travel companies, and hospitality distribution systems can easily connect and exchange transactions. They benefit from reduced costs as they can interact with each other directly and perform transactions without intermediaries. Another main benefit is that the blockchain creates security and trust. Therefore, it is easier for various types of companies to connect with each other."
"For this academic project, our Postgraduate Diploma students were tasked with analyzing whether qiibee's blockchain technology could improve loyalty for customers in specific hospitality segments."
The technology is also finding its way into one of hospitality's most important customer retention tools: loyalty programs. Through Spark, Les Roches is getting involved in helping to make blockchain-powered loyalty a reality.
The first such project is with a partner company called qiibee. Its aim is to combine loyalty with sustainability, rewarding good actions by customers (such as using less energy and water or reducing food waste) with bespoke cryptocurrency which can be collected in an e-wallet and then converted into hotel services.
"For this academic project, our Postgraduate Diploma students were tasked with analyzing whether qiibee's blockchain technology could improve loyalty for customers in specific hospitality segments," explains Pablo J. Garcia, Director of Spark at Les Roches' Crans-Montana campus.
What better way to get closer to the industry than to work with its future leaders? Another project in the pipeline, for which the partner is still under wraps, will look at developing an agile digital platform that will propose travel, hospitality, and experience packages based on a customer's 'digital profile'. This will leverage the flexibility and verification benefits of blockchain to enable easy modifications at any time – including during the trip itself.
Innovation #3 – virtual reality
For everyone excited at the recent launch of Facebook's virtual reality (VR) powered Metaverse, there will be others for whom the idea of spending time in a virtual world sends a chill down the spine.
That said, the closer the 'virtual' experience gets to actual 'reality', the more likely we are to see VR travel taking a growing share of the overall market. After all, if we are to live more sustainably, the most environmentally-sound form of travel is to do it virtually, without leaving our homes!
More immediately, VR has the potential to transform the way hospitality companies market and sell their products, conduct training, communicate, and offer value-adding virtual events at hotels (for example, cooking classes with master chefs or wine tastings with famous winemakers).
The training element, in particular, offers fascinating potential for startups and disruptors to claim a share of the market by leveraging the power of VR. One example is SatisFIND, a startup that is now receiving incubation support and mentoring from Les Roches via Spark.
The company has been providing 'traditional' training for 15 years; but seeing firsthand the limitations this has in terms of upskilling employees who perform frontline service roles, SatisFIND began designing and testing immersive content using VR.
"SatisFIND has identified several practical advantages from deploying VR," explains Pablo J. Garcia. "It drives the cost of training down when compared with in-person exercises; it allows for a consistent approach as all employees receive the same experience; and it can be repeated however many times are required.
 "Where this approach really adds value, though, is through its immersive nature: regardless of the physical location in which they are taking the training, the employee can be transported to their place of work in virtual form. Also, by encouraging them to 'feel' first before they 'think', the learner will become more connected to the subject matter using empathy. This is particularly important when training soft skills."
These are just three tech innovations taking the hospitality and tourism world by storm. There are many more, attracting an unprecedented array of free thinkers, disruptors, and smart entrepreneurs – all of whom are making this the best time ever to be part of one of the world's most dynamic industries.