By Charlotte Andrey
From tech-related start-ups and an Instagram museum to innovative hotel concepts, ten Les Roches Bachelor and MBA students had the opportunity to meet, learn from and share with some fascinating industry and tech-passionate professionals. 
Back to the beginning 
Before we run you through our exciting trip, let's rewind to the very beginning! 
To join us on the European HotelTechTour, first-semester students were required to come up with an individual business idea that would be presented in front of a seven-person jury. Four of them were external guests from tech- and innovation-based companies: James Lemon, Founder & CEO of the Growth Works, Laurent Bischof, Managing Director at BLOOM, Gregory Grin, Managing Director at Fri Up, and Christopher Meignier, Founder & CEO of Blent. 
Of all the pitches, one truly stood out to our panel. The deserving winner was student Jairaj Pujara for this innovative and unexpected idea: 
"Before coming to Switzerland, I knew finding cricketers would be a struggle. I thought of various ways I could make this easier for me and others who look for people with similar interests in the region they stay in, and Crinder crossed my mind. I thought of making a LinkedIn/Tinder for cricket lovers so that they can find individuals nearby who share a similar passion, and hence start playing the sport they love."
First stop: EPFL – Lausanne
The European HotelTechTour began at the EPFL Innovation Park in Lausanne. What better way to start a tech-based tour than stopping by Switzerland's most technology-focused institution?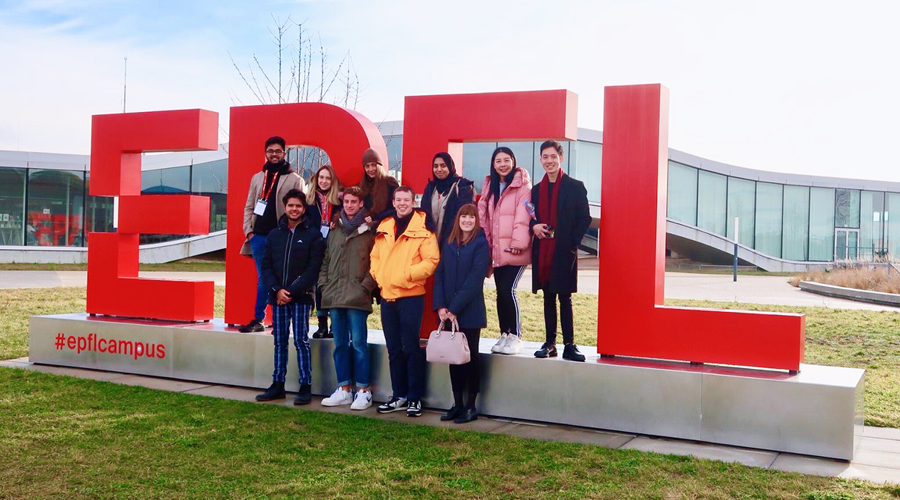 Upon arrival, Deputy Managing Director, Lan Zuo Gillet, warmly welcomed us and presented the Innovation Park, home to more than 200 technology-driven start-ups and companies. Two of those promising start-ups were Embion Technologies and FoodHack, which were presented to us by Georgios Fengos, Engineering & Operations Manager at Embion Technologies, and Camille Bossel, Co-Founder & COO at FoodHack. Each talked about their tech- and food-focused business concepts with passion and gave us proper insights on their foundations and developments. 
MBA student, Virginia Stombelli, explains: 
"Hospitality is not only about hotels. It is about incubators, start-ups, meeting spaces, events, experiences, and exhibitions… Innovation is something that ties them all. During the European HotelTechTour, we had the chance to discuss with field experts who embraced technology not only in their business but also in their everyday projects to improve the guest experience at its fullest." 
Second stop: La Réserve – Geneva 
As a hospitality school, we simply had to stop by one of the most prestigious hotels in the region: La Réserve Genève, where we were introduced to the Human Resources Officer, the Food & Beverage Manager, and the Executive Chef. All three talked about their respective day-to-day activities and shared the history of the hotel with our group. 
As Bilal Hassan, Senior Academic Lecturer at Les Roches, mentioned, "Every successful brand has a story."
Various personalities of the global group, Michel Reybier Hospitality, also took the time to greet us and present their luxurious and intimate Geneva property. We had the great pleasure of meeting Raouf Finan, CEO, as well as Samad Laaroussi, Digital Marketing Director, who discussed the group's digital strategy and talked about the importance digitalization has in today's hospitality industry. 
"It's not only about telling who we are, you need to make it alive to your guests. The customers are doing your marketing." – Samad Laaroussi.
To end our first day on great note, we treated ourselves with a high-quality dinner at the Loti restaurant of La Réserve. 
Third and final stop: Amsterdam 
Off we fly to Amsterdam! Start-ups, hotels, museums… our 2-day stay in the Dutch capital was full of fascinating meetings and places!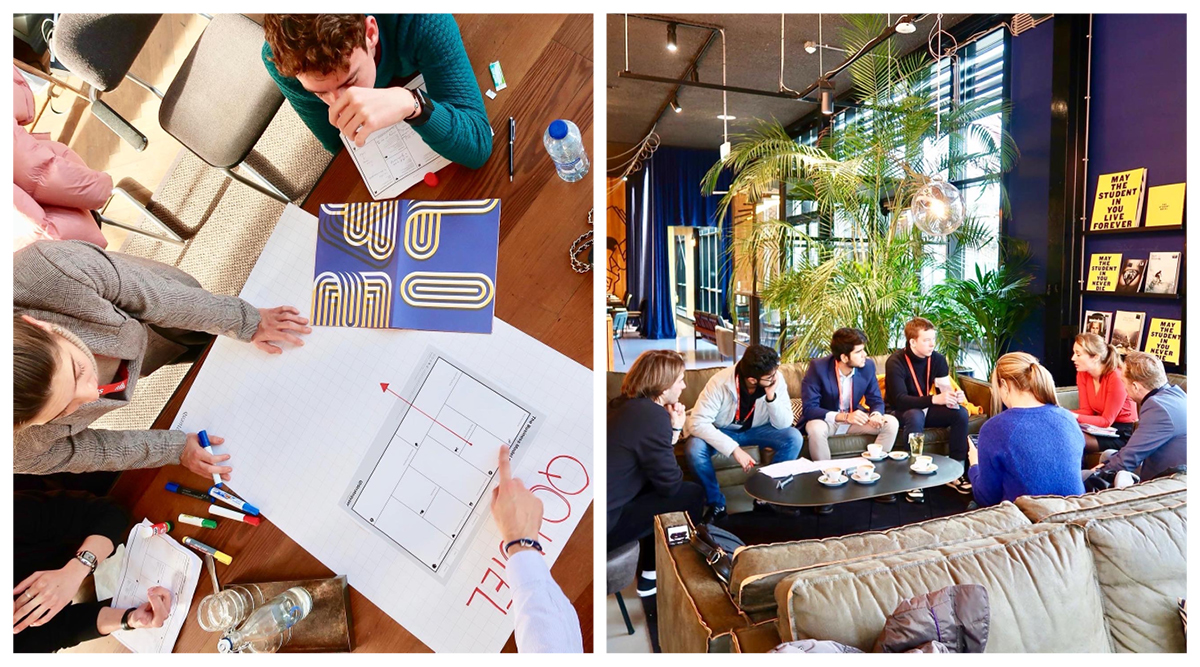 From Lennert De Jong, CCO of the disruptive and transformational hotel concept that is CitizenM, to Maarten Raaijmakers, Co-founder and CSO of the world's top online ticketing platform for cultural attractions – Tiqets. And not forgetting about trend-forecaster and Partner at HBMEO, Vincent Van Dijk, we most definitely had the opportunity to learn from true leaders in the digital era that we live in today. 
Sarah Kanji, Les Roches Bachelor student, shares what she learned during her time in Amsterdam, "Your success depends on how well you digitalize, you have to keep up with the trends!"
Let's not forget about the intriguing and extraordinary Wondr Experience Instagram Museum that opened at the end of 2019; and the three hotels that hosted our hotel game: QO, The Student Hotel and YOTEL. All three are highly innovative in their own ways – and they answered all of the students' questions on how they run their hotels, what their unique selling propositions are, what the ideas behind the design of their infrastructures were, and much more! 
As you can tell, our adventure was complete! During our 3-day European HotelTechTour, we learned from incredibly captivating industry leaders, and came back to Les Roches more aware of the importance of introducing digitalization to businesses in today's world. 
Special mention to innovation kickstarter Nexxworks' Eline Lostrie, International Sales Manager, and France Van Nieuwenborgh, Innovation Program Manager, for having supported us on this unforgettable adventure and making it all possible!
Stay tuned for more European HotelTechTour-related blog articles!