The hospitality industry needs more women in leadership positions – and females who reach managerial roles could be more effective than their male counterparts.
This is the conclusion of a new study that involves a student-teacher collaboration with a uniquely Les Roches flavor.
The study – Why the hospitality industry needs women in managerial positions: the positive influence of female leadership on employee motivation – is the work of Associate Professor Dr Annick Darioly together with class of 2018 Master's alumna Hélène Cregut-Aston. And it's already making waves across industry and academia, not least when presented by Hélène at the recent Swiss Conference of Psychology.
"Women still occupy a minority of hospitality leadership positions, yet they represent more than half the workforce," says Dr Darioly. She cited a 2019 report by Castell Research which noted that just 11% of hotel company leadership positions (such as MD, president, partner, CEO) are currently held by women. The report goes on to suggest that women have just a one in eight probability of reaching a top leadership position.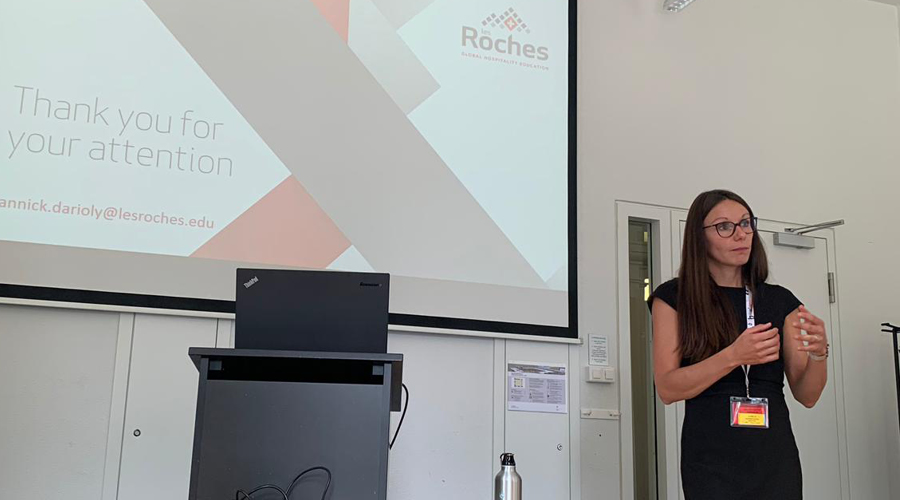 As a Les Roches Master's graduate, Hélène has both a passion for this topic and an ambition to break the mould. After graduation she completed a Manager in Training program at Roger Smith Hotel in New York, before recently becoming Guest Experience Coordinator at Pullman Paris Roissy CDG Airport.
Hélène says, "Women seem to possess the soft skills that make successful managers: interpersonal skills, determination, patience, pleasant behaviour and the capacity to recognize – and apologize for – their mistakes. Moreover, female leaders try to create a more accommodating and nurturing environment; they score higher on transformational leadership aspects and they can be effective corporate leaders – not just in hospitality but across the corporate world."
Psychology and hospitality
This is not the only current research activity by Dr Darioly. She also presented research findings to a symposium at the Swiss Conference of Psychology entitled Psychology's Contribution to Hospitality, for which she was co-chair. 
"My presentation discussed the Social Skills Inventory (SSI) as a relevant measure to access and develop hospitality students' social and emotional skills, and also how it might be used as a predictor of career success in the field," she says.
And there was a further significant Les Roches contribution to the conference, as Dr Elena Wong, an Assistant Professor at the school, additionally presented two papers with empirical findings showing the contribution of psychology to hospitality.
   

Click here to read a detailed presentation of the study

Why the hospitality industry needs women in managerial positions: the positive influence of female leadership on employee motivation

recently published on the

eHotelier.com Insights portal

.