Have a passion for food and hospitality? Whether you're a recent graduate or already experienced in hospitality management, restaurant entrepreneurship could be an exciting and challenging career choice.
To succeed in restaurant entrepreneurship, you'll need creativity, hard work, and first-class business skills. You'll need a clear plan, a great location, and a top team who can deliver excellent customer service.

You'll also need to expertly manage finances, understand your target market and innovate to stay on top of trends. Think you might have what it takes? Let's take a look at how to turn your love for food into a profitable career.
Introduction
The restaurant industry is diverse and, along with the hotel industry, is one of the biggest sectors in hospitality.

It includes any establishment focused on dine-in food services, from independent cafes and bars to large restaurant chains.
What is restaurant entrepreneurship?
A restaurant entrepreneur is an individual who starts their own restaurant business. If you're keen to become an entrepreneur in the food industry, you'll find endless opportunities but the key to success will be doing your research and robust business planning.
Market research
What is market research in the restaurant industry?
Doing your restaurant market research is essential. Although there are many opportunities, there's also lots of competition.

You need to know what customers want and what competitors in the food service business are doing to give your new venture a competitive edge.
How do I identify my target audience for my restaurant business?
Collect data and insights using statistics and industry websites. Drill down on the products and prices that have been successful in your chosen location to help you determine your target market.

Use online surveys or focus groups to get direct feedback and evaluate your competition's strengths and weaknesses to identify gaps you can fill.
What are the common industry trends and forecasts to consider when starting a restaurant business?
When starting a restaurant business, it's vital to look at industry forecasts and trends, so you can adapt your approach and predict performance.

Common factors include weather, events, holidays, and supply chains. Consumer trends, such as the recent demand for more plant-based foods, are also important when deciding on the right food business idea.
Concept development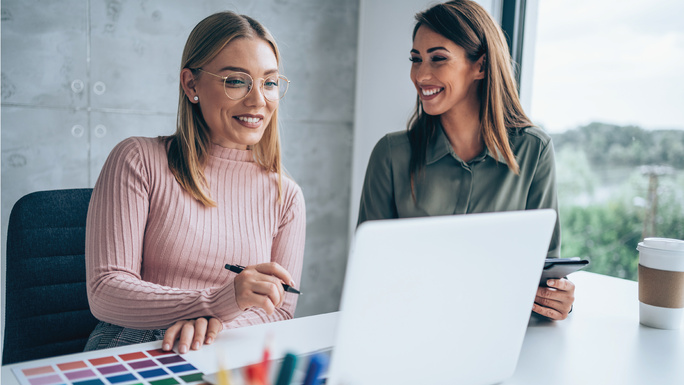 What is a restaurant concept, and why is it important?
Your restaurant concept is your overall theme. It encompasses the type of food you serve, as well as your decor, music, and ambiance.

Developing a unique and innovative concept for your restaurant is vital for creating an impactful business that connects with customers.
How do I choose the right restaurant format for my concept?
In restaurant concept development, it's important to think about the right format, such as fine dining or fast-casual.

As you research, consider your location, size, budget, and target audience. For example, if you're targeting students, they're more likely to want a quirky, casual eatery, rather than haute cuisine.
Design a menu that works with the concept. Keep it simple and create signature dishes synonymous with your brand to help you stand out.
What is brand identity, and why is it important for my restaurant business?
With a brand identity, you can create a unique personality and help customers remember you.

It's important to have a marketing strategy with a consistent brand image, so everything, from logos and menu designs to staff uniforms and social media, aligns.

A particular focus on consumer branding, or branding that puts your customers first, is vital in such a customer-centric industry.
Financial planning
What are the common startup costs for a restaurant business?
Common start-up costs include commercial space, renovations, and kitchen equipment.

Ongoing expenses include rent, insurance, food, and staff. Get robust estimates by researching businesses similar in size and location to yours to create a realistic financial plan.
How do I create a business plan for my restaurant?
Wonder why entrepreneurs develop a business plan? It's a key business tool that pulls together the what, when, and how you'll need to make it happen.

Include your business model, company vision, financial plans, resource needs, and marketing objectives. It's a valuable tool for attracting potential investors too.
How do I manage cash flow and budget effectively for my restaurant?
Manage cash flow and budgets by reviewing monthly statements, adding fixed expenses, realistic forecasting, and completing quarterly budget reviews.

You can also increase revenue in various ways, such as by hosting events, upselling, or using smart inventory systems to reduce waste.
Legal and regulatory requirements
You'll need to stay on top of legal requirements for restaurant businesses, including licenses, insurance, and safety regulations.
What licenses and permits do I need to start a restaurant business?
Licenses and permits depend on location and what you provide, but you'll normally need licenses for the premises, alcohol, and music.
What are the health and safety regulations that I need to comply with for my restaurant?
Health and safety rules might differ, but you'll normally have to carry out regular risk assessments, ensure you have the proper procedures for food hygiene and safety, and keep thorough records.
What employment laws and regulations do I need to be aware of for my restaurant business?
As with any business, you'll need the right policies to comply with local employment laws. This usually includes rules around contracts, holidays, equality, and personal data protection.
Why is it important to have insurance for my restaurant?
Insurance is essential to cover your business for any loss or legal costs should the worst happen. You'll normally need public and employers' liability cover and buildings insurance.
Operations and management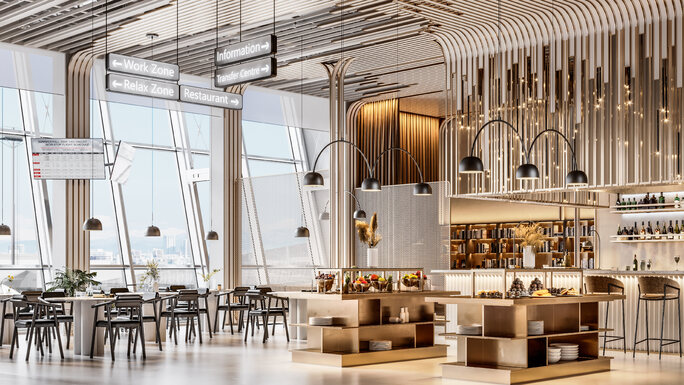 How do I manage day-to-day operations in my restaurant?
Good restaurant operations and management are essential to the smooth running of your business. Some restaurant management tips include:
Lead by example

Hire the right people

Be transparent and communicative

Delegate effectively
What are the best practices for hiring and training employees in the restaurant industry?
It's a good idea to hire professional recruiters and use multiple recruitment channels. Identify the skillset of your ideal employees and be realistic in role profiles.

Invest in detailed induction training and provide opportunities for upskilling existing staff through courses and hands-on experience.
How do I manage inventory and control costs effectively in my restaurant?
Managing inventory properly means minimizing waste and controlling costs effectively.

Use a point-of-sale system to track what you're selling in real-time, ask staff to check inventory so they can identify trends, and record food waste.
What are the best ways to ensure high-quality customer service in my restaurant?
Make customer service a priority in employee training, minimize issues by building effective communication between staff, be transparent with your customers, and deal quickly with complaints.
Fast-track your restaurant career
Learn from experts with priceless real-world experience to make your restaurant business a success.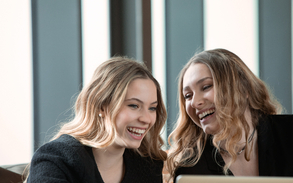 Growth and expansion
Restaurant growth and expansion is an effective way to increase your revenue and grow your brand once you feel ready to branch out.
How do I scale up my restaurant business and expand to multiple locations?
To expand to new locations, you'll need to create a new business plan, choose the right locations, secure capital, and decide whether you're replicating the format or making changes.
What are the benefits and risks of franchising or partnerships in the restaurant industry?
A franchise or partnership is great for helping you secure capital, professional support, and increase your brand presence.

On the downside, you will have to share control and risk diluting your brand.
How do I build a strong team and delegate responsibilities effectively in my restaurant business?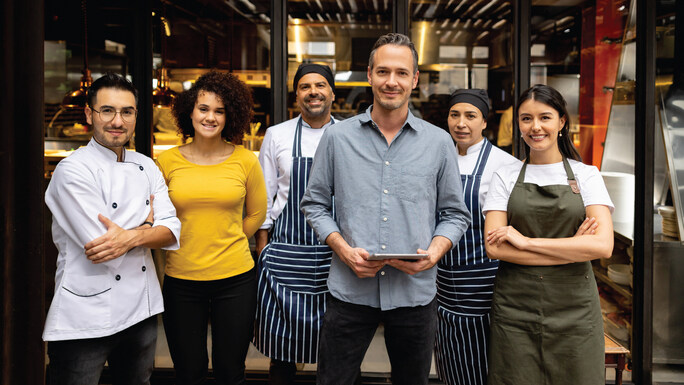 To be an efficient restaurant manager and delegate effectively, you must be clear and avoid micromanaging. You can also help build a strong team through training, regular communication, and celebrating successes.
How to stay innovative and adapt to changing market trends
Innovation means keeping your competitive edge. Survey your customers, attend food and beverage service industry events, check social media, and keep abreast of food trends and technological advancements.

Adapt in ways that make sense for your business and overall customer experience, whether that's using chatbots, offering vegan options, or low-waste menus.
What education do I need to become a restaurant entrepreneur?
One of the best ways to be successful in restaurant entrepreneurship is to study for a degree in hospitality.

At Les Roches, we combine business theory with hands-on hospitality internships so you gain all the knowledge and practical skills you need to succeed in the restaurant business.

Give yourself the best chance: 94% of our career-seeking students have job offers on graduating.
A hospitality degree is also the perfect, flexible choice. Don't want to go down the restaurant route? No problem.

Keep your options open and follow many different hospitality career paths, including events, finance, or hotel management.
Conclusion
A career in restaurant entrepreneurship is challenging and rewarding.

To succeed, you'll need a solid understanding of finances, marketing, and people management, and you'll gain these skills and more with a degree in hospitality.
Photo Credits
Main Image: Antonio Busiello/Moment via Getty Images
Kick-start your career in restaurant entrepreneurship
With a Les Roches degree, you'll have the essential academic and practical skills to create a successful restaurant.