Thinking about pursuing a career in project management, but wondering "what does a project manager do?" And how to become one? A career in project management can be a varied and exciting one, with great opportunities to work across diverse industries, like hospitality, construction, healthcare, and banking.
In any industry, a project manager is the linchpin of a project, managing the day-to-day responsibilities of the project and making sure it achieves its goals. The project manager role means overseeing the entire project from initial scoping, through the delivery phase and into project completion.

This means taking responsibility for all key elements, including scoping, planning, team and stakeholder management, finances, and managing risks.
Ready to find out more? Let's take a closer look at the responsibilities of a project manager and how studying for a hospitality degree can equip you with all the skills needed to set you up for project management success.
What does a project manager do?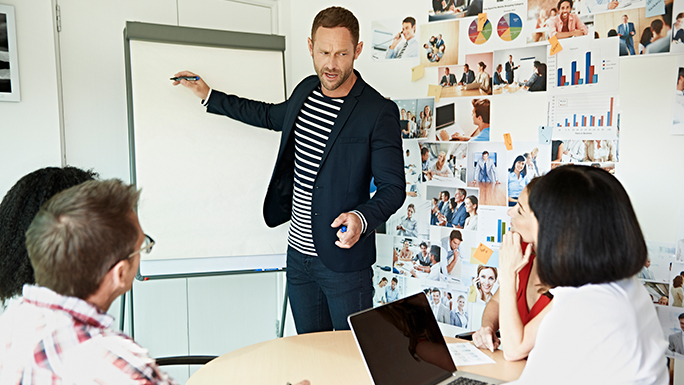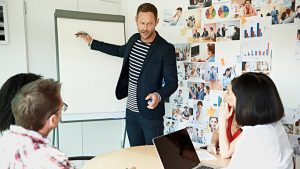 Project management is essential for the successful delivery of any project, meaning a great project manager is too. The purpose of a project manager is to ensure that business projects – whether it's building a new hotel or rolling out a new hospitality management tech solution – are completed on time, on budget, and to the agreed standards.
They oversee the entire project from start to finish and take care of tangible deliverables like planning, reporting, budgeting, and fixing problems, as well as less tangible things like influencing others, providing moral support, and strong leadership.
What are the responsibilities of a project manager?
No two projects are the same and as a project manager, you'll likely find yourself working on remarkably diverse projects in different environments throughout your career.
Depending on the specific project, the responsibilities of project managers can vary, but they typically include planning, managing a team, monitoring progress, solving problems, managing finances, and of course, all-important stakeholder management. Let's take a closer look at what each of these areas involves.
Plan and develop the project idea
As the saying goes "fail to plan and plan to fail." Spending time on a realistic, well-thought-out plan is essential to bringing an idea to life. As the project manager, you'll be responsible for every step in the process, including:
Establishing the project goals and priorities

Conducting research, for example determining if a similar project has been delivered in the past and incorporating learnings, asking for input from stakeholders, and researching tools, equipment, and resource you'll need

Determining the project deliverables and agreeing on these with stakeholders

Creating a project schedule with key milestones

Communicating the final plan and key roles and responsibilities with the project team
Create and lead your dream team
Building the right team is a complex process, but worth the effort if you want the project to succeed. The first step in crafting your dream team is to understand what roles you need to fill to deliver your plan so that you can choose team members with the right skill set. Make sure you have the right mix of complementary skills across the team and hire people who fit with the culture you're trying to create.
Once you've got your team in place, you'll then have to make sure you lead them effectively. Strong, effective leadership involves:
Effective delegation and empowering staff to do their jobs in a way that works best for them

Communicating clearly and regularly so that everyone is up-to-date and can carry out their roles effectively

Taking responsibility for decision-making and setting a clear direction for the team, with achievable goals and proper instructions

Recognizing a job well done and keeping up staff morale even when things don't go to plan
Monitor project progress and set deadlines
When creating your project plan it's wise to set out a detailed schedule, for example in a Gantt chart, with realistic deadlines and clear responsibilities. This gives you and the team a visual aid to monitor how things are progressing and to identify who needs to do what to meet project milestones.
Throughout the project, it's important to hold regular check-in meetings with your project team to monitor progress. This might involve discussing progress reports or reviewing data analyses to determine if you're on track, addressing any problems, and if necessary, re-evaluating and changing project plans or goals.
Solve issues that arise
Responsibilities of project managers include effective risk management and dealing with any issues as and when they arise. Although an effective risk management strategy should avoid most risks becoming live issues, even in the most efficiently run projects problems will inevitably come up.

When they do, as the project manager, you'll need to react quickly, discuss and agree to a way forward, assign actions and then make sure the issue is resolved.
As with anything in life, not all issues are easily resolved, so you'll also need to be able to stay calm, think creatively, and work as part of a team to resolve complex or unusual problems.
Manage the money
Every project requires funds, so it's important to properly budget and track project finances. The project manager is responsible for creating the project budget, which typically includes staff costs, materials, and operating costs.
As the project progresses, it's up to the project manager to make sure the project doesn't go over budget and reassess and reprioritize if unforeseen costs arise. A major part of successful delivery is staying on budget, so the importance of strong financial management skills can't be underestimated.
Ensure stakeholder satisfaction
A key measure of project success is how satisfied your stakeholders are. As the project manager, you'll be responsible for keeping stakeholders engaged and happy with how the project is going and what it's delivering. A few ways a project manager can do this are:
Identifying stakeholders early so that they're engaged from the start. As an example, in a new-build hotel project, this might include the hotel owner, consultants, architects, lawyers, construction companies, and local authorities

Get stakeholders talking to each other through initial meetings to surface and squash any potential conflicts early

Genuinely listen and incorporate feedback where you can

Keep your word and do what you say you will so that stakeholders learn to trust you

Involve your stakeholders in the planning and ask them for input on estimates, e.g. construction costs

Be courteous and professional at all times, even when conflicts arise, or you don't always agree

Communicate as much as possible. Keeping stakeholders looped in and aware of what's going on helps them feel involved and an important part of the project
What are the skills of a project manager?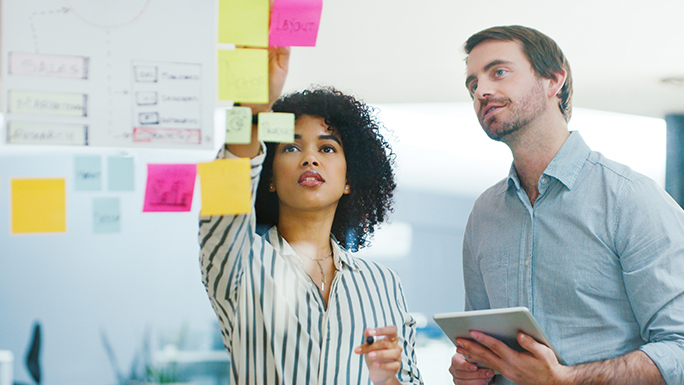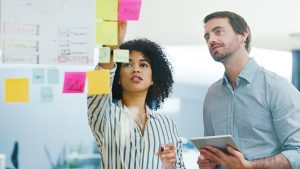 To be an effective project manager you'll have to manage diverse tasks and people, so you'll need a broad skillset to help you do this. Here are seven key skills you'll need to have or be willing to learn:
1. Effective communication
From kick-off meetings to stakeholder updates to delegating work tasks – you'll need excellent communication skills across the board. Knowing how to foster meaningful relationships, approach people, and clearly articulate what's needed are critical to project success.
2. Leadership
Leadership skills are important when you're leading any project or team of people. To be effective you'll need to inspire, communicate honestly, empower, guide, motivate, support, and reward your team.
3. Negotiating and influencing
Responsibilities of project managers include engaging suppliers and contractors, managing resources, and dealing with team conflict. To make sure things run as efficiently and smoothly as possible, you'll need to be a strong negotiator and influencer. This might mean securing better contract terms, using persuasive techniques to encourage teams to find a solution, or having tactful discussions around performance.
4. Time management and scheduling
A common cause of project failure is poor planning and time management. As a project manager, you'll need to be realistic about how long things take, create and implement a comprehensive schedule, juggle multiple moving tasks, and plan ahead to intercept and manage any issues up ahead.
5. Risk management
However thoroughly you plan, things can go wrong. In a project manager job, it's important to be aware of and manage project risks. This could be a risk to the budget if the cost of goods goes up, or a risk to delivering the project on time if certain key staff leave. It's important to assess, mitigate and have contingencies in place for complex projects.
6. Problem-solving
As a project manager, you'll come up against different types of projects with their own issues and roadblocks. You'll need to be able to remain calm, think creatively, and resolve problems quickly and efficiently as and when they arise.
7. Technical knowledge
As well as the essential personal skills and qualities needed, it's also important to be technically savvy. Understanding the technical area and language of the industry you're working in, whether it's hotel management, finance, marketing, or Hospitality consultancy, means you can communicate more effectively and better understand the potential risks involved.
How do I start a career as a project manager?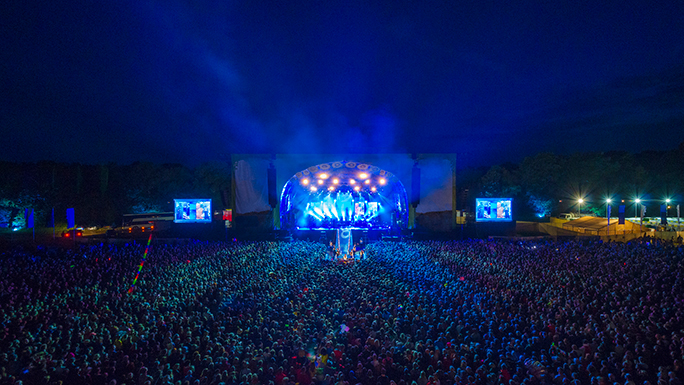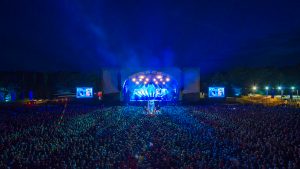 With so many diverse and interesting opportunities available, project management can be a competitive industry. It's important to stand out and set yourself up as a desirable candidate for potential employers. Here are a few tips to kick-start your career in project management:
Invest in a professional qualification, like a hospitality business degree, to show future employers you have the know-how and practical project management skills to jump right in

Get real-world practical experience through global internships on programs like our

MBA in Hospitality Management

Foster your project management skills further by volunteering for more project-based tasks in your current job or volunteering to manage a small project at a local community event
What education does a project manager need?
You don't need to have a formal project management qualification to start your project manager career path. In fact, many successful project managers don't. Many choose to study business-related degrees that teach all the transferable skills needed for project management while offering greater career flexibility across varied business and hospitality roles.
A business hospitality degree is a great route into project management. You'll gain essential business knowledge and learn practical skills applicable to any project environment – things like leadership, analytical skills, critical thinking, technical skills, time management, problem-solving skills, revenue management, and people management skills.
You'll also learn how to manage projects within the hospitality industry through real-world international work placements. This specialist knowledge can help you better understand different hospitality business settings – like hotels, restaurants, theme parks, sports venues, and conference centers – and access future career opportunities in diverse areas.

With a hospitality degree, you'll be primed to step into many different hospitality careers, such as a hotel consultant, hospitality manager, event coordinator, bar manager, or marketing specialist. The options are endless.
Take your project management career further
With a master's from Les Roches, you'll learn the leadership, problem-solving and organizational skills needed to successfully manage projects in any business setting