Yearning to travel and see the world again? Us too! But in the meantime, let Student Ambassador Candelaria Surur take you on a trip to Buenos Aires from the comfort of your home…
Most of you have heard of Buenos Aires, the bustling capital of Argentina, home of many famous places and even more famous footballers. You might have even thought of, someday, travelling to this exotic South American city, to experience a different culture and language and, of course, tasty food! However, it is not very likely that you would all know the city well enough to cross the streets as locals do.  
Here is a top 10 must-do activities while visiting Buenos Aires, that I, as a local, would like to share with you to help you travel, in your minds, to the other side of the world and experience an amazing adventure. This is a guide for those who want to discover the real Buenos Aires, avoiding the most typical touristic attractions that you would normally find in a travel guide.
What to do in Buenos Aires – a local's point of view:
1. Taste our very own Asado
One of the most recognized characteristics of the Argentinian people is their passion for Asado. This typical meal is a combination of local meat and vegetables on the grill, and is a true symbol of closeness with family and friends around the table. You cannot visit Argentina and leave without trying a good Asado, or one of the many desserts with "dulce de leche" that they offer. If you are lucky enough to have an Argentinian friend inviting you to their house during your visit, you will, without a doubt, be welcomed with a big array of Asado meats over a long table full of people you won't know. It is part of our beautiful tradition!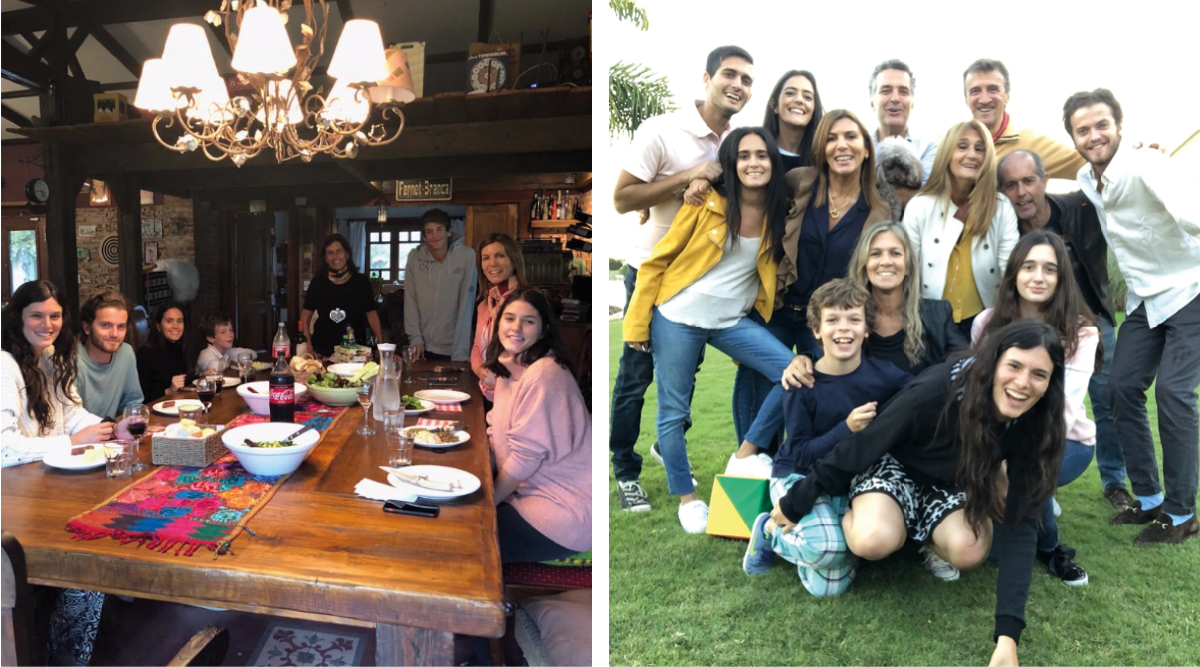 Asado with family and friends
2. Wonder around Caminito
Caminito is one of the most emblematic walks of the entire city. It is like a museum alley, which consists of multiple walls and ceilings painted in different bright colors. The word Caminito, in Spanish, means "little path", which is exactly what the area is! The name comes from when the path was part of the railway. In 1928, the train was closed, and Caminito became an abandoned alley. But in the 1950s, thanks to a group of neighbors of the area, one of them being famous painter Quinquela Martin, the alley was recovered and transformed into a cultural walk and street museum. Today, it is one of the city's most attractive spots! If you visit it, you will probably not resist taking colorful pictures and listening to the many "tangos" performed by passionate street artists.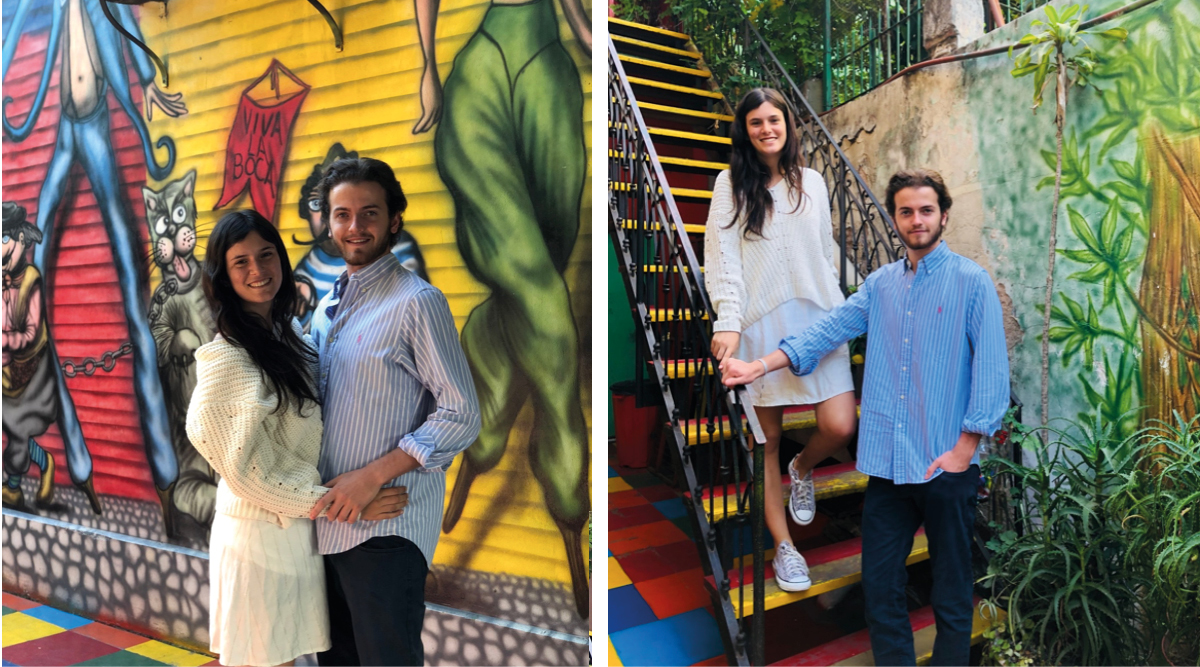 Walk around Caminito
3. Take a walk around Avenida Alvear
This is maybe the most elegant and sophisticated avenue of the entire city. What used to be aristocratic residences are now the walls of embassies and 5-star hotels. Do not hesitate to walk into Palacio Duhau, Palacio Alzaga Unzue and Alvear Palace Hotel to appreciate the luxurious architecture of the time. Treat yourself to a fancy lunch at Palacio Duhau's restaurant, Gioia, while enjoying the view, or stop by Palacio Alzaga Unzue for a tasty Sunday brunch at their Elena restaurant. Did you know that it is now a Four Seasons Hotel, and offers one of the best brunches you will find in the city? Totally recommended!
Now, keep walking along Avenida Alvear, and appreciate the French-influenced infrastructure. You might even feel as though you are walking through sophisticated Parisian streets!
4. Explore the traditional neighborhood of Recoleta
This neighborhood — which you can reach if you keep walking straight from Avenida Alvear— is filled with old traditional coffee places and bars that you have to visit. It is one of Buenos Aires's most classic areas, and a lovely place to walk around. Stop for a coffee at La Biela, a truly emblematic coffee bar. You will notice many statues around the coffee shop. If you look closer, you will probably recognize some famous Argentinian idols, such as Lionel Messi and Diego Maradona, which represent the importance and passion that we all have for football in Argentina.  
If you are interested, pop in and have a look at La Iglesia del Pilar, and if you enjoy taking artistic pictures, then the Centro Cultural is a must-do for you, and it is right next to the Iglesia del Pilar!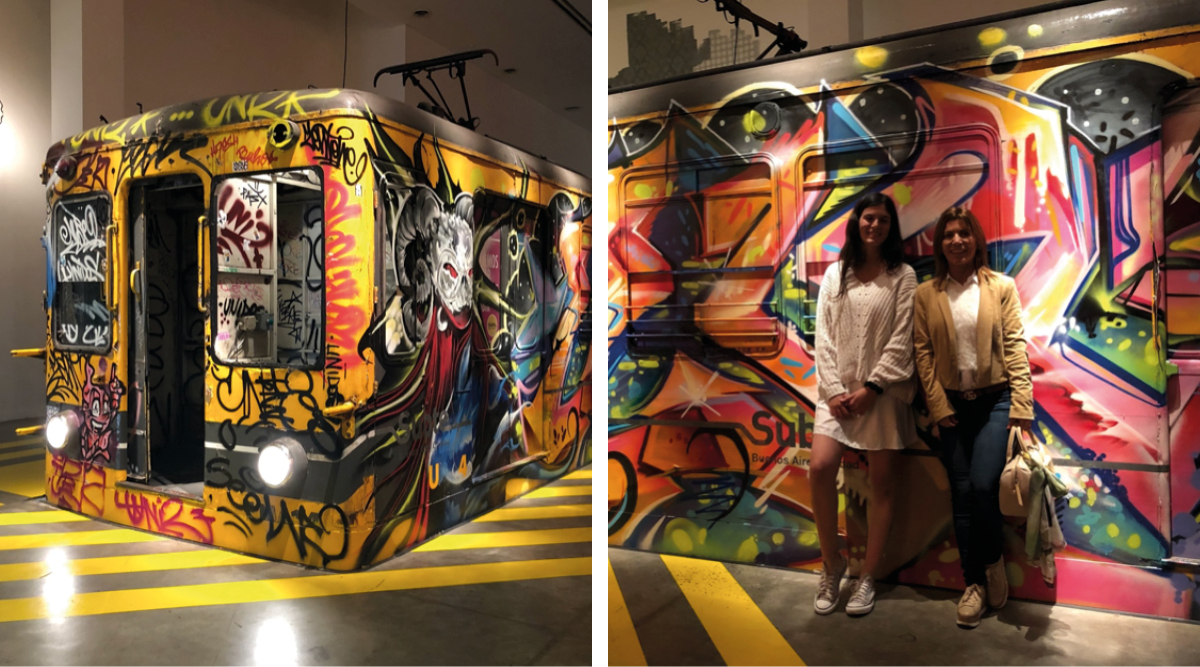 Centro Cultural in Recoleta 
5. Take your pick and visit a museum
Buenos Aires is lucky to be filled with many fascinating museums. The MALBA (Museum of Latin American Art of Buenos Aires) is a definite must! This small, privately-owned museum exposes art and pieces from different Latin American artists. It is not the typical museum that you would find in a tourist guide, but more of a little jewel that the locals cherish. 
6. Enjoy the Central Park of Buenos Aires
Like Central Park is to New York, Los Bosques de Palermo are to Buenos Aires: a big green space to breathe and relax in the middle of the busy city. Put your sneakers on and go for a run or a walk in the park. At Los Bosques de Palermo, you will find two beautiful artificial lakes that you can enjoy by renting a small water bike or boat. Take a peek at the amphitheater, also known as the place to either run or relax. 
The most interesting thing inside this "park" would be the Rosedal, a collection of over 8,000 roses of different types. It also has an observatory that we call El Planetario, which is a very delicate piece of the city's culture. 
7. Travel to the other side of the city to experience Puerto Madero
Puerto Madero is a beautiful walk to take next to the river, with its big boats, and street artists singing and dancing to Tango. With its elegant buildings and modern restaurants, Puerto Madero is one of the city's youngest neighborhoods, and is extremely famous for its dedicated gastronomy. You can have a tasty lunch by the river at restaurants like Cabaña Las Lilas, La Bistecca or Madero Tango, but the real go-to place for some Argentinian meals, with a slight Brazilian touch, would be Rodizio. 
After lunch, before the sun sets over the river, you can cross the plaza behind the big white bridge, El Puente de la Mujer, and try to spot the hidden 3D-art pieces. As it is a hidden spot in the city, you might want to really look closely!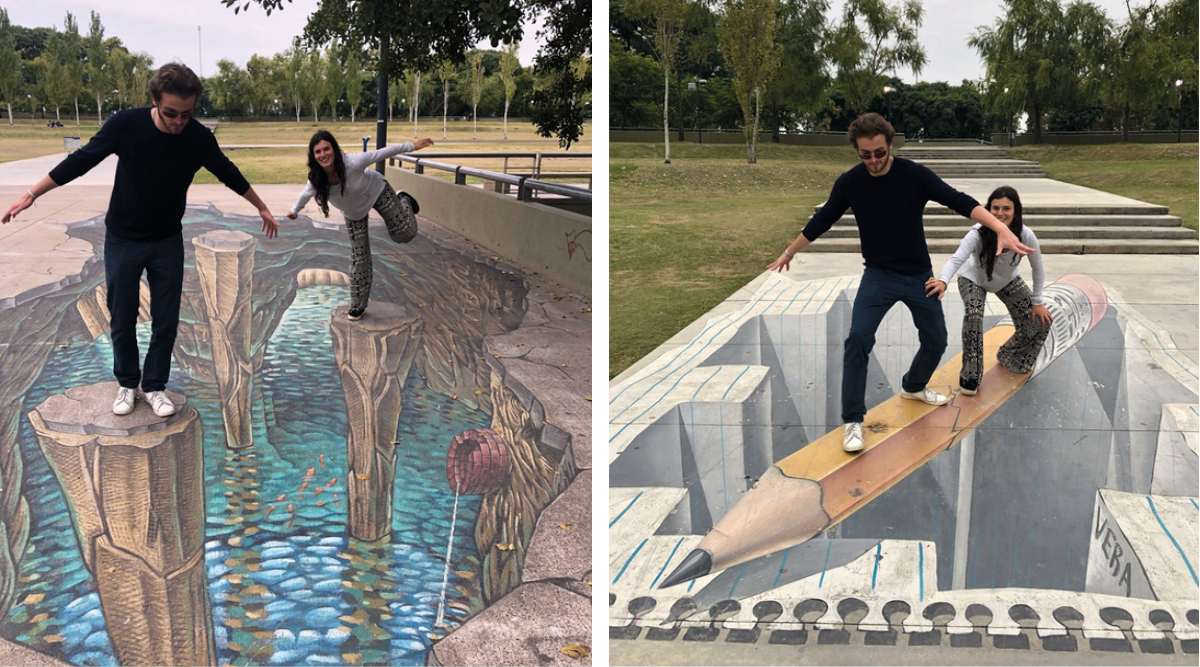 3D paintings in Puerto Madero
If you are interested in a little bit of history, you should definitely visit the Fragata Sarmiento, which you can find while walking along the port. It is a magnificent 100-year-old boat museum. The boat itself took 39 trips around the world and, in 1961, after it took its last one it was declared a national treasure. Today, it lies in the water of Puerto Madero for everybody to visit and learn how the sailors lived in this amazing piece 100 years ago.  
To end your day-trip to Puerto Madero on a great note, take a walk towards the Faena Hotel and get enchanted by its traditional El Mercat restaurant. Don't miss out on the dulce de leche pancakes!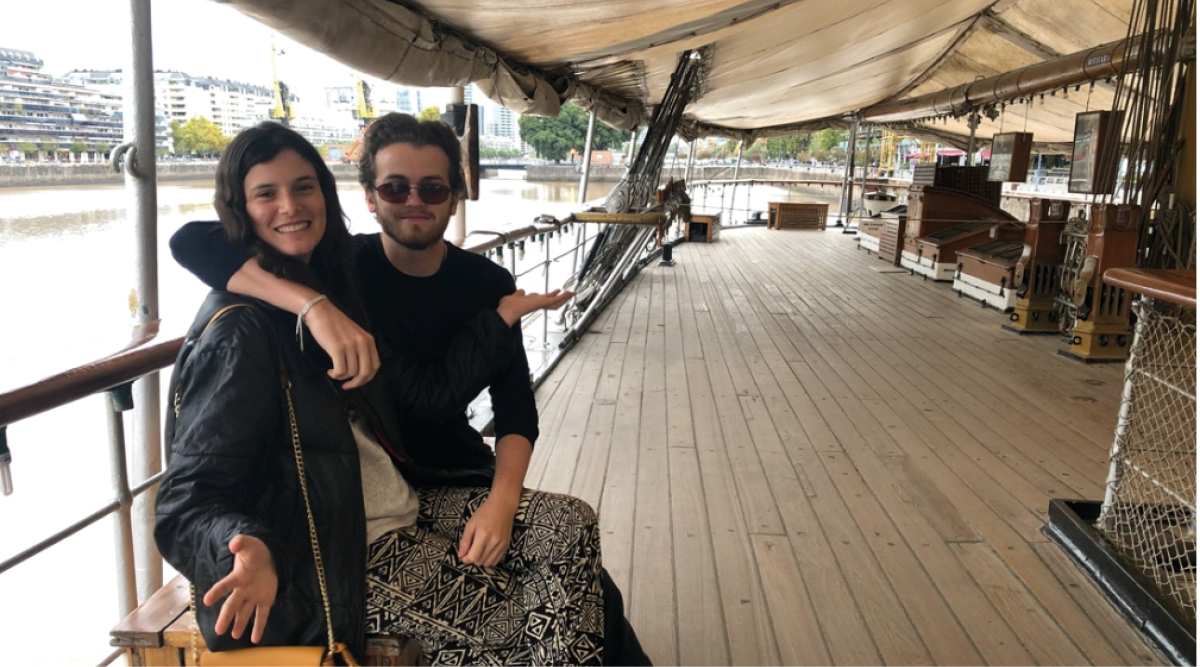 Fragata Sarmiento in Puerto Madero
8. Buy a new book at one of the world's most beautiful libraries
If you're interested in books, and you are thinking of buying a new one, do not do it in any old library. Go to Buenos Aires' precious Libreria del Ateneo! It is considered one of the world's most beautiful libraries as it is located in a building from 1909, a theater at the time. Imagine a library with the structure of a 1900s theater! It's a breath-taking experience!
9. Spend a night out at Palermo Soho 
Palermo Soho is the place to go to for a drink and a nice dinner with friends. It is located in the neighborhood of Palermo (where Los Bosques de Palermo is, remember?). It is a very popular place at the moment, powered by the magic and rhythm of small local shops, galleries of local modern art, and countless bars and restaurants. It is a place to walk around and bar-hop on a Saturday night. If you are looking for a particularly cool bar, you should definitely check out Uptown, a speak-easy kind of bar, hidden inside what looks like a subway entrance. A total must-do in our to-do list!
For your dinner with friends, La Mar would be a great option, and is located right next door to Uptown. A los Amigos and Aldo are also emblematic and amazing restaurants if you get the chance to try them out. 
10. Experience Argentinian football, and polo!
Polo is one of the most practiced sports in the country, and Buenos Aires hosts amazing tournaments and competitions. This is another very characteristic feature of the Argentinian culture and tradition. If you are lucky enough to visit Buenos Aires when the polo tournaments are going on, you should definitely tempt yourself into buying tickets to attend a game!
And, of course, there's football… Argentina is known around the world for its amazing football players who represent the country in the best way. If you have the opportunity to visit Buenos Aires during the football season, don't miss out and go to the stadium! Argentinian football games are nothing like any other you have attended before. Unique experience guaranteed!  
Every street of Buenos Aires has a hidden secret behind every corner. If you get a chance to visit South America, don't forget to come down to the very South of the continent and explore this amazingly fascinating city. You will not regret its atmosphere and charming culture!