Customer loyalty is a key factor for any business to succeed. It helps cement customer retention, increases brand visibility, and ultimately can lead to more sales. But exactly what is customer loyalty and how can you ensure that your customers stay loyal?
In this blog post, we'll explore the definition of customer loyalty, identify different types of customer loyalty marketing strategies, and give you actionable tips to ensure your customers remain devoted.
What is customer loyalty and how does it work?
Customer loyalty is a marketing concept that encourages customers to keep returning for repeat purchases. It's more than just offering discounts and rewards – it's about creating a lasting customer affinity and emotional connection to maintain high customer engagement.
Companies can use customer loyalty programs, special offers, and personalized experiences to build up their customer base, increase their profits, and create lasting relationships with their customers. Read on to learn more about customer loyalty and how it can benefit your business.
Customer loyalty in hospitality
This is a unique form of customer loyalty, as it focuses on providing exceptional experiences for guests. This could include personalized services, to rewards program offerings, and discounts for returning customers. Creating a positive customer service experience is essential in the hospitality industry, so hotels, resorts, and other hospitality businesses should focus on creating loyal customers by offering quality services, great amenities, and excellence.
Are you excited to learn more about hospitality management?
With our comprehensive bachelor's degree, you'll delve deep into customer loyalty, hospitality operations, and related business topics. Transform your career today by embarking on a degree in hospitality management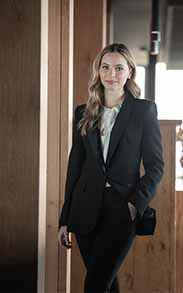 Importance of customer loyalty in the hospitality industry
Customer loyalty is vital in the hospitality industry, as customers expect exceptional customer service and unique experiences. By fostering loyal customers, hotels can increase revenue, reduce costs associated with customer acquisition, and most importantly, build long-lasting relationships with their guests. As just a 5% increase in customer retention rate can increase profits by 25% and as much as 95%, the importance of establishing a solid customer retention strategy to increase customer loyalty cannot be underestimated.
But how exactly can businesses create a loyal base of happy customers in the hospitality industry? And how can they avoid customer churn? Here are a few key elements.
Understanding customer needs and expectations
Understanding your customers' preferences, budgets, and buying behaviors can help you tailor services to meet their individual requirements. Additionally, understanding customer pain points and how they view the hospitality industry can help you create better products and services that meet their specific needs.
By gathering customer feedback, you can identify areas of improvement and create strategies to improve customer experiences. For example, if customers are complaining about slow service or long wait times, you can address this by adding more staff members to speed up processes. To obtain accurate feedback, you can use customer loyalty surveys, customer satisfaction polls, and other methods.
Providing exceptional customer service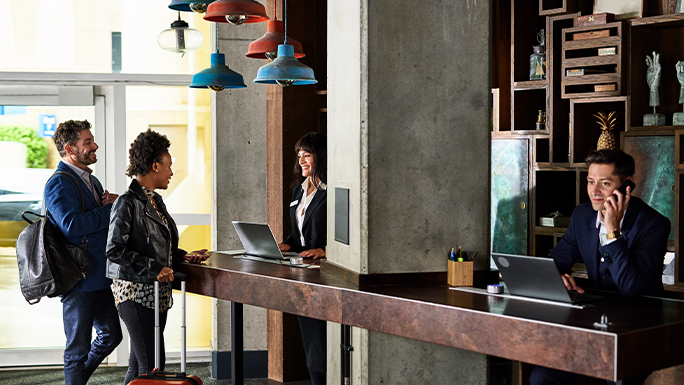 Customers expect to be treated with respect and have their needs met quickly and efficiently. You can ensure your customers receive great service by training your customer service team on the importance of excellent customer service and setting up processes to help them better understand customer needs.
Additionally, you can focus on building relationships with customers, offering personalized attention, and responding promptly to any inquiries or issues. By providing exemplary customer service, you can cultivate a loyal customer base. With 75% of consumers willing to pay more for good service, it's clear that providing it is significant to success. So, putting exceptional service at the heart of your brand marketing and customer journey strategy is essential.
Building relationships with customers
It's important to get to know your customers and offer them personalized experiences. With effective CRM tools, feedback-gathering schemes, and other customer-centric strategies, you can create tailored experiences that make customers feel valued.
You can then strengthen relationships by sending personalized messages and emails, offering rewards and discounts for returning customers, and keeping them updated on new products, services, promotions, and deals. To make your guests' experience even more special and further enhance relationships, some hospitality businesses even offer personalized welcome letters or gift baskets on arrival.
Small gestures like this can help create a lasting customer relationship, especially if it's based on a previous interaction. For example, if a guest mentioned that they're celebrating a special occasion during their stay, you can provide them with a bespoke congratulatory message or gift. Paying attention to what's important to customers is powerful in building loyalty.
Offering loyalty programs and rewards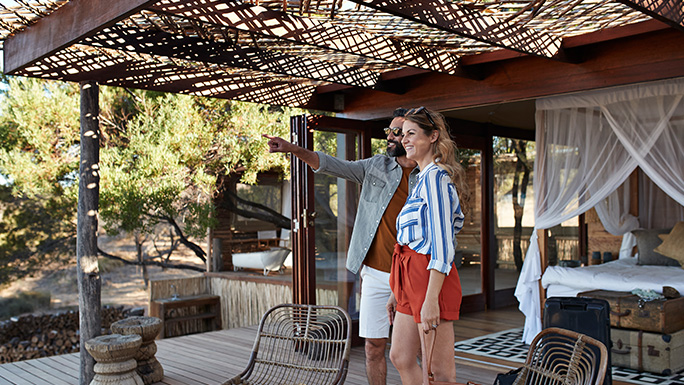 These programs offer exclusive customer loyalty benefits such as discounts, points, gifts, and other rewards that customers can redeem when they stay at the hotel or use a service. Offering these incentives can help foster loyalty, as guests will likely return to take advantage of rewards.
Loyalty programs can be tailored to the hospitality business and offer a wide range of incentives that appeal to different customer segments. For example, some types of loyalty programs are divided into tiers so that customers who book with the business more frequently receive more benefits.
Alternatively, you can offer exclusive rewards to customers who have stayed with you a certain number of times, offer special discounts or freebies to customers who return in quiet seasons or give existing customers special access to new products or services. These can all be powerful ways to motivate customers and ensure their eager return.
Continuously improving customer experience
It's essential to monitor customer feedback and continuously improve the customer experience. You can do this by regularly gathering customer feedback, analyzing it, and using it to identify areas where improvements can be made.
Customer loyalty analysis will help you understand what works, what doesn't work, and how to improve the overall customer experience. You can use these insights to inform your customer loyalty strategy, so that you can offer customers a better experience every time they use your business. The digitization of customer experience also provides a great opportunity to improve the customer experience. Automating processes, providing customers with self-service options, and setting up automated email campaigns can all help reduce wait times and make interactions more efficient for both customers and employees. (icnaconvention.org)
Measuring the success of customer loyalty efforts
To measure your success, you can start by tracking customer retention and satisfaction rates to see if there is an increase in repeat customers or higher levels of satisfaction. Other customer loyalty metrics you can track include customer lifetime value (CLV), which looks at the total revenue generated from a single customer over time, and customer engagement, which measures how often customers interact with you.
By tracking these metrics, you can get a better understanding of the effectiveness of your customer loyalty strategies and make improvements where needed.
Strategies for achieving customer loyalty in hospitality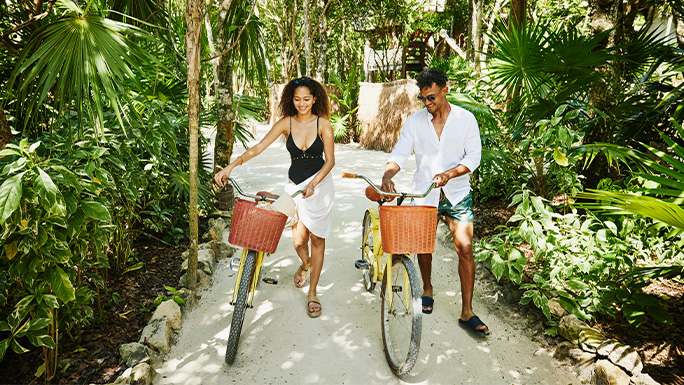 As well as the key elements above, there are a number of extra strategies that can be used to foster loyalty.
Provide quality products and services:

If your business offers something that is of high quality and surpasses customer expectation, they are more likely to return.

Offer unique experiences:

Customers are always looking for something new and exciting, so providing unique experiences or special offers can keep them coming back.

Utilize technology:

Technology can help streamline your customer success team's processes, as it makes it easier for customers to interact with your business. Customer communication can be aided by live chats and website queries forms. Technology like online bookings, automated check-ins, and loyalty apps can improve customer service and make customers feel more valued.

Offer incentives for referrals:

Encourage existing customers to refer others and offer incentives such as discounts or rewards when they do so. This will help bring more people through your doors and deepen relationships between current and new customers.

Use automation tools to streamline services:

Automation tools like AI chatbots can assist customer interactions by answering simple queries quickly and accurately. This helps improve the overall customer experience and ensures they're getting the best possible service.
What is customer loyalty? Example
The definition of customer loyalty in business is when customers consistently choose your business over others, come back to buy more products and services, and recommend it to their friends and family.
An example of customer loyalty would be a customer who has been visiting the same restaurant for years and recommends it to everyone they know. Or it could be a guest who returns to the same hotel chain every time they travel. It could also be a customer who has been visiting the same bar for decades and is familiar with all the staff members there.
With these behaviors, customers are showing trust in your business, and it's important to recognize and reward that loyalty. Loyal customers not only directly bring more revenue to your business, but they also help spread the word about it by becoming advocates and praising it to friends and family. As people are more likely to trust and buy from a brand recommended by a friend, this can be invaluable to hospitality businesses.
Conclusion
By focusing on customer loyalty in the hospitality industry, you can create long-lasting relationships with your customers, increase your revenue, and reduce costs associated with acquiring new customers. From providing quality products and excellence in customer service, to offering incentives for rewards, there are many different ways to foster customer loyalty.
By utilizing the key elements outlined and making it seamless with digital tools, you can ensure a positive experience and increase customer loyalty. At Les Roches, our hospitality degrees are designed to give students the practical skills and knowledge needed to succeed in the hospitality industry. This can help you achieve a successful career in hospitality by propelling you to the next level in this dynamic and rewarding industry.
Photo Credits
Main Image: SolStock/E+ via Getty Images
Do you want to be a leader in the field and unlock the potential of digital innovation in hospitality?
A Master's degree in Digital Innovation can transform your career with the knowledge, skills and networks needed for dynamic success