Roll call has been a long-standing tradition for BBA1 students in Les Roches Marbella. In this article, Mr. Hassan Djeebet explains why it's such an important aspect of our education and why appearance in the hospitality business industry is so important.
Dressing well and having a well-groomed appearance is important in every industry, and even more so in the hospitality business industry. The way a professional dresses and composes themself creates an image for his or her peers and influences their attitude. For this very reason, Mr. Hassan Djeebet has been implementing the roll call for BBA1 students at Les Roches for many years.
Every morning, students line up to be inspected, creating a great opportunity for positive reinforcement, personal growth and real world knowledge.
What goes on in roll call
Most mornings it really is about improvisation and inspiration on the spot. The roll call is not something that is planned beforehand, but rather the content is triggered through the day or the day before by a moment that inspires what needs to be addressed.
Students are expected to have their mise en place by the time roll call has begun. They are inspected from head to toe, checking to ensure that they meet the highest appearance standards of hospitality industry work staff.
Sounds like an arduous affair. However, it's more often the case that it's one of the students' favourite moments of the day. Here's a video where we explain what goes on in a roll call.
The importance of appearance in hospitality
Having the right appearance creates the right attitude to conduct yourself. Similar to the phrase "dress for the job you want". Attitude is everything, and we use roll call to instill the right attitude in our students.
We are all creatures of habit, and the roll call helps students get in the habit of conducting themselves professionally. Through roll call, students learn that appearances matter even though no one is watching.
Roll call is also about preparing these future professionals for their internships and for their career in general. We're creating a habit of preparedness, being ready for anything when they are out in the field working for the client.
As one of our students puts it himself, "one day there will be no more roll call, and you'll realize that you must know that you're prepared for the job and with the right attitude".
Inspiration for the roll call
Back in the day, Les Roches students would gather every morning for what was then known as the menu briefing. This is when the kitchen students and service students would gather in the demo kitchen and the chef would deliver the menu of the day.
After the chef left with the kitchen students, Mr. Djeebet would stay behind to talk with the service students and deliver wine recommendations for the menu of the day, and check that the students had their tools to work with. (https://cozumelparks.com/) This was back when the program was called "Hotel Operations 1", which is what we know today as BBA1 for our Bachelor's in Global Hospitality Management first semester students.
When the system changed to the current Bachelor's program, the morning menu briefings were left out of the curriculum. However, these morning meetings were a great opportunity for team building, it would have been a shame to lose them as it was the only time when all the BBA1 students were together in the same room.
Inspiration was also drawn from school assemblies, a common occurrence in most UK schools. Mr. Moheed Sha also contributed to creating the roll call, coming from a military family that encouraged good manners and being hospitable.
All of these little things came together to create the roll call. It's a great moment for students as we bring the team together, the only time they're together all day. Second, uniformity is created by ensuring that everyone looks the same, which is important towards creating a team spirit for service students. Thirdly, it shouldn't be forgotten that these young men and women need a daily to get used to the rhythm of the school and the industry in general.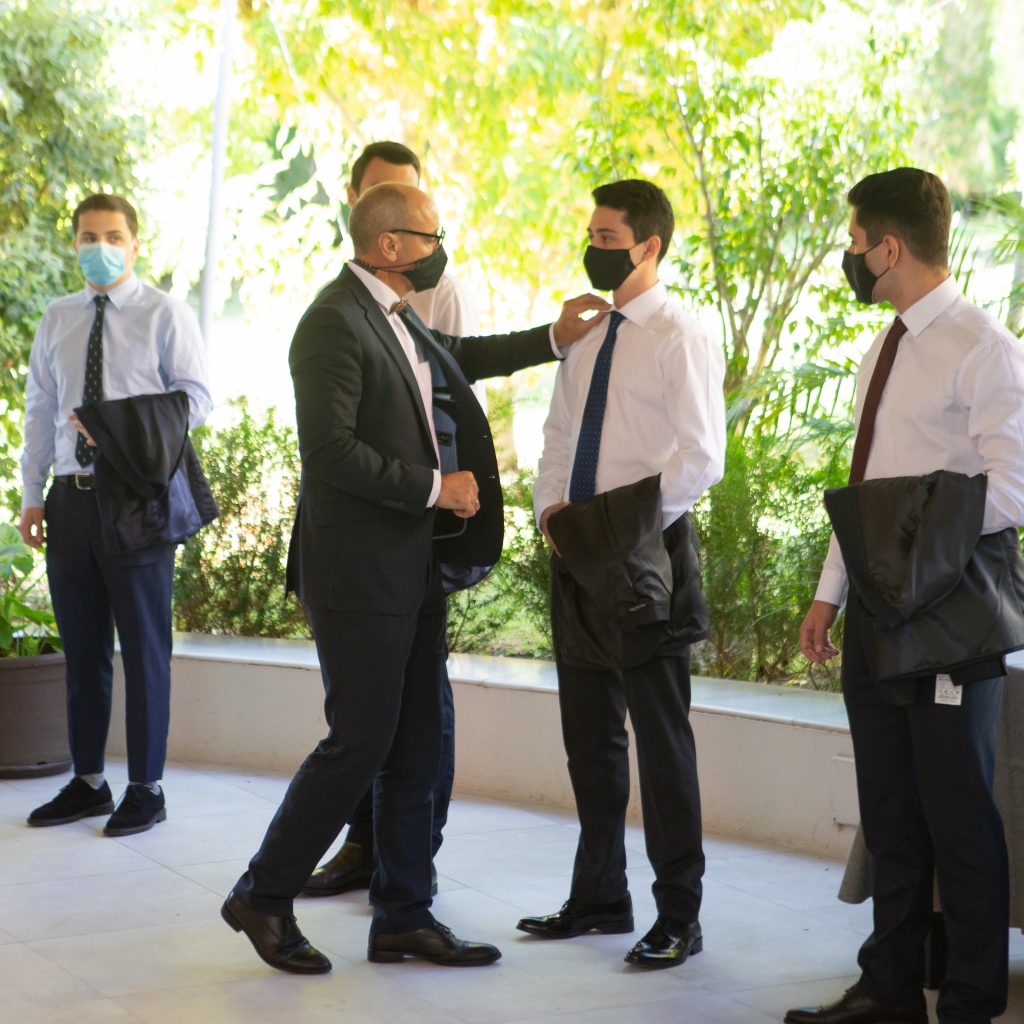 The benefits of roll call for our students
Routine
One of the benefits of the roll call is creating a routine for our students. Appearance matters in hospitality, and we instill in our students the routine needed not only to have the mindset of a professional but to also look the part.
Motivation
Roll call is a great opportunity to motivate the team before the shift starts. It's the only moment where the leader has absolute attention, and that is a valuable asset. We take this time to speak frankly about the hospitality business out in the real world, to point mistakes and to celebrate good judgement.
Recognize best practices
The roll call by Mr. Djeebet has helped alumni of Les Roches to recognize great hospitality values and etiquette. Roll call presents an opportunity to teach our students about proper dining etiquette, both as a professional and a client.
After roll call, as our alumni put it, you will never be able to properly go to a restaurant with people who are not hospitality professionals. Our students learn to judge the appearance of the staff at hotels and restaurants, their mannerism and the way the table is set.
Shaping future entrepreneurs
Learning about the importance of appearances through roll call serves as inspiration that will shape the future entrepreneurial efforts of our students. One of the key takeaways is learning to teach their colleagues a consistency in standards of hospitality, as well as creating a great working environment where there is always room for improvement.
The hope is that they will teach their team members to create a routine, to look for the little details that make a huge difference, and to create a great employer branding strategy where motivation and growth are an essential part of the ethos of their entrepreneurial pursuit.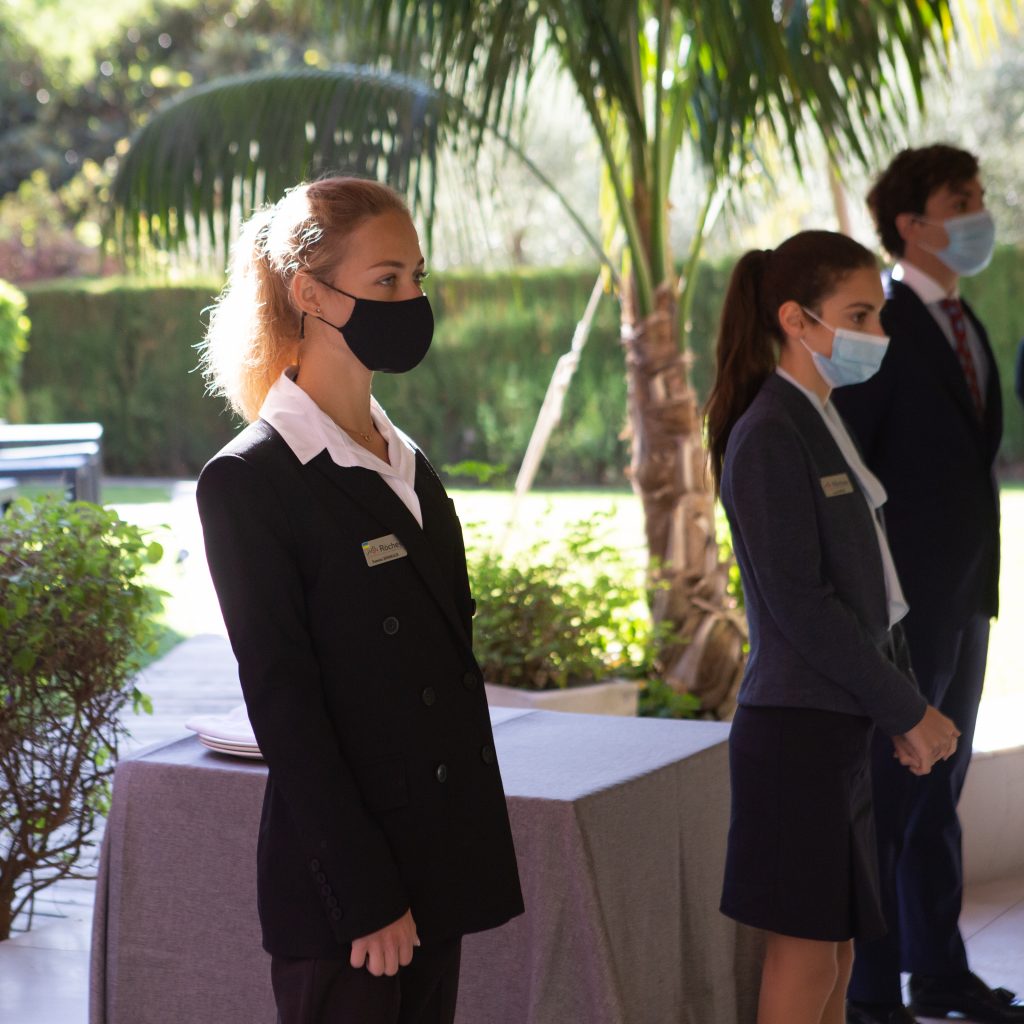 Appearance begets attitude
The morning roll call is a great tool that we use to inspire a professional attitude in our students. The personal appearance is important of course, but what is even more important is the attitude behind it.
If a person goes to work with an unkempt appearance, their attitude reflects that. The way we dress and carry ourselves will influence the way we conduct ourselves in business, and it will also influence the perceptions that our peers have of us. That's why we say that what we're looking for with the roll call is to develop the right attitude and the habit of preparation to face the day.
The main objective of roll call is getting our students ready for the job to undertake that day, and the job of the day could be anything. Whether it be working practically or taking your books under your arm and heading to the classroom.
A lot of students don't like the roll call, for the first few weeks. However, it has been our experience that when they're told that roll call will no longer be implemented, they want it to come back. Like most important lessons in life, we don't realize their value at the time but rather when we look back and realize what we've learned and what we've gained from it.
Again, it's all about creating a foundation during BBA1 that the students will carry with them through their time with us and throughout their career.
A memory for life
It's very common to receive visits from alumni, and the first thing they say "thank you" for is the roll call. What we hope to accomplish is a sense of unity. You see, there are only three moments during the Bachelor's that absolutely all the students are together in one room: first and last roll call, and graduation. Those are memory building moments.
Les Roches prides itself in bringing together dozens of cultures, hundreds of different backgrounds and thousands of personalities. Roll call is a moment in which all of them get together and become one: that's a team.
In the future, these professionals will give their own teams a morning briefing. They'll know how to approach that group, make room for improvement and finish the briefing with a positive and inspiring message. In essence, it's about having the right attitude.
We believe the roll call works, and the evidence is there in our alumni. We have students who come back to us after 15 or 20 years and still they remember the lessons they learned, and if they were used as an example.
Starting the day with motivation
As stated above, appearance is important but what is more important is attitude. Most alumni would agree that roll call isn't just about looking sharp and being well presented.
Before heading in to work, you always need motivation to keep the passion alive in what you are doing. That's one of the beautiful things about roll calls in Les Roches, it presents an opportunity to inspire and motivate students with real life examples of great hospitality practices.
These moments of motivation boosts up the students and makes the day nicer. When you need to wake up at 6:00 am, the roll call gives these young students a nice kick off to start the day.