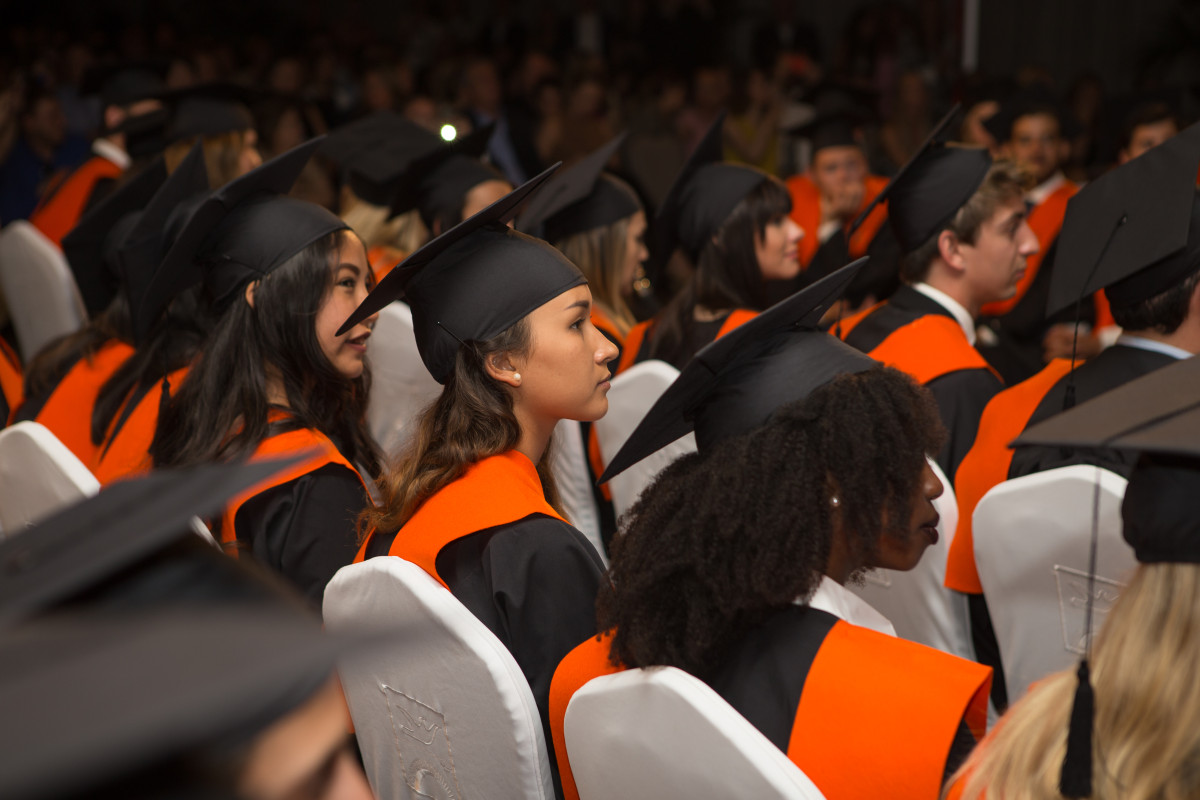 [vc_row][vc_column][/vc_column][/vc_row][vc_row][vc_column][vc_column_text]
On Friday the 3rd of June, Les Roches Marbella held the Spring 2016 Closing Ceremony of the Bachelor in Business Administration in International Hotel Management and of the Post-Graduate Diploma in International Hotel Management. 
A total of 77 students were awarded the Bachelor of Business Administration in International Hotel Management, and an additional 47 obtained their Postgraduate diplomas. This year's graduates maintain the school's international character as they come from more than 33 countries, including: Albania, Argentina, Austria, Austria, Belgium, Canada, Czech Republic, Egypt, Estonia, Finland, France, Germany, Hungary, India, Indonesia, Iran, Italy, Kazakhstan, Kenya, Lebanon, Morocco, the Netherlands, Poland, Portugal, Federation Russia, Slovakia, Syria, Ukraine, United Kingdom, United States, Uzbekistan and Venezuela and of course, Spain.
The Closing Ceremony was presided by Mr. Francisco Javier Porcuna Romero, Deputy Mayor, Delegate for Tourism, Industry, Public Road, Strategic Projects and Developments of Marbella Town Hall, Mr. Lahcen Haddad, Minister of Tourism of the Kingdom of Morocco, Mr. Carlos Díez de la Lastra, CEO of Les Roches Marbella and Ms. Maria José Aparicio, Academic Director of Les Roches Marbella.
During the Ceremony, the fifth edition of the "Les Roches Marbella Awards" were held and Mr. José Carlos Escribano de Garaizábal, Advisor to the President of AEHCOS, Vice President of CEHAT and CEO of ML Hotels, was presented with the "Hospitality Golden Key Award" in recognition of his extensive career in the hotel industry, contribution and passion for this exciting industry. Families, authorities and representatives from local organizations and businesses will also be attending the ceremony. A new award titled, "Inspiring Young Talent" was presented to Ritz-Carlton's Hotel Arts Barcelona for their collaboration with the school through internship training programs that now spans more than 11 years. The Corporate Social Responsibility Award" was given to the Proyecto Hombre Association of Marbella, while a long time Les Roches Marbella staff member; Victoria Espinosa received the "Mentor Award" for her years of dedication in the Enrollment Department. The final award, the "Way of Life Award", went to Sofia Kiguel of Argentina for her exemplary professionalism, service as four-time class delegate, BBA honors with distinction, and recent induction into the Eta Sigma Delta Honor Society.[/vc_column_text][vc_video link="https://www.youtube.com/watch?v=9peVlgxSAVY"][/vc_column][/vc_row][vc_row][vc_column][vc_column_text]
XXXXI Closing Ceremony Photos
[/vc_column_text][vc_raw_html]JTNDYSUyMGRhdGEtZmxpY2tyLWVtYmVkJTNEJTIydHJ1ZSUyMiUyMCUyMGhyZWYlM0QlMjJodHRwcyUzQSUyRiUyRnd3dy5mbGlja3IuY29tJTJGcGhvdG9zJTJGbGVzcm9jaGVzbWFyYmVsbGElMkZhbGJ1bXMlMkY3MjE1NzY2ODkzNjg2Mjg4MiUyMiUyMHRpdGxlJTNEJTIyQ2xvc2luZyUyMENlcmVtb255JTIwLSUyMEp1bmUlMjAyMDE2JTIyJTNFJTNDaW1nJTIwc3JjJTNEJTIyaHR0cHMlM0ElMkYlMkZjMy5zdGF0aWNmbGlja3IuY29tJTJGOCUyRjczMDUlMkYyNzQ2MjQ4NTUwNl85YTdlOWQzZGEyX2IuanBnJTIyJTIwd2lkdGglM0QlMjIxMDI0JTIyJTIwaGVpZ2h0JTNEJTIyNjgzJTIyJTIwYWx0JTNEJTIyQ2xvc2luZyUyMENlcmVtb255JTIwLSUyMEp1bmUlMjAyMDE2JTIyJTNFJTNDJTJGYSUzRSUzQ3NjcmlwdCUyMGFzeW5jJTIwc3JjJTNEJTIyJTJGJTJGZW1iZWRyLmZsaWNrci5jb20lMkZhc3NldHMlMkZjbGllbnQtY29kZS5qcyUyMiUyMGNoYXJzZXQlM0QlMjJ1dGYtOCUyMiUzRSUzQyUyRnNjcmlwdCUzRQ==[/vc_raw_html][/vc_column][/vc_row]