Les Roches Marbella's Executive Master's in International Hotel Management is a game-changer for professionals searching for a flexible graduate-level degree that focuses on the hospitality sector. Here you can find seven ways the Executive Master's will advance your hospitality career.
1. Business & Hospitality combine for a wide-ranging skillset
As a career professional, you may already specialize in business management or have experience in hospitality, but with the Executive Master's in International Hotel Management you will combine both. The program's specialized business management courses focus on hotels and hospitality-related companies, ensuring graduates acquire the skills needed to successfully manage the complex operations involved in the hospitality sector. This combination is also perfectly suited to prepare professionals who are looking to make a smooth career change into the international hospitality industry.
2. Demonstrates you are committed to your profession
Putting in the hard work and dedication needed to earn an Executive Master's demonstrates to employers and colleagues that you are committed to your profession. Businesses value talented professionals with the discipline and determination to see projects through to completion, no matter the complexity. As companies grow and evolve, it is important for managers to show that they are ready to grow alongside it. Earning an Executive Master's will show your employer you are a valuable asset and that you are devoted to continuing growing in the company.
3. You will acquire leadership skills and increased confidence
Guiding students towards developing sound leadership skills is a fundamental quality needed to become a successful manager. Nowhere is this more true than in the international hotel sector, where teamwork and soft skills are of the utmost importance when dealing with people of diverse backgrounds and positions each and every day. Much of the Executive Master's program curriculum employs teamwork initiatives with the clear objective of developing the insights, confidence, and communication skills needed to lead teams and delegate responsibilities in a hotel environment. During the intermittent weeks of on-campus studies, you will work closely in teams where leadership roles are alternated and settings vary. Learning to not only manage but also lead in a real-world environment of students from over 80 countries around the world requires you to develop both listening and communication skills in order to be an effective leader. To support your leadership development, you will also meet with hotel industry leaders directly in their workplace and see firsthand how successful leaders manage the various departments of a luxury hotel as one very diverse team.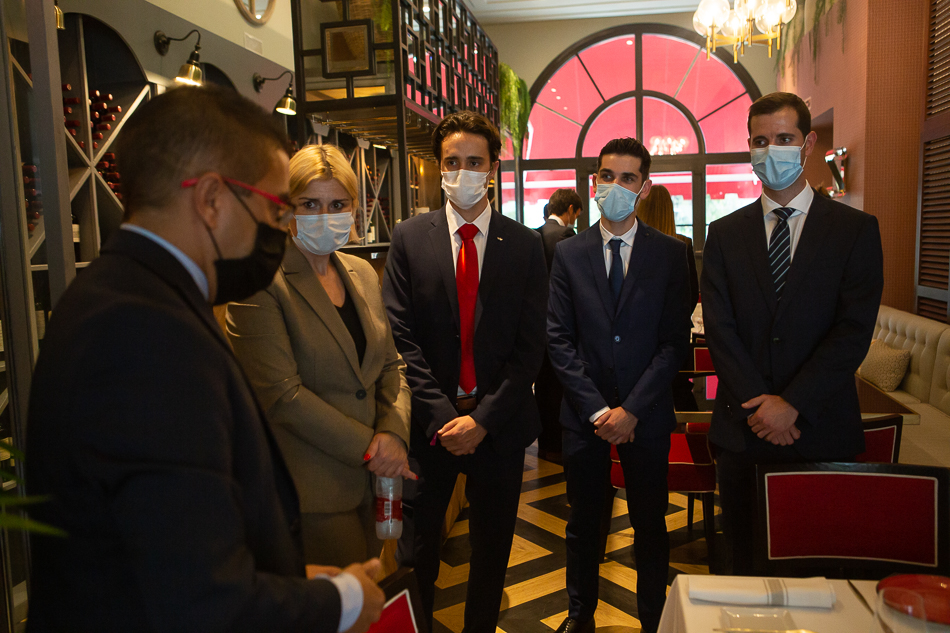 4. You can still work while earning your degree
Like many working professionals, you simply cannot put your life on pause for a year and a half to pursue a graduate degree. This is why the Executive Master's in International Hotel Management is designed specifically to be studied alongside your current professional role. It utilizes a combination of six one-week courses on campus, blended with faculty-supported distance learning. During the distance learning periods, you will be in close contact with lecturers on a daily basis, attend virtual classes, and have the flexibility to organize classwork around your career responsibilities. The on-campus weeks include an intensive schedule that builds on what you have learned in your online coursework through hands-on exercises, leadership development, team projects, and industry field studies.
5. Access to an extensive industry network
Students and alumni of Les Roches have direct access to the international hospitality industry through the school's Career Development & Industry Placement (CDIP) department. Hundreds of international hotel and hospitality companies maintain close relationships with CDIP and Les Roches's +13,000 alumni worldwide ensure networking opportunities are always available. The hotel industry knows that Les Roches graduates become future leaders in their organizations and this global recognition means HR departments actively recruit talented students and alumni for management positions in their companies. In support of this global networking potential, the Les Roches global alumni network is a close-knit group numbering in the thousands and working around the world as managers, leaders, and innovators in top hotel chains. This worldwide reach is a major asset for professionals looking to grow their careers in diverse markets and regions.
6. Develop your entrepreneurial skills
For many young professionals, the ultimate goal is to eventually run their own company. You may be ready now or perhaps you wish to gain experience and take the initiative to become an entrepreneur further down the road. Either way, the Executive Master's foments innovative thought and the personal drive to build on new ideas. The high-level business management content of the program, including marketing, modeling, analytics, and leadership development gives graduates the innovative outlook and vision needed to identify business opportunities while also fomenting the business acumen needed to execute them. This is the perfect combination for entrepreneurial-minded people to create that startup company they always dreamed about with the confidence and know-how to see it through to fruition.
7. Allows professionals to make career changes into hospitality.
In addition to core business management content, the Executive Master's also focuses on international hotel management essentials, including food and beverage management, service protocols, guest relations, human resources, business strategy, project management, and real estate investment. With such an in-depth immersion into hotel management, career-changers will be well equipped to take on management-level roles from the outset.
During the first on-campus study week, you will be immersed in the practical arts side of hotel management training as you learn the soft skills and service protocol of luxury hotel establishments from our industry-experienced instructors. The hands-on foundation acquired in Les Roches's real-world hotel operations during this week establishes the standards of excellence demanded of leaders in the hospitality industry. These will be the same standards applied in each management-level course you undertake thereafter. For career changers, this is an important week as they quickly develop their passion for hospitality and have a clear understanding of what to expect from this demanding industry moving forward.
Whether you are changing your profession or already working in the hotel industry, the comprehensiveness and flexibility of blended learning with the Executive Master's in International Hotel Management will help you to stand out from the competition in the job market, while giving you the hands-on experience, management skills, and confidence to pursue your professional goals.