It's time once again to travel around the world from the comfort of your home. This week, Student Ambassador Felicia Nahlén Rongione takes you on a trip to Stockholm…
Many of you might not know that the city of Stockholm, in Sweden, extends over 14 different islands. Although, thanks to the efficient and developed public transportation, you can easily move around between the different districts without much effort, and enjoy all the amazing perks of this Nordic city.
Here are my top 5 activities to do while visiting Sweden's capital, which will lead you to all the best treats this floating city has to offer!
1. Discover the hippest area of the city
Let's start your trip in Södermalm, also known as "Söder" or "The South Side". The area is known as the hippest part of Stockholm right now, with its casual atmosphere. It is definitely where you would go to do what Swedes do best… enjoy a cold beer!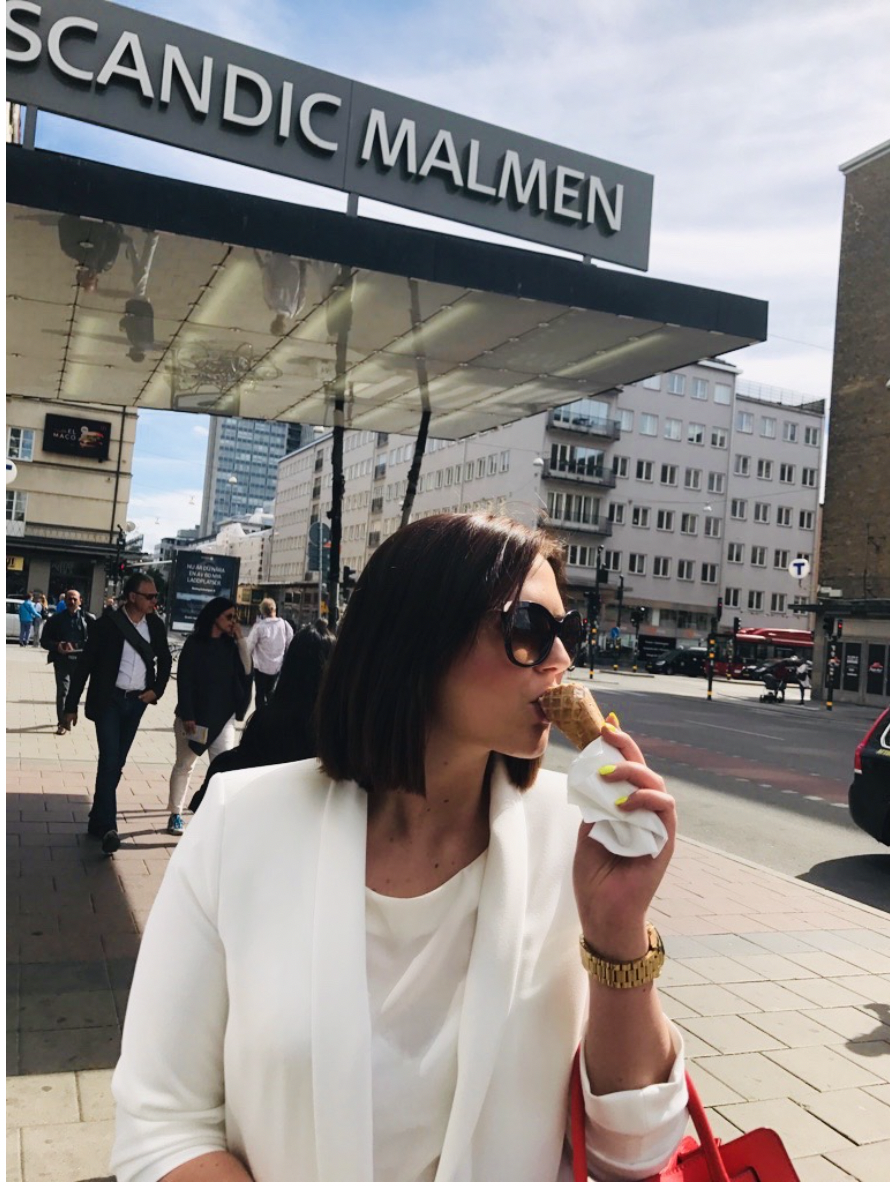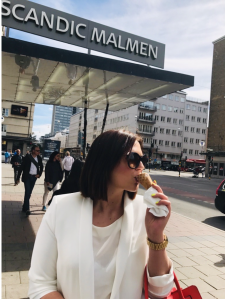 (Picture of Felicia in at Södermalm)
Stop by Medborgarplatsen, the center of Söder. If you visit Stockholm during spring or summer, it is where you will find a nice crowd of people occupying the three bars and restaurants that are lined up right in the middle of it all. Of course, it is a total must to drink a fresh beer there if the weather allows it!
On the island of Södermalm, you will also find Tantolunden, which is a nice park right by Årstaviken. With its convenient location, close to all the main districts of Söder, it has become a very popular meeting place for "Stockholmare", the name given to people living in Stockholm. During summertime, people go there to swim, enjoy a nice picnic, or play mini-golf. And during winter, it is the perfect place for sledding.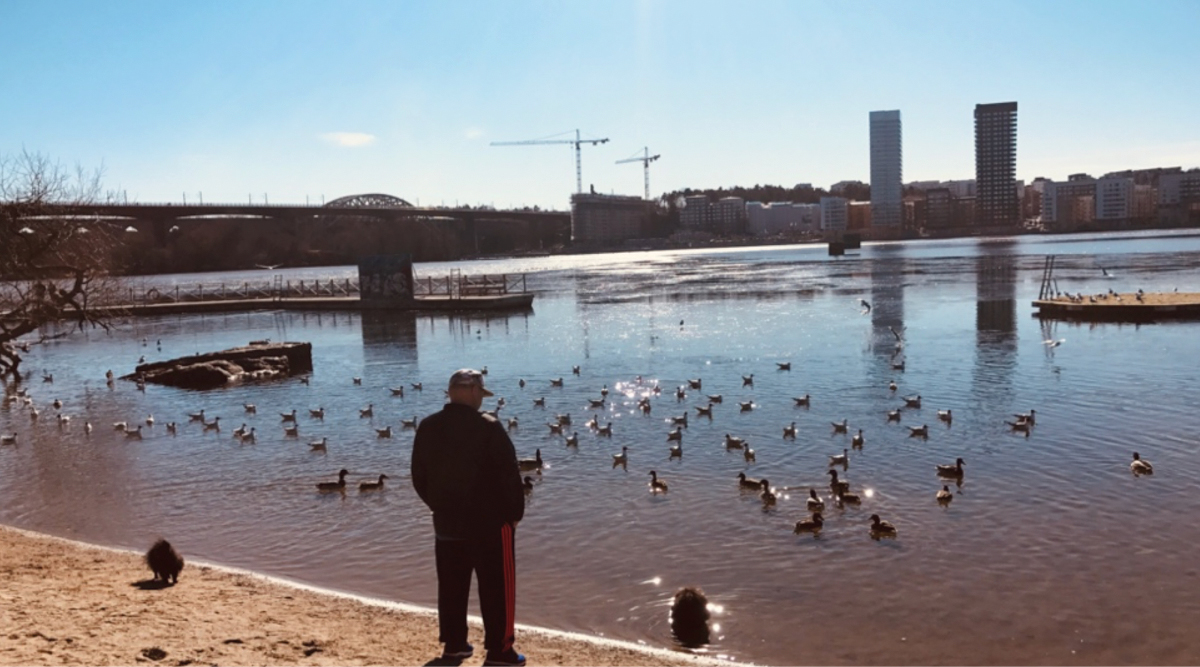 (Lake in Tantolunden, Södermalm)
Feel free to also wander around South of Folkungagatan, mainly known by locals as "SoFo", to check out many trendy and vintage stores, as well as a large variety of restaurants, bars and coffee shops.
But the true star of the show in Södermalm would be the breathtaking view from Fjällgatan. It is, without exaggeration, THE best view in town. You can pretty much see the whole city from up there, and if Stockholm hasn't impressed you yet, it will be the moment when you fall in love.
2. From the South to Gamla Stan
After you've explored the south part of Stockholm, walk up Götgatsbacken, one of the city's longest streets, from Södermalm over to Gamla Stan, also known as "The Old City".
Gamla Stan is the most historical area of Stockholm, where you can find both the Castle as well as the Parliament, along with hundreds of souvenir shops. Feel free to join a guided tour where you will learn all the old stories about the buildings, the places and, of course, the people. The usual tour takes around 80 minutes and is available all year round. During fall and winter, you can also join a "mystical tour" to explore secret streets and alleys, and listen to all the hidden stories and tales of Stockholm's Old Town.
Gamla Stan is also filled with cozy coffee shops, where you will have the perfect opportunity to have a "fika", a concept in Swedish culture with the basic meaning of "having a coffee", often served with pastries or sandwiches.
3. Stockholm's best restaurants & cafés
If you are looking for some glamour and want to enjoy a tasty meal, then you should book a table at the trendy Tegelbacken Restaurant. Located only a few steps away from Gamla Stan and right in the city center, Tegelbacken serves unpretentious food, freshly prepared in the form of smaller dishes. The décor is warm and colorful, and, as you walk into the restaurant, you will find a lovely bar, as well as a cozy and charming pink lounge. (thediscerningcat.com)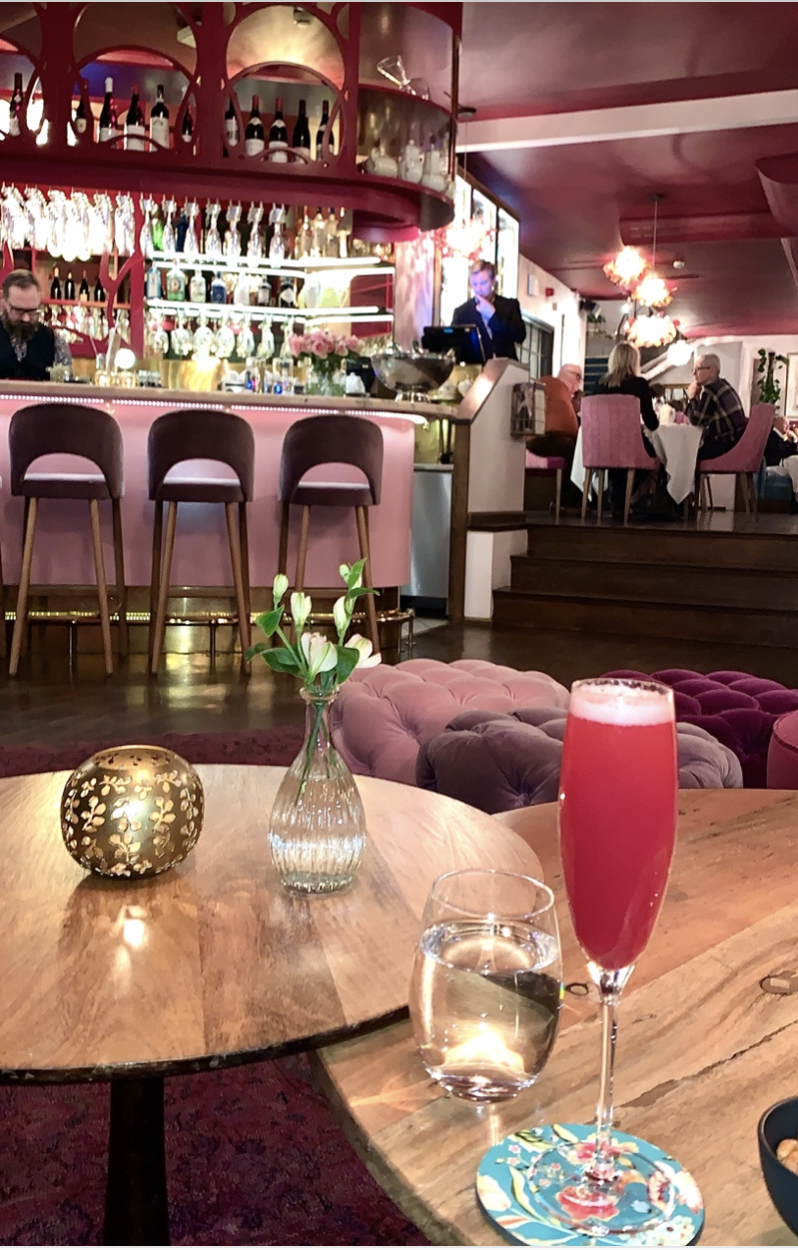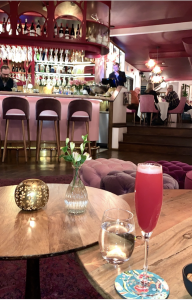 (Pink lounge in Tegelbacken Restaurant)
Then, in the district of Östermalm, you can also find many fabulous places to eat, drink and have a coffee. Some of the most popular places that you should try are Asian Post Office, a trendy restaurant serving Asian cuisine, and Eataly, a group of three amazing Italian restaurants gathered in one building. Pick and choose depending on which style you're in the mood for. It is perfect for a quick coffee as well! Finally, there is Riche, a popular restaurant with a fancy bar. If you are lucky, you might even spot a famous face or two!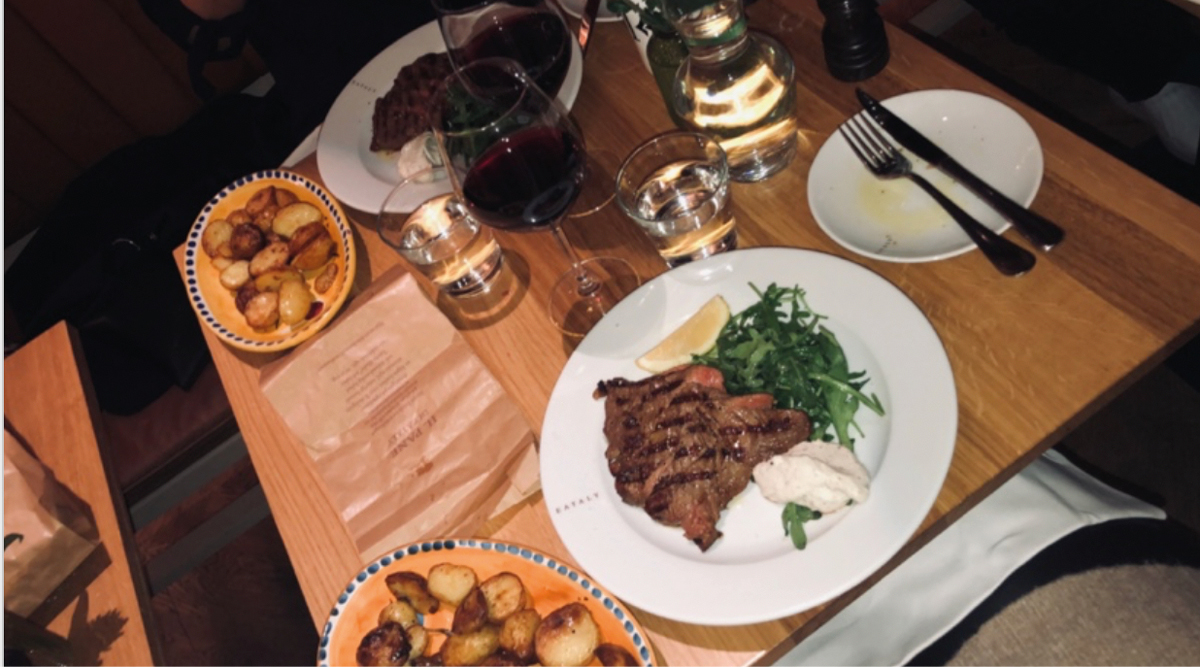 (Dinner for two at Eataly)
Now, my personal favorite… Mr Cake. This special coffee shop is run by famous Swedish pastry Chef Roy Fares, who created an "American pastry meets Swedish fika" concept. It is a humble place, but is usually crowded, especially around lunch time. If you go, you should definitely order the red velvet croissant or the salted caramel donut (…or both). They are divine!
4. Our peaceful city gardens
If you visit Stockholm during springtime, a stop at Kungsträdgården is highly recommended since it is the time of the year when the Japanese cherry trees blossom and create a beautiful pink, cotton-candy-like duvet over the park.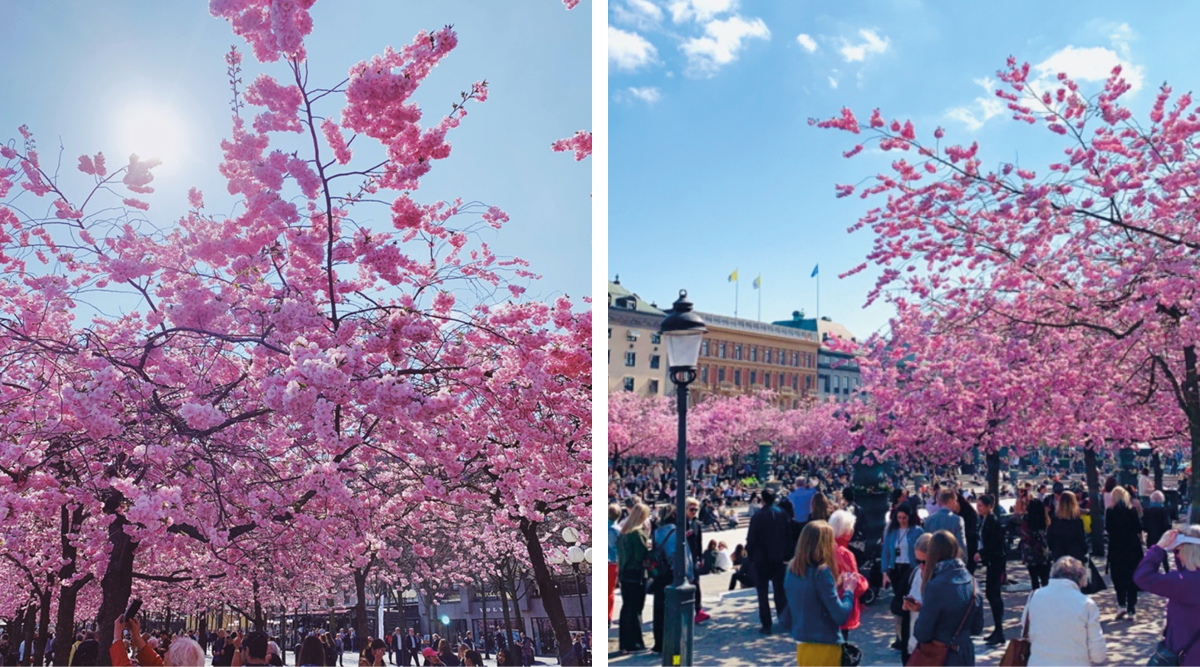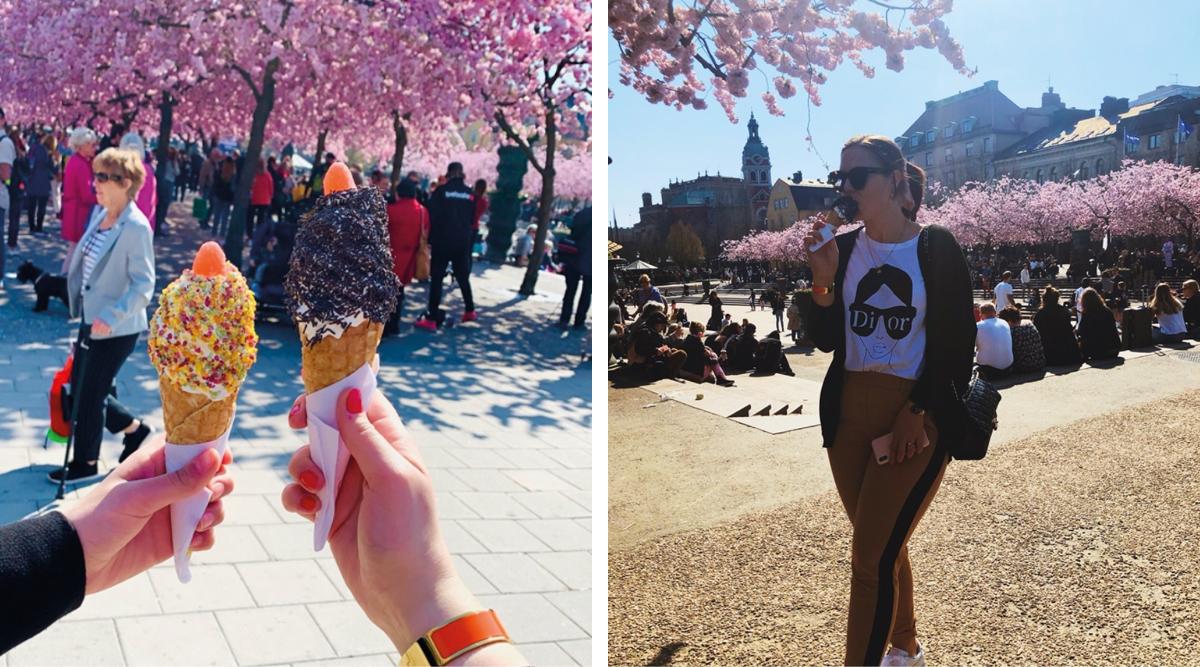 (Springtime at Kungsträdgården)
On the other hand, if you prefer exploring the city during winter, you will discover an ice-skating rink set up in the middle of the park, with a set of light strands surrounding it. Beautiful!
If you want to have a quick bite, Tak is a very popular restaurant located close to Kungsträdgården. Have a drink on the amazing rooftop terrace while enjoying the beautiful view of Stockholm. Watching the sunset from there is also incredible!
Another popular garden, if you are around Östermalm, is Djurgården. Follow the road to Strandvägen and have a walk along the harbor, before heading over to this gorgeous island.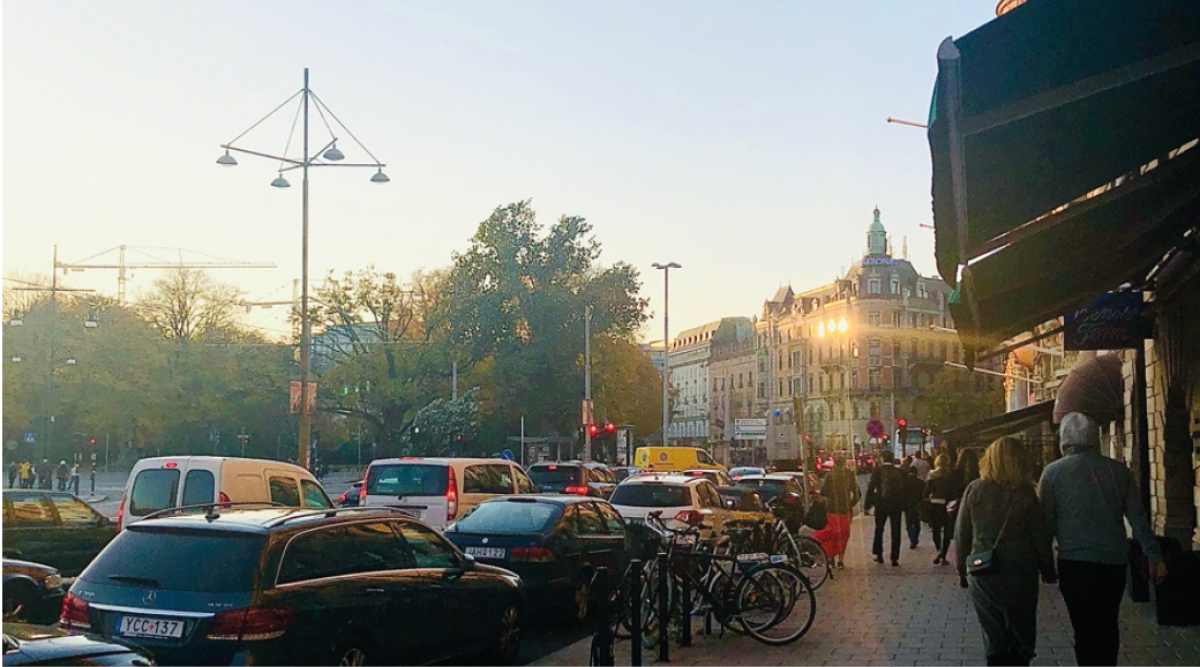 (Picture in Strandvägen)
In the garden, you will find some of the most famous museums in Stockholm, such as The Vasa Museum, ABBA the Museum, Skansen: Open-air Museum and Zoo, along with the amusement park Gröna Lund. Djurgården also offers beautiful green spaces and parks. On a sunny day, any time of the year, you can easily spend a full day on the island with plenty of things to do, besides enjoying the beautiful surroundings!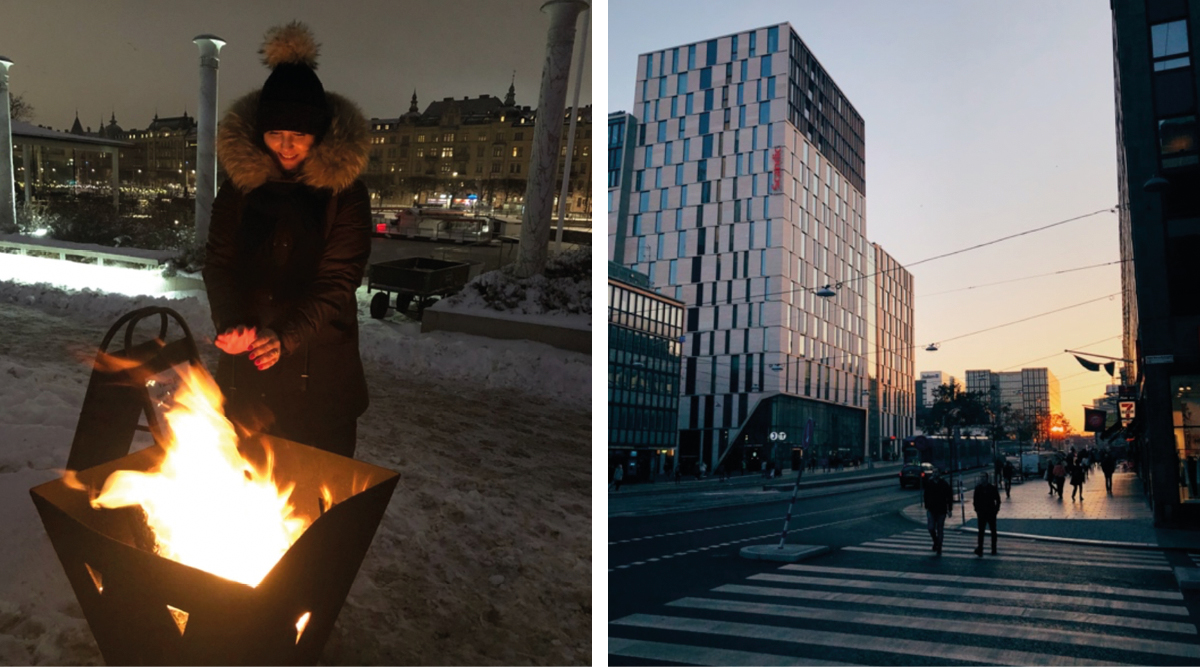 (One the left: Felicia in Djurgården, on the right: street in Stockholm)
5. Trendy shopping & fancy nightlife  
Cross the street from Kungsträdgården and walk in the well-known Nordiska Kompaniet (NK) mall. It is the best place to find the most luxurious brands and shops. The setting is very classy and elegant. Be prepared to spend a little extra money if you decide to do some shopping or even to just enjoy a nice lunch!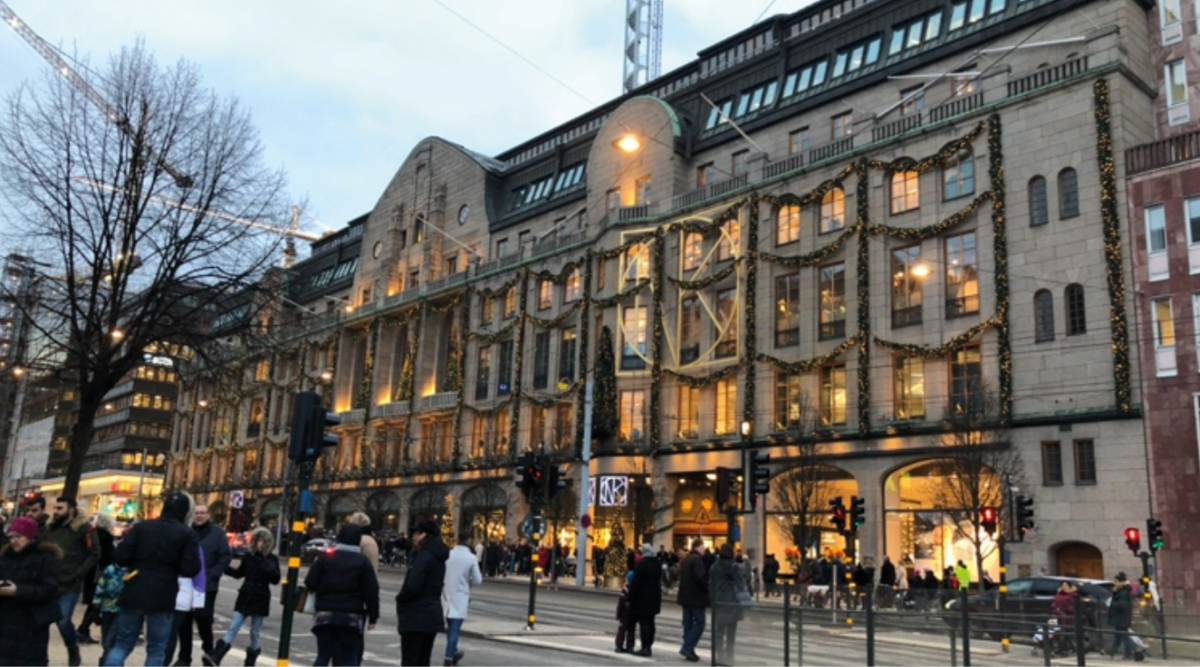 (The Nordiska Kompaniet shopping mall)
From Kungsträdgården, you can also walk over to Östermalm where you will also find some luxurious shops and restaurants. This is where Stureplan is located, which is known for being the core of Stockholm's nightlife. So, if you fancy a drink with your friends at a classy bar after a nice dinner, this is exactly where you should go!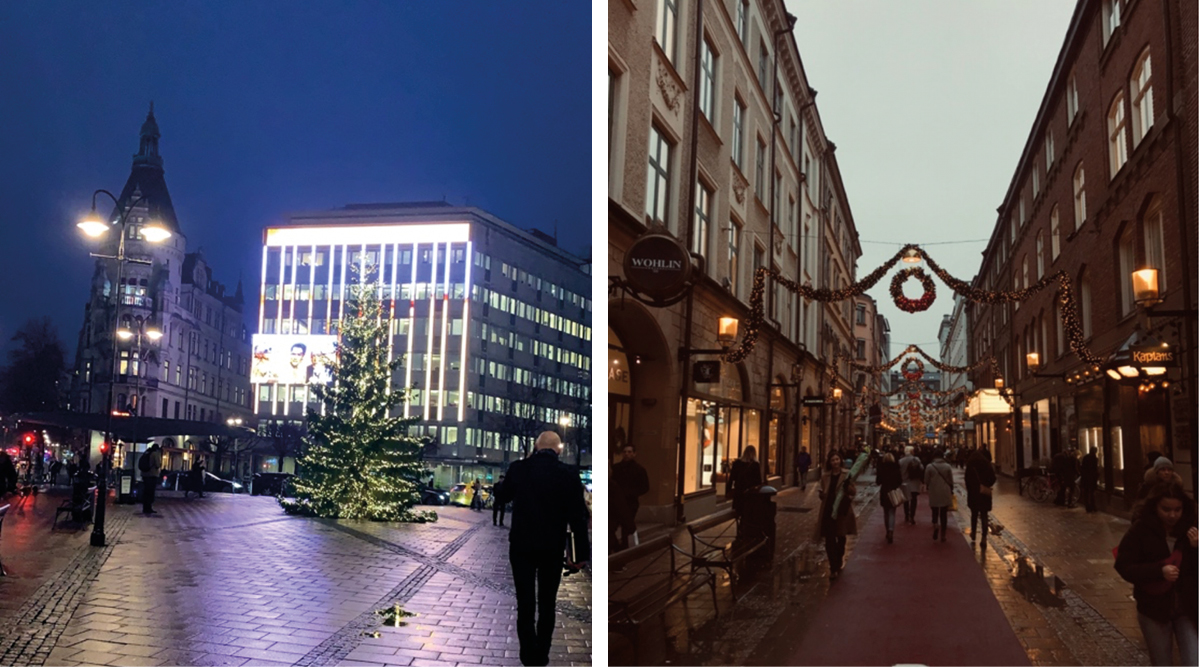 (On the left: Street in Stureplan, on the right: Östermalm)
————
And there you have it! My personal insider's guide to Stockholm. I could go on for hours with places to visit in this town, but now you know a little bit more about the "pearls of the city".