Are you a food lover? Then this mini blog series is for you! Les Roches Student Ambassador Alysia Liveras will be sharing all of her favorite restaurants across Switzerland, and for this first article she starts at 'home', in Crans-Montana and Valais!
Being a student at Les Roches, it is not hard to find a foodie on campus. However, my friends and peers are regularly asking me for recommendations when visiting new cities around the country, so it only seemed fitting that this would be the topic for my blog this semester.
Throughout this series, I will recommend a restaurant for every occasion: from brunch and bakeries to five-star dinners. Good food equals good mood!
Let start with the town closest to home, Crans-Montana! It may sometimes seem like there are solely Italian restaurants here, but the place has a lot more to offer than you might think.
La Plage
Located next to the Moubra Lake, there is no better place to enjoy a fine dinner for a special occasion or celebration. The chef combines his grandmother's recipes with an international touch to create a modern take on food with dishes that you cannot find elsewhere in Crans-Montana. I would highly recommend the tuna tartare, as pictured. (https://thediscerningcat.com/)
Le Farinet
Located next to the casino, Le Farinet is simply delicious and has become one of my favorite restaurants in the world! They are a classic Italian restaurant done the right way! Authentic flavors and traditional recipes are made to the highest standard there. They have the best beef tartare in Crans-Montana and adjust the taste to your liking by letting you test a small amount before serving it to you. They also have a specialty pasta each week, which is flambéed in a huge parmesan cheese wheel. My personal favorites are the Minestrone, Ravioli Caprese followed by Tarte Tatin.
La Terrasse at the Crans Ambassador Hotel
I recommend going here for sunset; the terrace view is truly breath-taking and, combined with the open fire, there is no better place to enjoy a drink and a bite to eat after class. The truffle burger and pizza are a big hit, but you can order from any of the restaurant's menus and eat on the terrace – Japanese, traditional raclette and the bar menu. The chocolate fondant (pictured) is one of my favorites!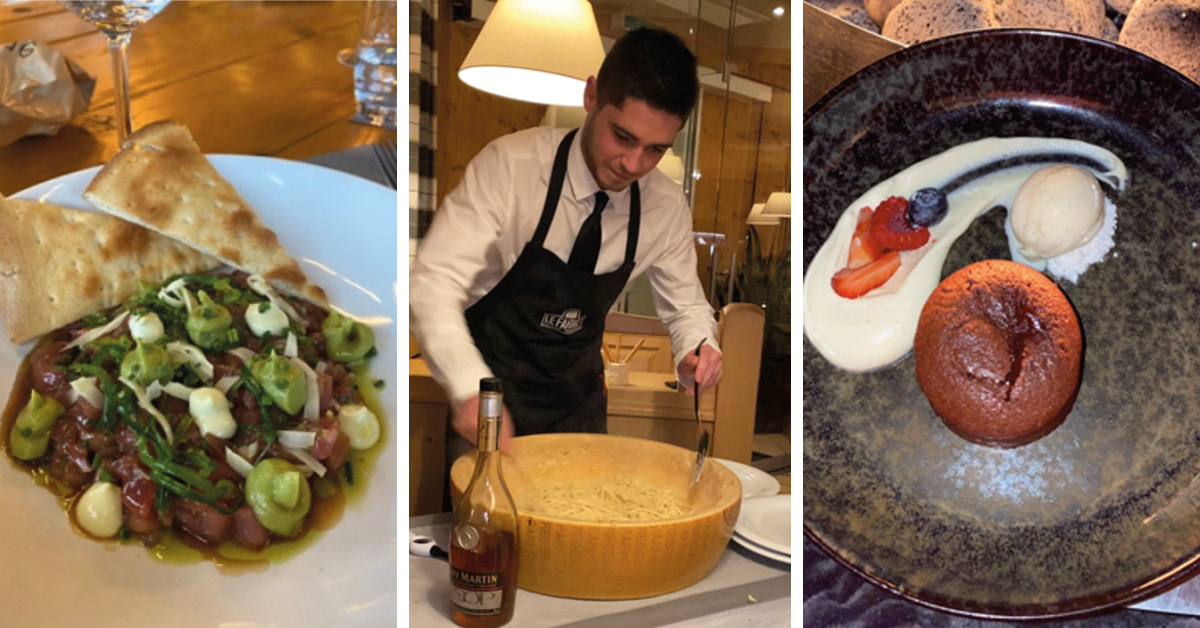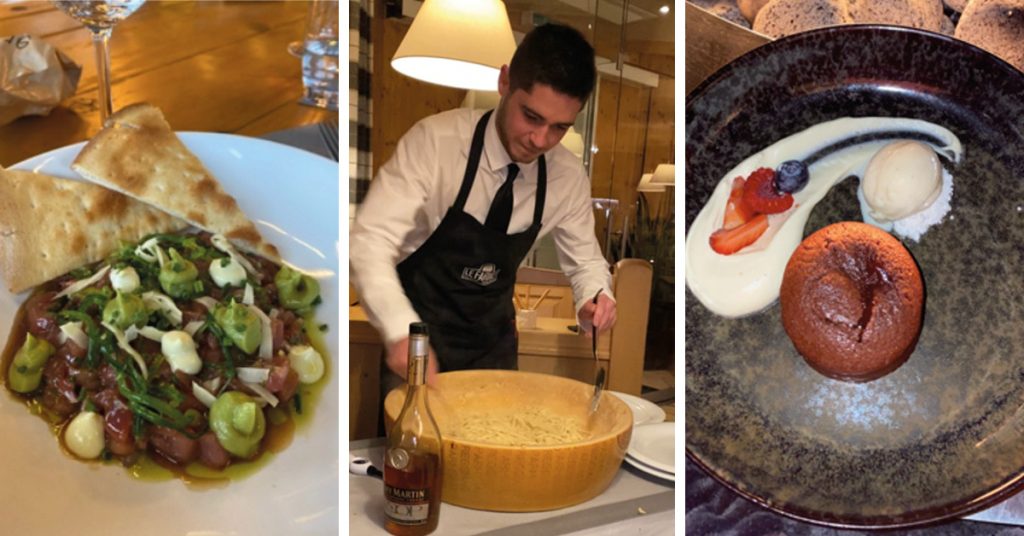 Taillens
You can never go wrong with a Tailens club sandwich and fresh orange juice on a Saturday brunch time to pick you up after a late Friday night out. This bakery offers the best selection of French patisserie, breakfast foods and sandwiches. It is an iconic Crans-Montana spot with three locations. You will never find a time that Tailens is not busy! This is how you know it's the best!
Le Chalet
With its authentic Swiss décor, all wooden and red and white, you truly get the Swiss experience here! In my opinion this is the place to go for the best selection of fondue (classic, Champagne, tomato, morel mushroom), raclette, Chinese fondue and typical Swiss dishes such as beef tartare and perch fish.
La Piccolina
This simple pizzeria, owned by a friendly couple, is the best option when looking for real, Italian pizza! The crispy dough and authentic toppings make these pizzas by far the best in town! This restaurant only serves pizza and has a maximum four tables inside, but they offer takeaway too, so you won't miss out.
Also, still quite close to home, Sion has some great restaurants when you want to get out of Crans but not go too far.
Luigia
This fun, Italian restaurant, decorated in an electric red, has one of the longest menus I have ever seen; but it is a great place for a reasonable dinner with delicious desserts! Everyone loves their cheesecakes and mini Nutella donuts, so please save room for dessert when eating here.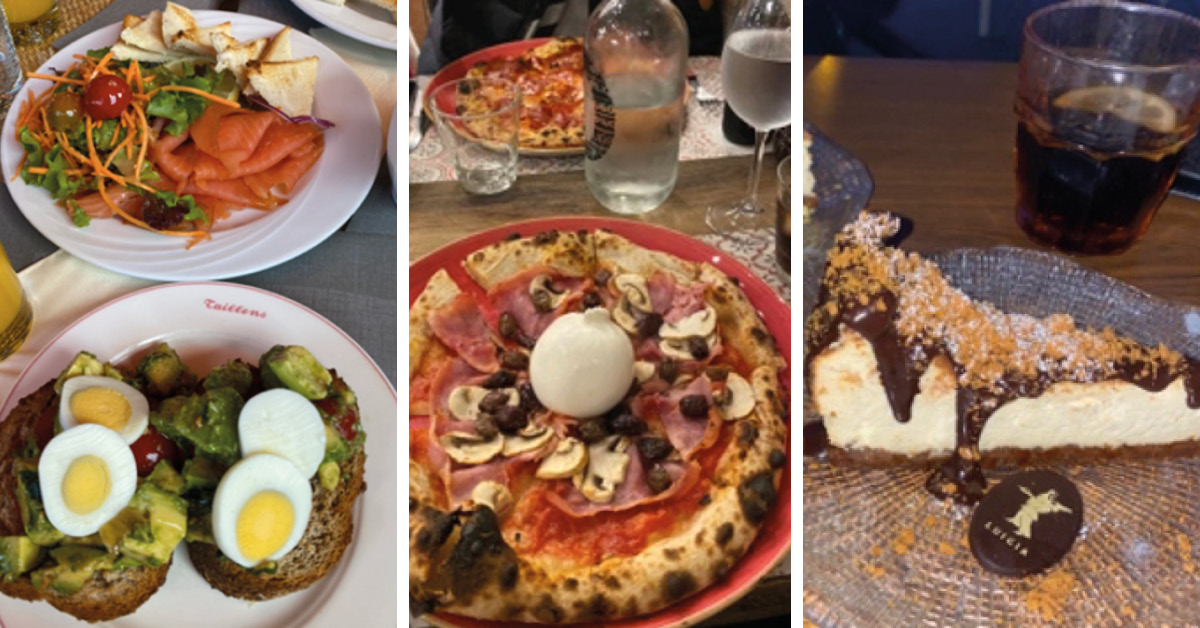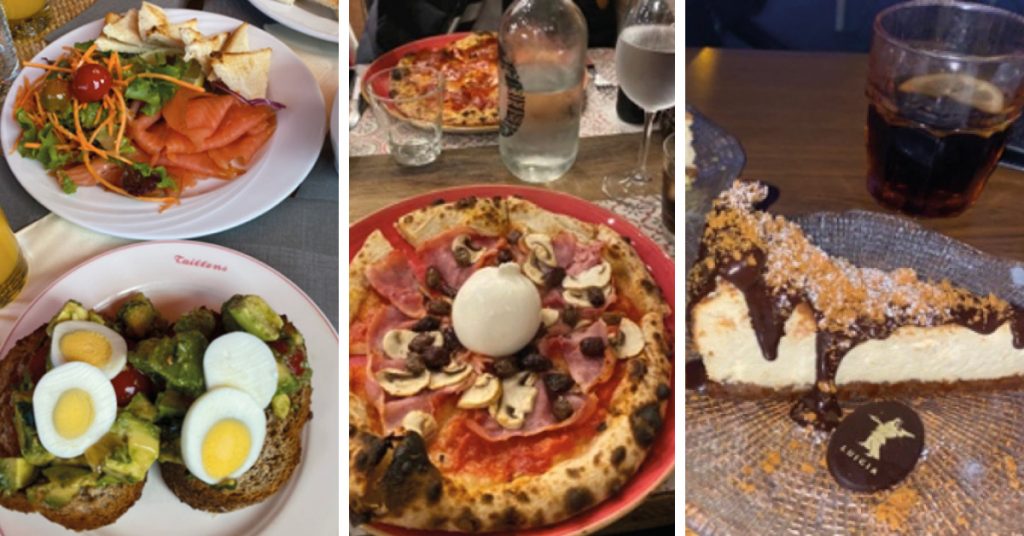 Le Silo
This Thai restaurant not only serves up great food, it also has a wide variety of mouth-watering cocktails to choose from. The restaurant hosts a live singer at the weekend and has a DJ and disco ball inside most days. It has a great vibe.
Château de Villa – Le Meilleur du Valais
This restaurant is about the most classic Swiss experience you can get. It is located in a historic chateau, dating back to the sixteenth century. Here you can eat great fondue and raclette.
A very trendy place to eat is Verbier, it is a small town but has many great restaurants for all of the tourists that flock there to ski in winter.
Arctic juice café
For a healthy 'pick me up' for breakfast, or after hitting the slopes, this café offers fresh juices, smoothie bowls, superfood salads, wraps and all sorts of healthy goodness. It is located inside the W hotel but can be entered from the outside of the hotel. They use mainly organic produce and focus on high protein, clean menu options.
Restaurant Pizzeria Grill Al Capone
A fun and reasonable place for a good Mediterranean style lunch or dinner when visiting Verbier.
Au Vieux Verbier
One of the most popular restaurants in Verbier, this restaurant has been run by the same family for over 35 years. It hosts local market cuisine, with their specialty 'Potence' (flame-grilled meat) and a large selection of Swiss and foreign wines.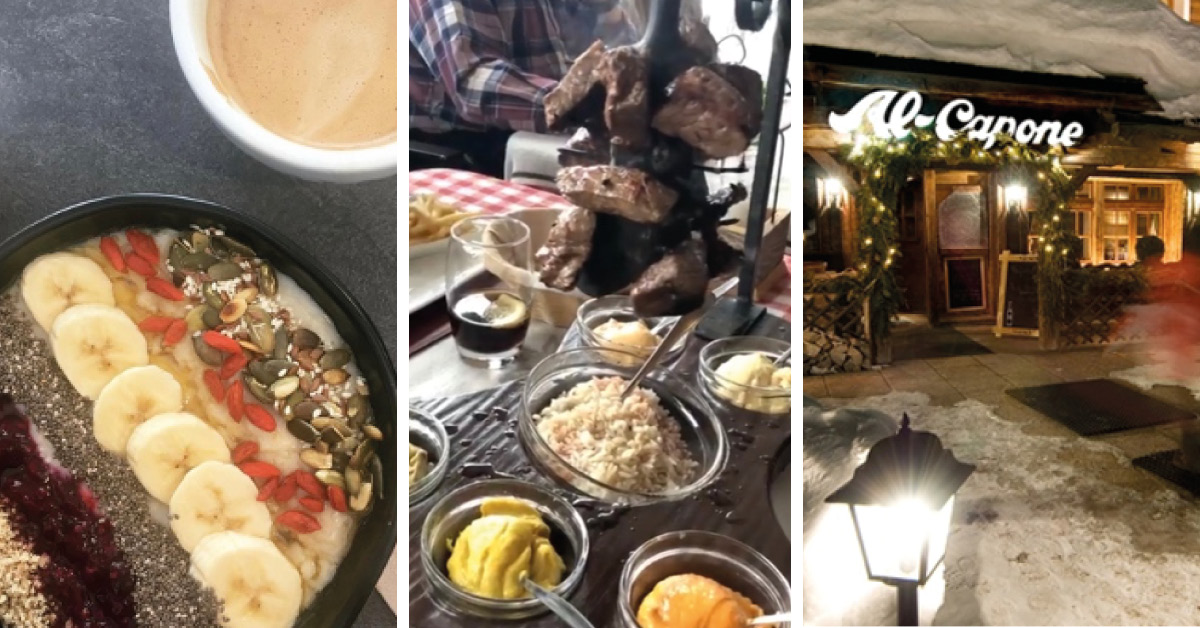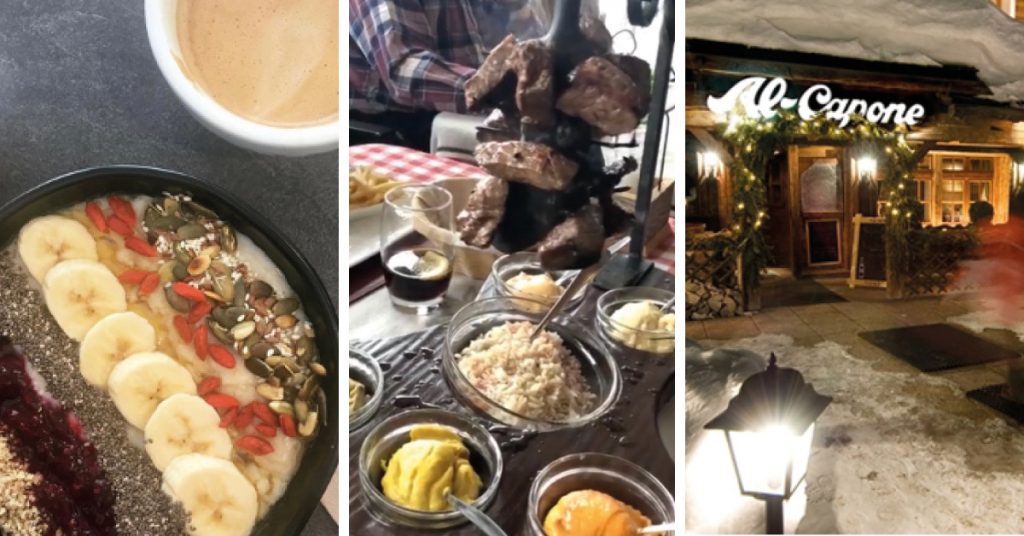 I hope this blog made your mouth water! For more global restaurant recommendations, please follow my Instagram @thefabulisfoodie