By Nicholas Allen, Class of 1992 Les Roches alumnus 
I met this gentleman wandering the streets of Bluche in 1990, with his briefcase in hand. Over 29 years, Massimo Chiappo (Max), a graduate of 1992, seems never to age. Everyone who knows Max, loves Max – The Italian Hotelier!! Find out all about him here, and don't forget to check out my last 'Between You and Me', featuring the Real Deal himself, Abdul Baaghil. 
Nicholas Allen (NA): What is your profession and current position?
Massimo Chiappo (MC): I'm General Manager at a 5* hotel in the Italian Alps: the Montana Lodge & Spa, La Thuile.
NA: Who was your first room-mate at Les Roches? 
MC: My room-mate for the three semesters at Les Roches was Panos Panayis.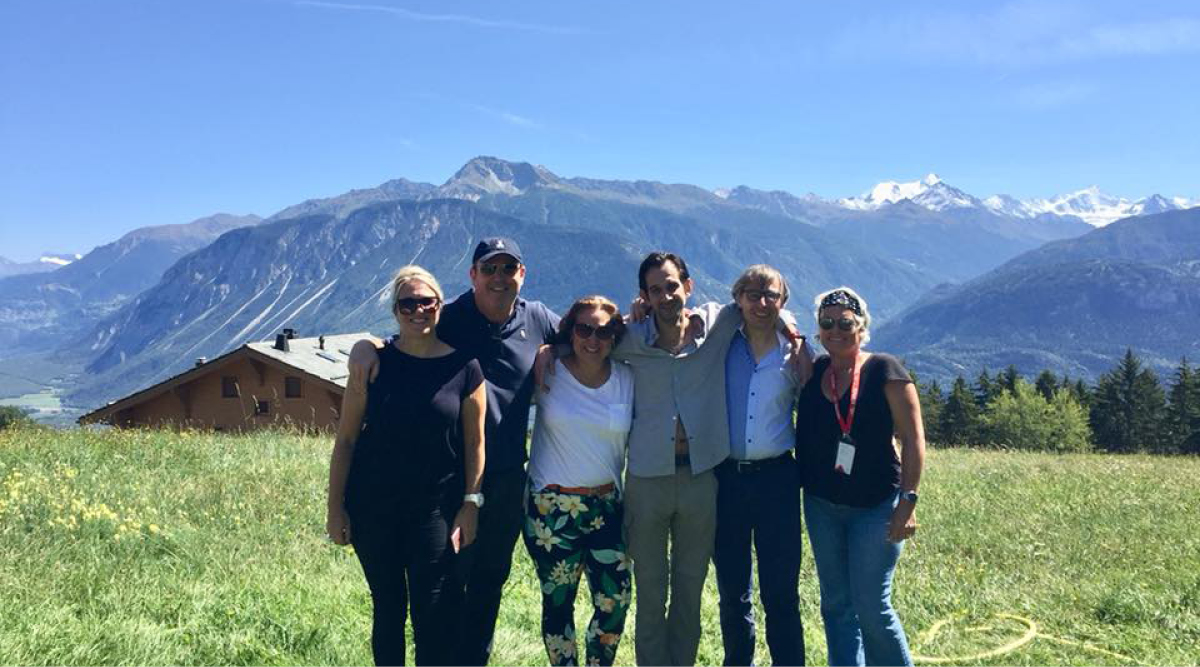 NA: Where did you grow up?
MC: I grew up in Italy in a town named Biella, where everything was about the textile industry – Zegna, Loro Piana, Cerruti, Fila – and at early age I decided not to go to that field.
NA: Whom has made the biggest impact on your professional career? 
MC: Mr. Symon Bridle, at that time General Manager at Shangri-La. He gave me the opportunity to show what I could do; he gave me a chance and trusted me. At that time in my life it was a real career boost in China.
NA: Who was your favorite teacher at Les Roches?
MC: My favorite teacher at school was Mr. Jeffrey Catrett. He introduced me to the world of Rooms Division, which I was not familiar with.
NA: What's your advice for new graduates?
MC: Find out and choose a field in the hotel industry that makes your life interesting, like F&B, HR, Front of House. Find a company that offers you a career path. Set your long run goal, stick to it and with hard work the results will come.  
Personally, if I could turn back time, I should have stayed within a large organization for a longer time in my early career. But most importantly, keep in touch with your school mates as much as you can; they are an infinite source of help, assistance, advice. Only last weekend I have met some Les Roches alumni during my sales trip and every time with them is precious time.
NA: Who did you have a crush on at Les Roches?
MC: Can't remember ?
NA: What is your fondest memory of Les Roches?
MC: The Cultural Nights. That was for me the spark that made me travel the world. All of us wanting to show the best of our home countries and having a lot of fun.
NA: If I could grant you one wish, what would it be?
MC: As utopian as it may sound, it will be that we can keep on meeting year after year…
NA: You can ask me one question, what is it?
MC: It seems to me – and to many of us – that you enjoy your work. If you could turn back time what would you do differently in your life?
NA: I do love my work mate. It hasn't been smooth sailing though, don't get me wrong. I just put faith in that if I work hard at creating a future for myself and my family, it'll all work out. Would I do anything differently? I would be lying if I said no, ha ha! Maybe listen to my older brothers once in a while. But I have learnt along the way, with the ups and downs. And I do thank the stars that I am blessed to have incredible friends like you Max, to laugh and cry with every time we see each other.
NA: Last question. You have organized a lavish dinner party with no expense spared. You can invite eight people, alive or dead, who are they?
MC: I would have a nice family dinner. Doesn't happen so much working in the hotel industry!
NA: Family is everything! Thanks so much for your answers Max.