The Postgraduate Diploma Webinar series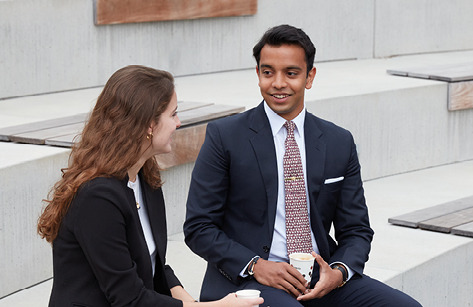 Discover our Postgraduate Diploma 
Join our academic representatives, together with Career Services and a panel of current students and alumni, as they lift the lid on our Postgraduate Diploma in International Hospitality Management. Not only is it our most popular graduate program, the PGD is also unique in being taught across all three of our global campuses. The panelists will give you the insider's view of the program, as well as answering any questions you may have about it.
Careers After Your Postgraduate Diploma
Program Director Frank Gueuning and Stephanie Ruiz de Jongh, Head of Career Services at Les Roches, together with a Les Roches alumnus discuss career paths for graduates of our Postgraduate Diploma in International Hospitality Management. Frank and Stephanie also answer questions about the program's career-enhancing potential.
What's Next Webinars: Life after the PGD
In this session, PGD graduates share the impact of the program on their career. They reveal what happened after graduation and give you an exclusive insight into the professional advantages they've enjoyed across diverse sectors as part of the global Les Roches community.
Masterclass: The customer journey moments of truth: designing and anticipating
Watch this Masterclass with Franc Avila, Clinical Professor at Les Roches Crans-Montana, to explore the customer experience in hospitality, and discover how today's customers act as co-creators of their own experiences in their quest to engineer 'Instagrammable' memories.
The Future of Hospitality
Program Director Frank Gueuning and a panel of PGD graduate alumni, discuss the future of hospitality; looking positively at how the industry they love can rebuild after the Covid-19 crisis has passed. Alumni also reflect on their Postgraduate Diploma experiences and how it has shaped their careers since graduation.
Overcoming crises – Alumni stories from the hospitality industry
The hospitality industry has seen and overcome many crises. Will people still want to travel, stay in hotels, enjoy good food and shopping? Hear from veterans in the industry – our own Les Roches alumni.