By Tiffany Wiputri, semester 7 BBA student
Before I chose – or even knew about – this hospitality industry, my passion was in culinary arts, especially pastry. 
Growing up in Indonesia, and in a typical Asian family, my parents always wanted me to study a major (bachelor degree) that would definitely secure me a job after graduation. Things like business, computer science, doctor school, you name it!
But I was confident in studying culinary, and so I convinced my parents to let me study it. However, they told me that culinary does not require a degree, and that I could study it in the future after I get a degree in other field first.  
"And little did I know, I became completely in love with this business"
At that time, I was angry and disappointed, because I was not able to do what I wanted to do! That was until I found out about the hospitality industry. At first, I did not know a single thing about hospitality, so I had to do a lot of research. And little did I know, I became completely in love with this business. 
So here are five reasons why you too should choose and study hospitality management:
1) It's a varied and powerful industry
You might have thought that the hospitality industry is all about working in hotels; but you are wrong! The hospitality industry has a variety of career paths, from financial management, marketing, event management, tourism, restaurants… anything that leads to leisure and customer satisfaction.
2) It will continue to grow
No matter how the worldwide economy is doing, the growth trend of the hospitality industry will not slow down. And over the next decade, the hospitality industry is set to become the largest global employer, with travel & tourism alone offering more than 150 million jobs by 2029.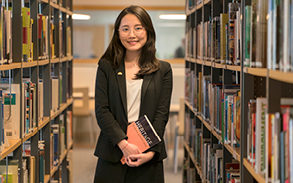 3) It's truly global
You might be thinking you'll have to settle down in one place after graduation, when all you want to do is to travel around the world. Well, with a career in the hospitality industry, it is perfectly possible to move around the globe. This year you might be working in New York, and the next thing you know, you have just been promoted to work in Japan for a bigger company!
4) It's all about diversity
Just by being in Les Roches, I have already met so many different people with different nationalities and cultures. We have more than 100 nationalities here on campus – how cool is that? And not to mention, when I was doing my first internship in Hong Kong, I had the honor to work with colleagues from Hong Kong, Philippines, United States, France, Germany, Japan, and Nepal. All these people have shown me their different cultures, and exchanged their experiences with me, to help me grow into a better person as well as to improve myself. At the end of the day, the internship does not only enrich my skills and experiences, but also my knowledge about other countries and cultures.
5) It offers endless opportunities
Since the hospitality industry is growing, the job opportunities it offers will naturally increase as well. On top of this, the industry also needs different people with different types of skills. So if you are not a good fit for one particular role, there are still plenty of fish in the sea! And hospitality is also an industry where your career does not have to revolve around a typical nine-to-five schedule. All of this makes hospitality exciting, rewarding and flexible, as there are so many career possibilities you can choose from.