The brutal Australian sun is beating down on you. A fierce wind is buffeting you and trying to throw your lightweight time trial bike off the road. Your legs are starting to cramp so badly you want to cry.
What do you do next? 
Do you stop or keep going? Knowing you've done 110km and still have another 70km to ride. Oh, and then a marathon to run straight afterwards…
This is why the Ironman triathlon is so aptly named. For Les Roches' very own Giovanni Odaglia, the trial of completing his first full Ironman became as much mental as physical. But having crisscrossed the world and completed thousands of kilometers of racing and training to get to this point, he wasn't about to give up.
———-
The full Ironman distance
3.8km swim
180km cycle
42.2km marathon run
———-
"I lowered my speed and found an aid station where I put ice and water on my legs to cool the muscles. Then for the rest of the bike loop I dropped my pace to keep the pain under control," he says. "I lost about an hour against my target time, and as I rode into the finish of my bike leg I could see the professional class winner come in. And I still had the marathon to do!"
A real rollercoaster of joy and disappointment
In the marathon, Giovanni battled through collapsing muscles by using sprint-walk-sprint-walk intervals, which cost him around an hour against his target time but got him safely to the finish in a total time of 12hr 53min. "It was a very long day with a lot of learning to digest – a real rollercoaster of joy and disappointment," he adds.
To put Giovanni's efforts in context, competitors have up to 17hr 30min to complete a full Ironman. And in this particular race – based in the Australian town of Busselton – around a fifth of competitors failed to make the finish line due to the difficult conditions.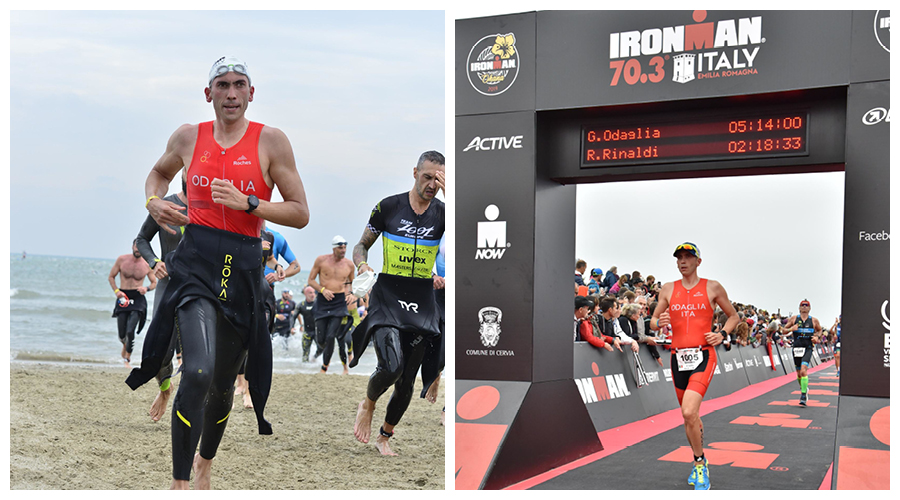 Now Giovanni is turning his sights to 2020, with increased training and a more focused race program in order to achieve the qualifying time for the Ironman 70.3 World Championships in 2021.
"To qualify for the Worlds I'll have to finish in a time under four-and-a-half hours – that's around 44 minutes off my current personal best, so I have a lot of work to do!" he says.
Giovanni has already achieved some international recognition, though. As he races in the colors of his native Italy, he is now ranked among the top 5% of Italian triathletes in his age category, according to the Ironman AWA rankings.
 ———-
Giovanni's training/racing numbers for 2019 to date
206km of swimming
6,100km of cycling
3,300km of running
———- 
Although it's Giovanni's commitment and physical endurance that have earned him these prizes, he is very quick to offer his gratitude to the people who have helped to make it happen – his coach Heleen Bij De Vaate, his wife and of course Les Roches.
The way the school has supported me means that every medal is shared with Les Roches
"My wife Christina has really changed her life around me, and I am so grateful for this. And the way the school has supported me means that every medal is shared with Les Roches. My day job supporting the students will always be my first priority, but when I've needed a bit of flexibility in order to train or have physio the school has been fantastic. Without this, nothing I've achieved would have been possible." 
And this year of testing his physical limits has also given Giovanni a new perspective to offer students. "There have been a lot of black days. And this is what I say to students who are deciding on their future jobs: you need to remember your 'why'. That's what got me through the Ironman, and this is what will get you through your black days, when you might question yourself and why you chose this industry, or this particular role. 
"It's the people around you that love and support you who will make you forget about the black days; and it's your 'why' that will make you start again tomorrow."