Here are more insights from our special series Leading Hospitality Through Turbulent Times. This time around, journalist Stuart Pallister reports on a session by hospitality research 'guru' Steve Hood, where the prospects for the industry's recovery were firmly in the spotlight.
Coming back to our Leading Hospitality Through Turbulent Times series for a second time, Steve Hood, Senior Vice President of Research with hotel data intelligence firm STR, gave an update on the signs of recovery for the hotel industry.
"Some great times of recovery are beginning to blossom," he said. "It's obviously a very historic time."
Before moving to recovery scenarios, Steve took participants through the latest numbers available from his company's database of some 200,000 hotels around the world. These were all current at the date of his presentation, on 27 May.
First, a global snapshot. As of end-April, some 76% of hotels in Europe had closed their doors. Although many areas of the world were seeing "a lot of 70s", the figure for shuttered hotels in Asia was 38%, and in North America 17%.
Those closures had been due in large part to government restrictions, but some had been voluntary, Steve said, before adding that restrictions were starting to be lifted – a process that has largely continued since his talk.
The numbers don't lie – it's tough out there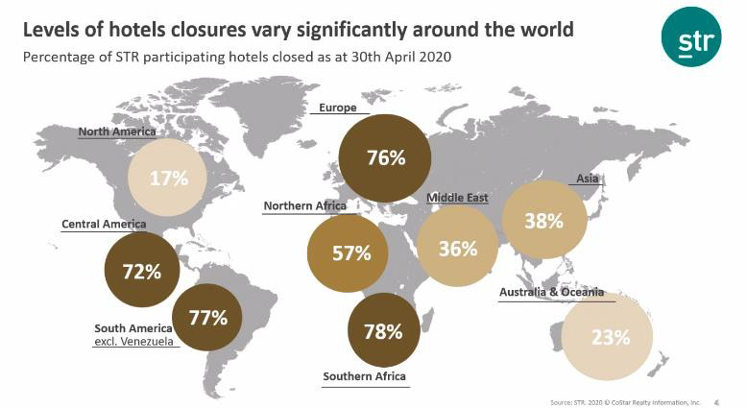 At the end of April, actual occupancy for hotels which were still operating was "in some cases almost in single digits", whereas normally it would have been around 60-70% or even 80-90%, Steve said. He added, "Europe is near the bottom at 11%. Latin America and Northern Africa are feeling the pain as well."  
Between April and May, though, occupancy in North America had risen to 32% from 24%. In China, occupancy had gone up to 44% from 36%, while Europe had only seen a slight rise to 12% from 11%.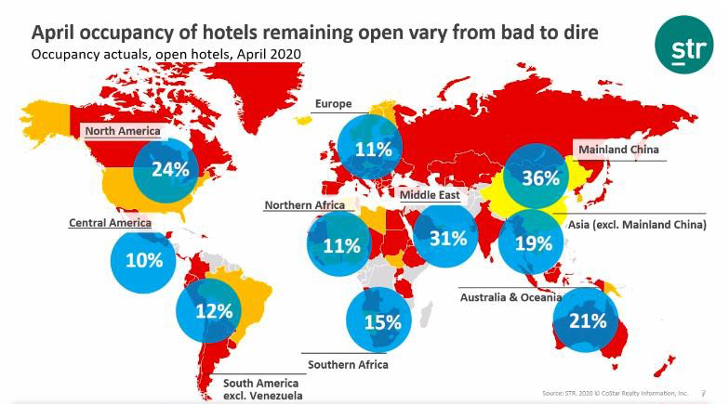 Highlighting some sample markets around the world, for the first four months of this year, Beijing had "hit bottom" in February and had been one of the slowest markets to recover in China. At the time of his presentation there had been no recovery in Paris. In New York, meanwhile, occupancy had fallen "to less than 20%" but has since "recovered a lot".
 As a caveat, Steve pointed out, occupancy in markets around the world is "complicated, because there are a lot of components". For example, hotels in some areas are being used for hospital overflow or quarantine.  
"In a place like New York, hotels are being used significantly to house medical workers because they don't feel safe to go home," he said.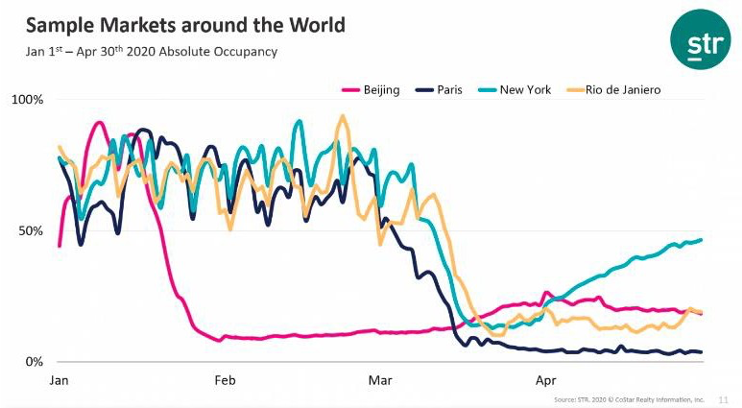 Steve then turned his focus to the market in China, which was of course the first country to be hit by COVID-19 and now appears to be on the road to recovery. "We're beginning to see normal weekday/weekend patterns coming back." 
Weekend, leisure travel – rather than business travel – was returning, "and it tends to be closer to home, drive-to or easy-to-get-to destinations. We're beginning to see some interesting holiday patterns".
High opening rates
Although there had been concerns back in February that many hotels would not reopen, China had seen very high opening rates, Steve said. In addition, the suburbs were doing better than the city centers, while smaller cities were seeing more business than the major cities. 
"One of the exciting things in China is we're beginning to see the comeback of luxury hotels," added Steve. And it wasn't just the mid-scale and economy hotels, which had previously been rebounding quickest. That was due, he said, to the return of the transient traveler. 
During this year's important holidays in China, one at the start of April and the other at the beginning of May, some resort destinations – such as Qiandao Lake in Zhejiang province and Sanya on Hainan Island in the south – had seen occupancy rates of 70% and even up to 95%. "That would have been totally normal last year, but it's exciting to see this year as well," Steve noted.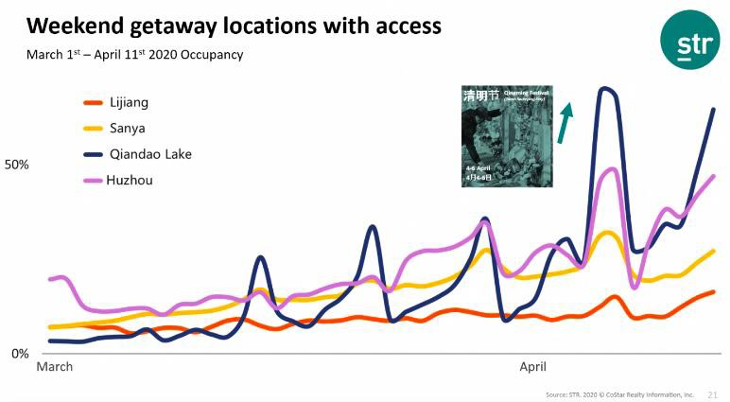 So, signs of recovery in China. Elsewhere in Asia, Singapore and the Philippines have been outliers, performing above 50%, he said, as hotels there "have been used more for various types of occupancies in their countries". In South-East Asia generally, though, occupancy rates have been around 20%.
Turning to Europe, 70-90% of hotels were still closed at the time of Steve's presentation. Some smaller destinations were beginning to see signs of recovery, though, as people were "feeling a little bit more confident to travel". But when it came to the major markets in Europe, at the end of April "the big cities have been decimated".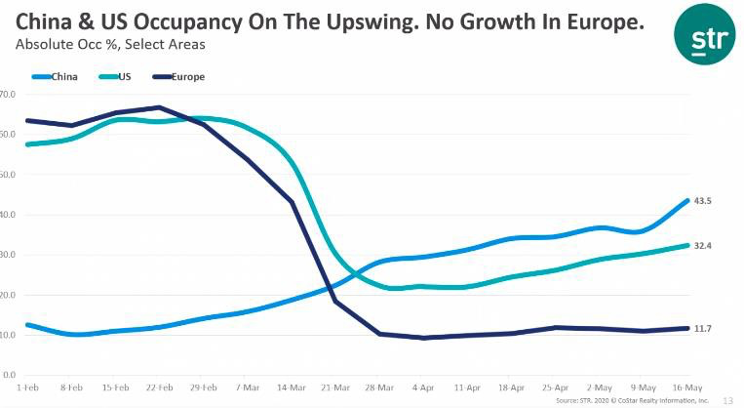 In the US, a slow recovery was underway as Steve spoke to our students, with RevPAR (revenue per available room) rising ten percentage points between mid-April and mid-May, albeit from negative 84% to negative 74%.
"Look at some of the biggest destinations as things begin to open up in the US. Notice you're not seeing major markets. You're not seeing Miami Beach, Orlando, New York and Los Angeles. You're seeing smaller, weekend getaway destinations and a fair number of these are beach destinations, such as Myrtle Beach in South Carolina and Fort Walton Beach in Florida. Those are the ones that are seeing signs of recovery.
"Gatlinburg-Pigeon Forge (in Tennessee) is near the Smoky Mountains, the most visited national park in the US. Keep in mind that this kind of travel and tourism is going to see real interest while we're in recovery mode. Why? Because people feel much more comfortable hiking in the woods than being shoulder-to-shoulder with others at a big, hot beach destination."
Recovery scenarios
Governments are under pressure from hotel associations and others to begin loosening restrictions, Steve said, but as air travel has been "decimated" it will take time to get back to capacity.  
"Domestic travel, the drive-to destination, is going to happen first. Transient travelers may be tempted to go back to luxury hotels and resorts, especially if they can get discounts." 
For instance, the Algarve in southern Portugal is starting to pick up, he said, as it is easy to get to from Lisbon or Madrid. In the UK, the Lake District and various beaches had been very popular destinations during recent weekends which were extended by public holidays.
"For major markets in Europe, we see a fair amount of business for July through to the fall. We're seeing some cancellations going on, but when we look out for business on the books, this year is comparable to last year. So there's still some hope this is coming back strong for the summer and the fall."
In general, STR is forecasting a 'W-shaped' recovery, with something of a drag period before economies recover fully. "In Europe, we're looking at a more robust, U-shaped recovery, with revPAR hitting bottom in 2020, then almost back to normal in 2021, before being fully back to normal in 2022," Steve concluded.
Hurray for Dollywood!
During the Q&A section of his presentation, Steve was asked about Gatlinburg, which has one of the most popular destinations in the US – and it's not Disneyland or Universal. 
Gatlinburg has a "bunch of attractions", he said, "and one of them is a theme park called Dollywood, named after – and owned by – country singer Dolly Parton". 
During the 2009 downturn, he revealed that Gatlinburg was one of the few destinations which had positive numbers, as it is on the East Coast and is easy to drive to from Washington DC, Atlanta, or even New York. "You can spend a weekend or a week in the mountains, hiking and fishing. You're not interacting with other people and it's economical."