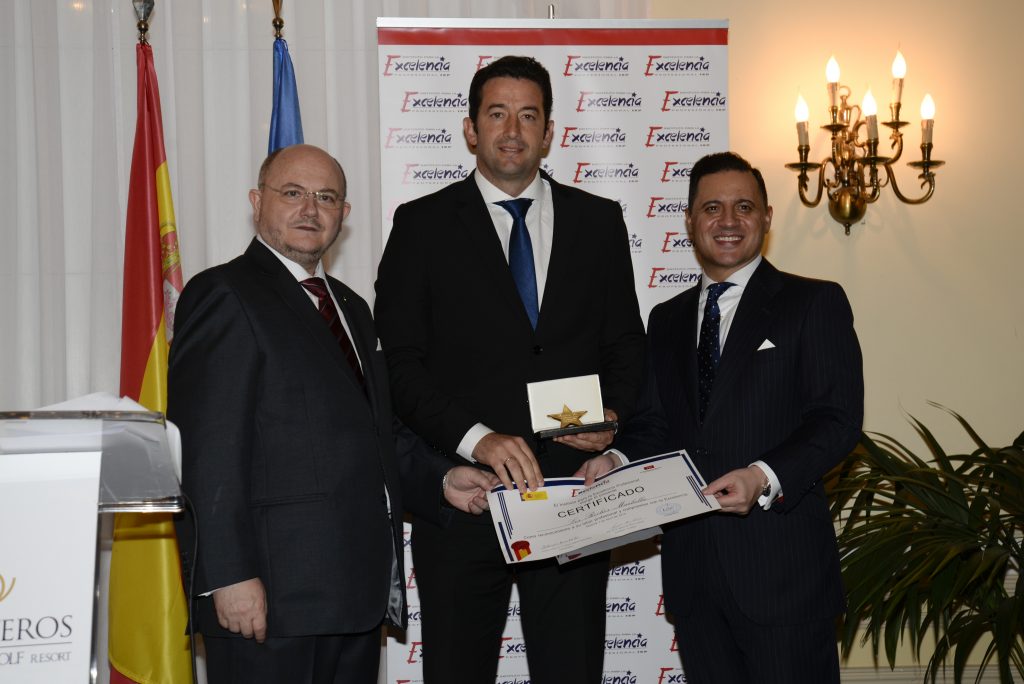 La escuela internacional de alta dirección hotelera Les Roches Marbella ha sido distinguida con el premio «Estrella de Oro», como reconocimiento a su trayectoria y compromiso con la excelencia dentro del mundo de la Educación.
Los galardones "Estrella de Oro" son concedidos anualmente por el Instituto para la Excelencia Profesional para premiar a las mejores empresas y profesionales de España. De esta manera, la entidad reconoce a las organizaciones que son capaces de innovar y fomentar un buen desarrollo económico y social, con una filosofía orientada a la calidad total en todas sus actuaciones, presentando tendencias positivas con compromiso de mejora continua y respetando siempre la Responsabilidad Social Corporativa (RSC).
Las empresas y profesionales que reciben este galardón se convierten en modelo y referente en su sector tanto a nivel nacional como internacional.
La entrega de los galardones "Estrella de Oro" se ha realizado en el trascurso de una Cena de Gala en el Hotel Los Monteros de Marbella, Málaga celebrada el viernes 1 de Abril de 2016. El Instituto para la Excelencia Profesional destinó una aportación económica de la recaudación de la cena para la "Asociación Concordia" y durante el acto se nombró a la presidenta de dicha asociación benéfica, S.A.R. María Luisa de Prusia, como Consejera de Honor del Instituto para la Excelencia Profesional.
Los galardones "Estrella de Oro" fueron fundados por el Ilmo. Sr. D. Ignacio de Jacob y Gómez, Presidente – Fundador de la institución y cuentan entre sus miembros de Honor con un sinfín de personalidades del mundo de la cultura, la política, el deporte y las artes.
Les Roches Marbella, recibió el premio "Estrella de Oro" junto con otros galardonados incluyendo presidentes de distintas Instituciones, profesionales y personalidades de la sociedad civil, en reconocimiento a su prestigio profesional.
La excelencia en la formación aportada por Les Roches Marbella ha permitido que durante sus veinte años de historia, la escuela universitaria especializada enAlta Dirección Hotelera, ubicada en Marbella, haya recibido numerosos reconocimientos internacionales. En el caso del galardón "La "Estrella de Oro", la entidad educativa- líder en España en su especialidad- recogió con orgullo un premio que refuerza su compromiso con las instituciones que valoran la excelencia y trabajan por el bien común.
Les Roches Marbella, International School of Hotel Management has been honored with the Gold Star award in recognition of its commitment to excellence in education for more than 20 years of training top hotel managers.
The «Gold Star» awards are presented annually by the Institute for Professional Excellence to recognize the best companies, institutions and professionals in Spain. The entity recognizes organizations that are able to innovate and foster good economic and social development, display a quality-oriented philosophy in all its activities, demonstrate a commitment to continuous improvement, and respect Corporate Social Responsibility (CSR). Companies and professionals who receive this award become a model and benchmark in their respective sectors, both nationally and internationally.
The «Gold Star» award ceremony was held during a Gala Dinner at Hotel Los Monteros in Marbella, Malaga on Friday, April 1, 2016. The Institute for Professional Excellence donates the dinner's proceeds to the «Concordia Association» (non-profit organization against Aids) and during the ceremony the president of Concordia, SAR Maria Luisa of Prussia, was named as Director of Honor of the Institute for Professional Excellence.
The «Gold Star» awards were founded by Ignacio Gomez Jacob, president of the institution and among its honorary members that also includes many leaders from the world of culture, politics, sports and arts.
Les Roches Marbella is one of the institutions among various distinguished organizations and personalities to receive the «Gold Star» award this year in recognition of their outstanding merits. Les Roches Marbella's model for excellence in education, which now spans more than two decades specializing inhotel management degrees, has been recognized with numerous international awards in recent years and the university has taken on the role as the leading international hotel management school in Spain. Receiving the 2016 «Gold Star» award serves as reinforcement to the school's commitment as a model for institutions that uphold excellence and understand the benefits of education on the general welfare of society.