A Les Roches internship could take you anywhere in the world: only your imagination is your limit. For student Elia Brunner, the internship experience took him to East Africa, and the wonders of Zanzibar. Here he shares his story…
Do I go safe or adventurous?
That was the question I had to ask myself during the spring break of my 'semester abroad' at Les Roches Marbella. An internship. The possibility to do something out of the ordinary. It's not too much commitment needed, as this will only last six months. So why not do something crazy? Go to a less developed country, rather than something safe, before I move back to Switzerland for my last year of studies?
It was my last chance to do something that will stand out from the crowd. So, I decided to move to Zanzibar, Tanzania. It'll be fun I thought, right? My internship destination: Zanzibar White Sand Luxury Villas & Spa.
After my medical preparations, with doctors almost scaring me off by listing all the risks, I arrive in Zanzibar. Just like I am used to doing as a Les Roches student, I get out of this plane in my suit at 3am, feeling quite awkward checking out my surroundings.
Zanzibar does not have much of an airport, so as I am walking away from the plane towards the airport building, which is almost falling apart, I already have to deal with customs. As I am not allowed to work there and as a tourist cannot stay any longer than 90 days, I was forced to register with an invalid 'return to home' date, just so they let me into the country.
After nervously spending more than an hour at the airport, I finally make it outside again, where I luckily saw a driver holding up a sign with my name on it. It was during the ride from the airport to the hotel where I finally, anxiously realize what I have just done, accepting to live in Africa for six months.
An hour into this journey, my driver stops in the middle of nowhere, takes my bags and tells me in very broken English to follow him. We walk past a run-down building, which turned out to be the first staff building, followed by another one, which is where the expats stay. Only once the driver stops walking do I see, in the dark, donkeys, chickens and other animals surrounding the building. He opens the door, puts down my bags and says goodnight. In shock I enter and look around. How could I possibly do this for half a year?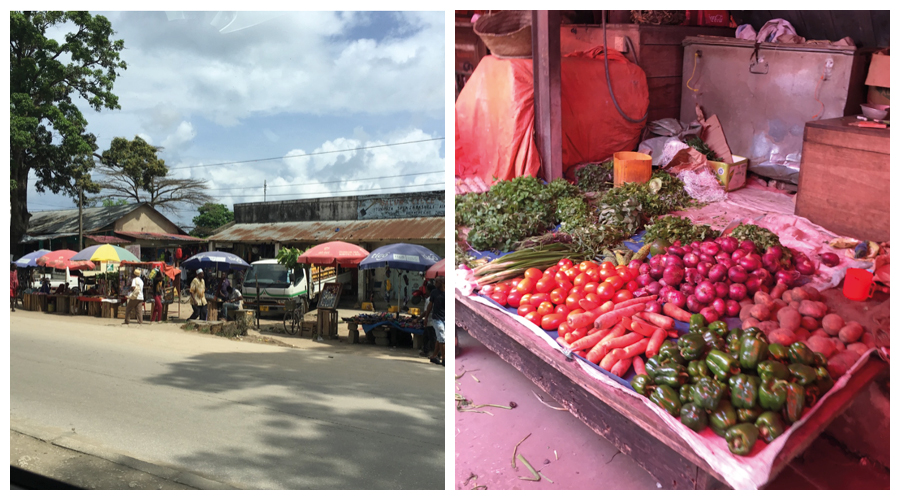 A rude awakening!
The following morning I wake up, still in disbelief at being in Africa, trying to find the reception with the help of the locals, who only speak very broken English. Eventually I find my way to the hotel, where I meet the GM. She shows me around and tries to explain to me about life here in Zanzibar. An hour later I am back in my room, all on my own.
The coming days were about to be some of the most difficult ones I have ever had to go through: a massive culture shock, trying to adjust to how I now have to live my life. Work seemed confusing at first, trying to assist the Food & Beverage department, but with difficulties finding my place.
It was eye opening to see the 150 local staff working at our hotel, getting paid roughly $80 per month, trying to make the best out of their job while the six expats from Europe, including me, lived a relatively comfortable life. We had a chef who cooked three meals per day for us at the Senior Staff kitchen; we had housekeeping and other benefits, while the local staff had so much less. Yet they enjoyed working for the hotel, which paid quite well compared to other hotels, even including some benefits.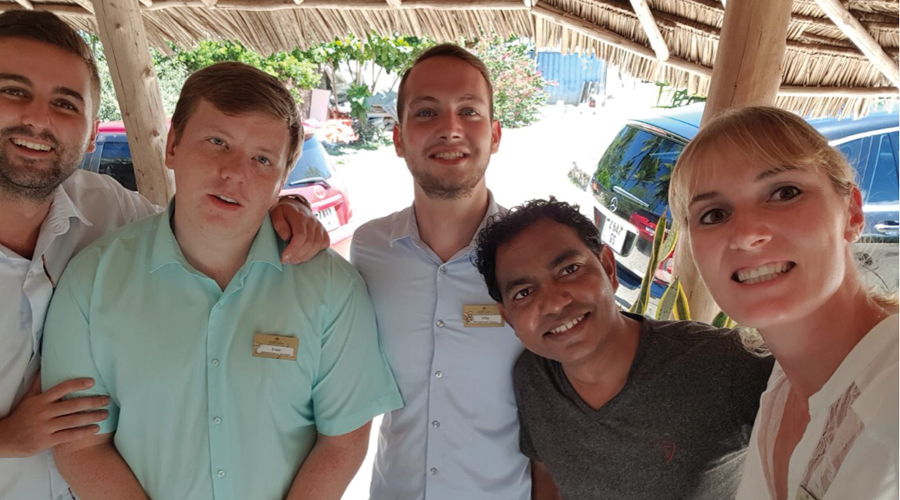 Settling into hotel life
As the weeks went by I became more and more adjusted to this new way of life. After many discussions I even laid off my malaria medicine, as everyone strongly suggested to me not to take them anymore. But nature tried to put stones into my path regardless. Snakes became more and more a part of this new life, but it came to a point where it was almost too much, when we found a 3½ meter long python in front of my bedroom door one night! Luckily we had Maasai warriors on site who eliminated this issue quickly, eventually eating it for dinner.
Not only did the nature try to make it difficult and strange; there were also policies, or how some people would call it, the law. There may or may not be a set law, but when a police officer thinks you, as a foreigner, may have done something wrong (such as no license plate light on the back of the car) they try to make your life as miserable as possible, threatening to impound the car. But generally after a few minutes of discussion and slowly pulling out some banknotes, they just walk away in silence.
Building a new department
Still unsure of what my daily tasks were supposed to be, I was quickly asked to work on reducing food cost. Not having ever done something like this before, I was unsure how to proceed; but I slowly worked my way into it. Not long after that, I was in charge of a department which I largely built up myself: the Cost & Inventory department. I got to hire my own staff for that, inventorying storage units and reducing food costs by thousands per month.
With this new responsibility I started to feel more appreciated; days started to go by much quicker and I started to enjoy Zanzibar. One of my most unusual days at work was a sunny day in November, when, due to my English skills, my GM asked me to marry a couple at the beach!
My days off were often spent with other expats, going on exciting day trips, like taking a small boat out into the Indian Ocean to follow dolphins. We jumped into the water, where we encountered these dolphins, which came close enough to be touched, and I was surprised at their curiosity about humans. They were not scared of us. Meanwhile, snorkeling was breathtaking, with hundreds of different species of fish inside a coral reef – the pure nature of Africa.
I also visited Stone Town, the capital of Zanzibar, experiencing the true local culture. I got to see some of the most incredible spice and vegetable markets, but as stunning they were, the more shocking were the fish markets: fresh fish laying in the sun for days, creating an almost unbearable smell. How do the local people not die of food poisoning??!
But on the flipside, I once found myself at the beach; the cleanest, most peaceful and completely white and soft sand, more beautiful than anything I have ever seen before. Everything was fine.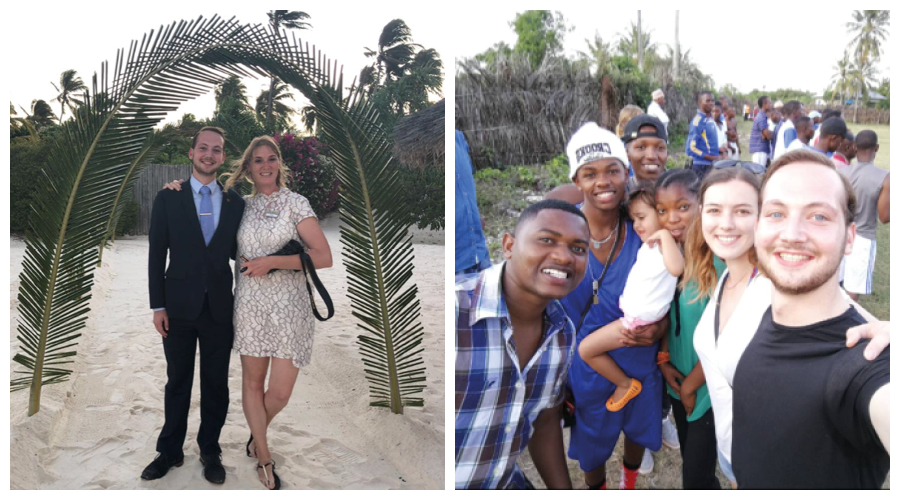 A trip to Dar es Salaam
For another exciting experience, I took a trip to Dar es Salaam, the capital of Tanzania. While there were many skyscrapers, making me feel like I was in a first world country again, everything seemed abandoned, almost scarily so. Going out as an average person, coming from Europe, will make you feel like the wealthiest person in the world, as you are surrounded by poverty. I went to a club (not a very big one) with a friend, and I ended up buying drinks for the entire club; but even then I did not spend more than $50 for everyone.
On one of my last weekends in Africa, my friends and I were granted three days off. We made the most of this break by taking a tiny, 10-seater plane and flying into the desert of Tanzania, the Serengeti National Park. The plane literally landed on a flat patch of sand, but if that wasn't scary enough, 10 minutes later we had already encountered a family of wild lions… a real safari was about to begin!
We kept driving through this deserted land, Serengeti, Lake Manyara and the Ngorongoro Crater, some of the most stunning days of my life. We saw leopards hunting, lions hunting, wild elephants and giraffes and so much more. I recommend to everyone: go on a safari in Tanzania at least once in your life!
Inspirational moments
I see this blog article is already getting much longer than it should be, and I apologize, but there would be so much more I could talk about. Overall, while scary, nerve wrecking, tough and frustrating, with a massive culture shock, it was also some of the most inspirational times of my life.
I really feel like I experienced an entire lifetime in just six months. It was not just to work and gain experience, but rather a life experience; learning more about myself than gaining professional skills. This to me is more valuable than a 'regular' internship: it teaches you endurance, going through lonely and stressful days makes you so much stronger and prepares you for literally anything. If you can go through six months of living in Africa, you can probably do anything!
If you would like to learn more about this crazy adventure, or life in Africa, don't hesitate to send me a message, I would be very happy to tell you more!
Check out these other fascinating internship experience stories: